Everyone's sick of the Harry and Meghan grift
In a time of economic crisis, no one wants to hear tales of woe from filthy-rich aristocrats.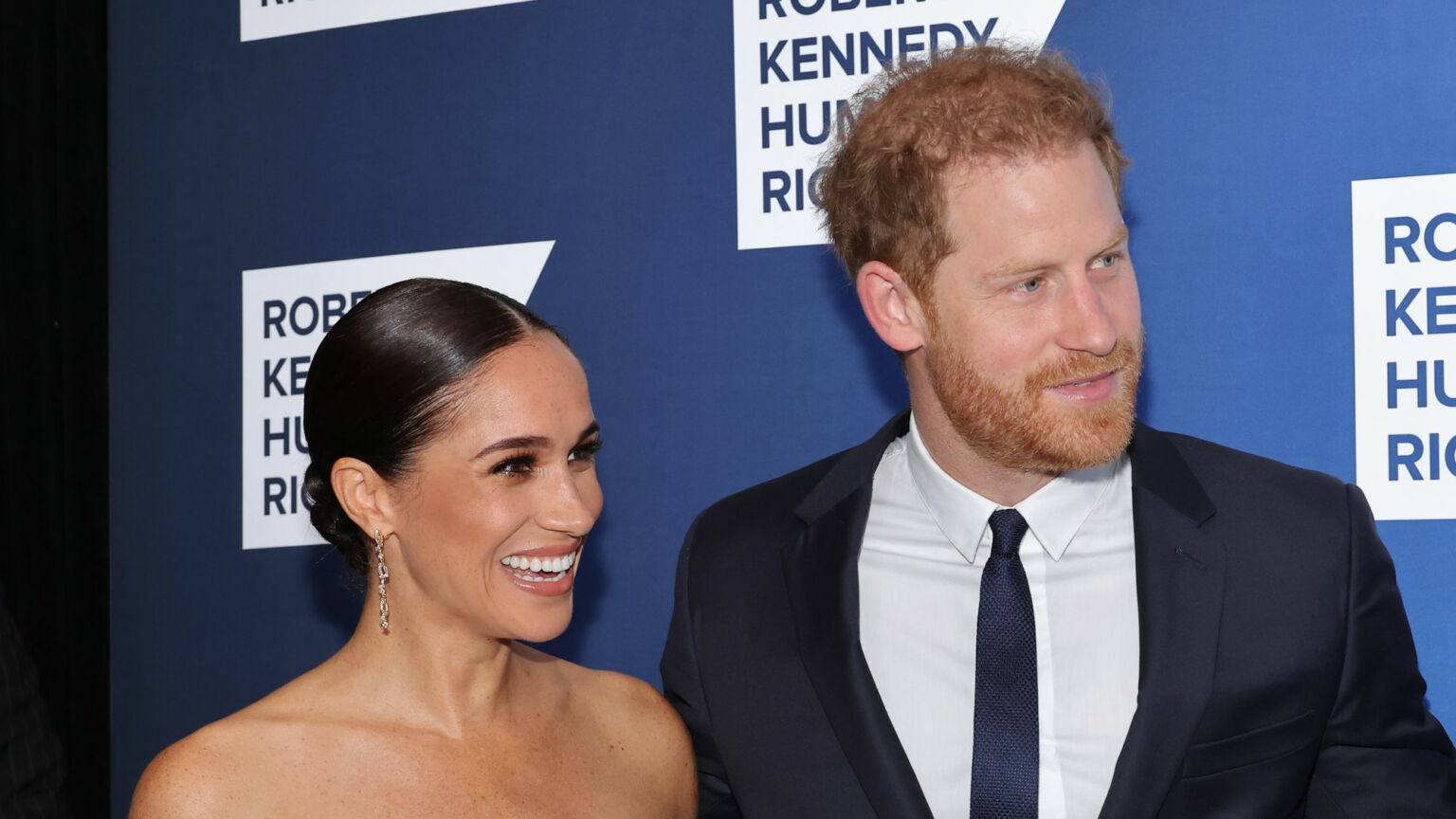 So even Spotify is sick of Harry and Meghan. They're 'fucking grifters', said an executive there after their multimillion-dollar deal to make saccharine, sub-Oprah pods for the platform came to an end. It was Bill Simmons, founder of the Ringer podcast network, which he sold to Spotify in 2020. On his own podcast – everyone has a podcast these days – Simmons said Spotify should have called their pod with H&M 'The Fucking Grifters'. He also threatened to get drunk one day and blab about the time he tried to help witless Harry with a podcast idea – 'It's one of my best stories'. 'Fuck them. The grifters', he said.
It seems the break-up between the streaming giant and the Duke and Duchess of Woke was more rancorous than we'd been led to believe. Although the euphemistic statement put out by Spotify and H&M's own production company Archewell last week did hint at tensions. We have 'mutually agreed to part ways', it said, which is very often PR-speak for 'we've had a bust-up of epic proportions'. The Wall St Journal is reporting that Spotify is ticked off because the royal pair 'did not meet the productivity benchmark required to receive the full headline payout from the deal', having only made one series of their soppy pod, Archetypes. So they might not get the entire $20million they were promised. From a life of eye-watering privilege in Britain's royal palaces to cat-fighting over cash with a big business – it's so tacky.
Is the jig up for Harry and Meghan? Is their post-palace life of getting rich from woke running out of steam? Has their grand plan to reinvent themselves as jetsetting dispensers of wisdom and virtue to the TV-watching, pod-listening little people hit a brick wall? Sure, they still have big deals, most notably with Netflix, which paid them millions to make a series about… themselves, natch. Harry's book Spare sold loads. He has reportedly signed a three-book deal with Penguin Random House (oh God, spare us). But post-Spotify, their 'media empire' is looking shaky, says the Daily Mail. The loss of the pod will have been a 'crushing blow'.
It strikes me that people are clocking just how repetitive the Sussex schtick is. What do they have to offer other than yet more tales of whipped-up woe from their years in the royal family? It's the same thing every time. From that big Oprah interview they did to Harry's self-pitying tome, from their Netflix show to their short-lived pod, all we ever get from these two is pantomime victimhood and sociopathic levels of navel-gazing. 'It's been tough', Meghan will say, in a dress that probably cost more than your car. When folk are struggling to keep the lights on, when the price of every foodstuff has gone through the roof, do we really want to watch filthy-rich aristocrats in a mansion in Montecito weep yet again over how hard it is to be a royal?
For me, that was always the most grating thing about their pod, Archetypes. I say their pod – it was mostly just Meghan, because Harry is a bloke, and this pod was about women. Every episode featured a wealthy, celebrated woman gabbing with a literal duchess about how tough life can be. Fetch my tiny violin! Meg and her interlocutors set out to 'Break down "The Bimbo"', explore 'The Audacity of the Activist', and mull over the 'joys, challenges and stigmas' of life as a single woman. I'm sure the 20million or so single mothers in the US, who often struggle to make ends meet, whose kids sometimes suffer social consequences as a result of being fatherless, were biting at the bit to hear comic Mindy Kaling, worth $35million, hold forth on the difficulty of being a single gal. Week after week, on would come Serena Williams or Sophie Trudeau or Jameela Jamil to share sob stories with the undisputed kween of victim culture. Who is this for, you'd find yourself wondering? A show called 'The Fucking Grifters' would have been much better.
Never mind the audacity of the activist – what about the audacity of a pair of aristocrats who expect the struggling masses to be gripped by their stories of hardship? Consider the Oprah interview from March 2021 in which Meghan blubbed over the oppressions of royal life while wearing a $4,500 dress in a billionaire's vast garden. Forty million Americans had recently lost their jobs as a result of the lockdowns. Do you think they will have felt perked up or pissed off by Meghan's tall tales about being 'trapped' in glorious Kensington Palace?
Harry, if anything, is worse. His book contains some of the most deranged claims to victimhood I've ever seen. Like the time the queen's personal assistant was slow in delivering a tiara to Meghan for their wedding day. Or the time they had to suffer the ignominy of buying a 'discount sofa' with 'Meg's credit card'. Or the time 'Pa, with all his millions from the hugely lucrative Duchy of Cornwall', told Harry that he and Meghan were costing a 'bit too much' and might have to tighten their belts. Can't you just relate?
There is more than a lack of self-awareness here. There's an almost pathological unworldliness. Imagine being fifth in line to the throne and expecting the masses, literally your father's subjects, to shed a tear over the time you just had to escape the 'prison' of palace life by jetting off to the 'scandalous luxury' of Elton John's pad in the South of France. And then there's the sheer hypocrisy of the Sussexes' performative suffering. This is a couple who will signal their eco-virtue from the pulpit of British Vogue and then catch private jets the way the rest of us catch Ubers. Harry's a man who drones on about 'sustainable travel' and then flies privately to a Google camp in Italy to talk to billionaires and celebs about climate change. He's a man who berates the tabloid press for invading his privacy and then writes a 400-page misery memoir offering up every sordid detail of his life for the titillation of readers, including the time he rubbed ointment on his knob and the smell reminded him of his late mum. Get a therapist, man.
Enough is enough, isn't it? Before the current cost-of-living crisis, we might have been just about able to tolerate the celebrity set's commodification of pain, their seeking of social capital through tales of often exaggerated suffering. But now? When energy bills are spiking and bread is 20 per cent more expensive than it was? No thanks. It's not just Harry and Meghan. For years now we've been drowning in a sea of upper-middle-class neuroses, with celebs, capitalists, princes and blue-haired students descended from Old Money embracing the identity of the victim in order that they might boost their standing in the emotionalist tyranny of late capitalism. Is this crap finally crashing into the reality that other people have it much harder, and that self-pity is the enemy of the autonomy most of us desire? Let's hope so. No more victim grift, please.
To enquire about republishing spiked's content, a right to reply or to request a correction, please contact the managing editor, Viv Regan.