Why are America's hacks all fawning over Harry?
Stephen Colbert and Co have fallen hook, line and sinker for the prince's Californian psychobabble.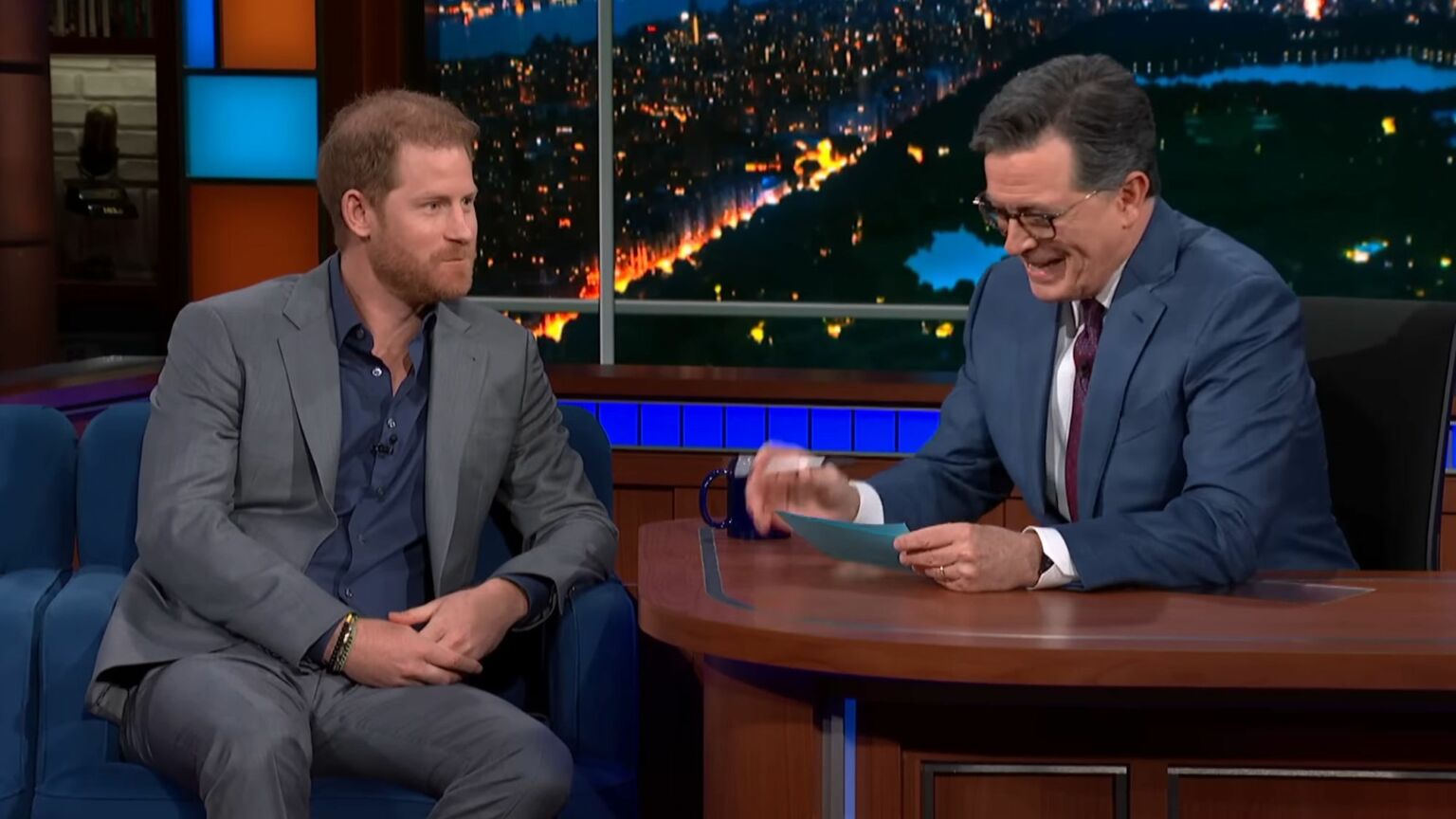 And lo, it came to pass. The second-born son of King Charles took his tale of woe to the American media, where he has been greeted as a wise and honest healer.
Since the release of Prince Harry's memoir, Spare, few have been able to escape the Duke of Sussex's media blast. And while media reaction in the UK has been largely critical of the erstwhile royal favourite, in the US, where he moved purportedly to escape media intrusion, he has been mostly embraced by the corporate talking-head hacks that populate daytime and late-night television. Clearly, they recognise a sell-out when they see one.
Enter Stephen Colbert, of CBS's The Late Show. On Tuesday night, he sat down with the prince as his audience whooped and cheered. I'm old enough to remember Colbert's entry into late-night television, back when mainstream comedians were actual satirists, not just embarrassing shills for our mega-rich overlords. Nowadays, Colbert is just a real-life version of Caesar Flickerman – Stanley Tucci's unctuous talkshow host in The Hunger Games – but with boring hair.
I'm half-American and half-Irish, two nationalities not known for their worship of the British monarchy. But even I found the opening skit performed by Colbert, Harry and Tom Hanks to be disrespectful. Primarily because it lacked the most important element of comedy, which is humour. The sit-down interview that followed did at least give us some revelations – mostly of Harry's breathtaking sense of entitlement and his fundamental lack of understanding of how journalism works.
Harry's main gripe was that the media have dared to report on all the highly personal details he poured into the book that he himself penned. 'After spending two years focussed on context and what I am going to share, how I am going to share it, and being able to piece it all together, they intentionally chose to strip away all the context and take individual segments of my life, my story and every experience I've ever had and turn it into a salacious headline', he complained. That's called quoting, you dimwit. What exactly did Harry expect journalists to do? Reprint entire pages of his book, verbatim, for 'context'? And then discuss it only in the most reverential tones?
Harry made it quite clear that he cannot tolerate even the faintest whiff of anything that isn't praise. At one point he went so far as to conflate criticism of what he wrote in his book – such as his claim that he killed 25 Taliban fighters – as akin to a physical threat. 'The most dangerous lie they have told is that I somehow boasted about the number of people I killed in Afghanistan. That's dangerous. And my words are not dangerous, but the spin of my words [is] very dangerous.' 'The last few days have been hurtful and challenging', he bravely confessed.
Colbert, meanwhile, lapped it up. He called Spare 'emotionally honest', and said 'you write about [your brother] with love'. Colbert's approach was full of hugging and kindness – as if to deliberately contrast himself with the supposedly 'vicious' British media, which Colbert said are known for their 'dishonourable behaviour'.
Yes, this is the same Colbert who recently called a female senator 'the Hamburglar' just because of a top she was wearing, and described the DeSantis vs Trump competition as 'a poll between gonorrhoea and a slightly more racist gonorrhoea'. Unlike the Duke of Sussex, such populist riff-raff aren't worthy of the media's kindness and hugs.
One real revelation was that Harry does genuinely seem to think he is somehow helping the family members he has just thrown so spectacularly under the bus. The levels of self-delusion he displayed are something to marvel at.
Explaining the 'heir and the spare' phenomenon to the American audience, Harry said, with a straight face, 'If you're not careful, you can really play into that'. This is the same Prince Harry who only just wrote a book complaining that his older brother's apartment had better furniture, and that his bedroom in Balmoral Castle was smaller and less elaborate than William's. He has clearly been nursing a grudge the size of the former colonies against his older brother. Is it really possible that all his Californian self-discovery has not allowed him to see the central role he is playing in this melodrama?
Throughout the interview, the fawning host and the bratty duke clinked glasses of tequila, with Harry getting through his first drink in no time. Colbert obliged by pouring him a second shot. So there is one silver lining, I suppose. Although Harry may now talk in Californian psycho-babble, at least he still drinks like a Brit.
Jenny Holland is a former newspaper reporter and speechwriter. Visit her Substack here.
Picture by: YouTube / The Late Show with Stephen Colbert.
To enquire about republishing spiked's content, a right to reply or to request a correction, please contact the managing editor, Viv Regan.