The gender jihadists are out of control
Trans activism is now little more than a witch-hunt of disobedient women.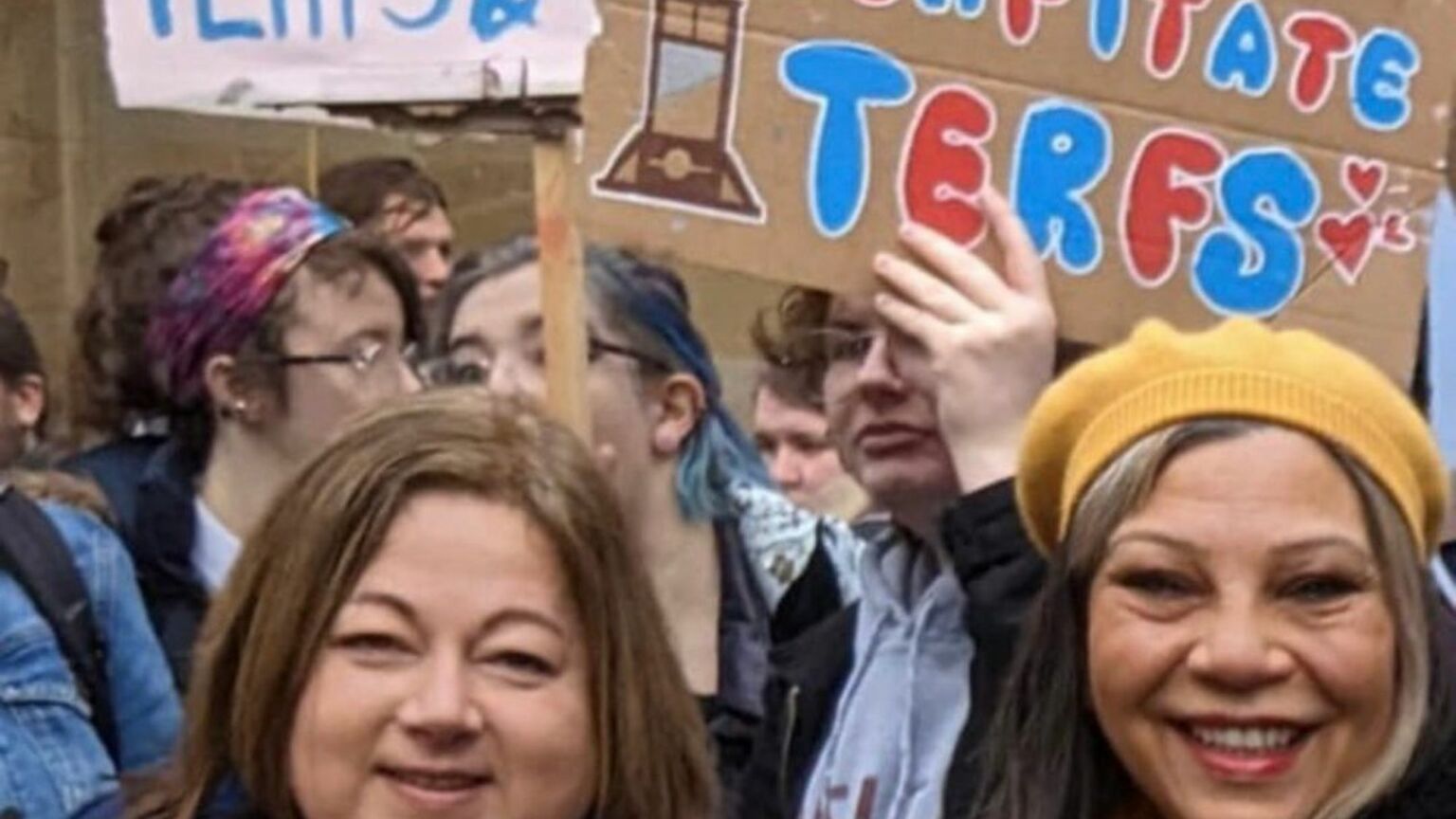 Imagine if mainstream British politicians were photographed at a demo at which someone was holding a placard that said 'Decapitate coconuts'. A demo at which there were open, horrendous expressions of violent contempt for black people who hold the supposedly wrong views. A demo at which it was stated that such sinful ethnic-minority people should not only be executed but eaten, too. 'I eat coconuts', one of the signs might say. There would be uproar, rightly so. It's unlikely the politicians would keep their jobs for long.
Well, the sexist equivalent of this scenario did happen, for real, in Glasgow on Saturday. Politicians were seen standing in front of protest signs that fantasised about visiting bigoted violence, not upon morally disobedient black people, but upon morally disobedient women. TERFs, as they're called, which literally means 'trans-exclusionary radical feminist', but which really means witch, bitch, scold, hag. Anyone who has witnessed a hardline trans activist spit out the word 'TERF' will be under no illusion as to the misogynistic menace that underpins that four-letter slur. Yet while there is concern over what happened in Glasgow, there isn't as much public fury as one might expect.
The politicians included Kirsten Oswald and Kaukab Stewart, MP and MSP, respectively, for the Scottish National Party. They were at a pro-trans rally at which people were expressing support for Nicola Sturgeon's gender-recognition bill and anger with the Westminster government's decision to block it. Oswald and Stewart were snapped with wide grins as a man behind them waved a placard saying 'Decapitate TERFs'. Another said 'I eat TERFs and Tories'. JK Rowling summed up the disturbing scene with typical pithiness: 'A few of Scotland's wonderfully progressive and kind politicians, posing proudly in front of banners calling for women to be decapitated and eaten.'
Ms Oswald and Ms Stewart say they didn't see the placards (perhaps 'a strange new form of temporary blindness has broken out among Scottish politicians', said Rowling). They say they loathe what the placards said. Fine. Let's give them the benefit of the doubt. Let's certainly not cancel them, even though cancellation is unquestionably the fate that would befall the politician who got snapped next to a placard saying 'Decapitate coconuts'. There's enough cancelling as it is.
And yet there is a very important question that Oswald, Stewart and the other Sturgeonites at that Glasgow gathering must answer: you might not have seen those particular placards, but how have you not seen the frenzied woman hate that is now a key feature of the ideology of transgenderism? How have you missed the misogynistic bile that flows not only through that Glasgow demo you gladly attended, but also through so much of the trans lobby? How are you unaware that while 'Decapitate TERFs' might be a new one, there have been many explosions of violence-tinged fury with TERFs in recent years, both online and off? Not seeing two hateful placards is kind of forgivable – not seeing that trans activism now seems to consist of little more than angry men bellowing 'witch' in the faces of women who have the temerity to disagree with them is not.
We need to talk about the hatred for 'TERFs'. It is out of control. It is the most vehement form of bigotry in the UK right now. Over the past few days, we haven't only witnessed gender-deluded men in Glasgow saying 'Decapitate TERFs'. We've also had Reduxx magazine reveal the identity of the Scottish trans activist – a man – who wrote despicable violent tweets about someone driving a car into one of Kellie-Jay Keen's gatherings of gender-critical women, so that we might see TERFs 'exploding like bin bags full of baked beans on your windshield'. The same gender jihadist spoke about murdering Rosie Duffield with a gun and JK Rowling with a hammer.
Lower down the scale of mental anti-TERFism, we also had an SNP councillor in Dundee speaking about gender-critical feminism in the same breath as Nazism. At a pro-trans rally, she said we need to stand against 'hate' (tell that to your comrades!) because 'I've seen first-hand when I travelled… to visit a place called Auschwitz'. Marshalling the atrocities of the Holocaust to demonise women who just don't want men in their refuges, sports and changing rooms? Every day there's a new low in this lobby. A few months ago it was revealed that the SNP's equalities officer, who has been photographed with Sturgeon, had written tweets saying he wanted to 'beat the fuck out of some TERFs'. In 2021, an SNP researcher was suspended from Westminster after it emerged that he'd shared a tweet from a thread which seemed to encourage armed violence against gender-critical women.
A political party that harbours men who dream of battering women, and whose elected representatives are seen next to banners calling for women to be beheaded, and whose councillors compare women who defend their sex-based rights to the people who oversaw the industrial slaughter of Europe's Jews has a very serious problem, doesn't it? 'WITCH, WITCH, WITCH!', a trans activist screamed in the face of a gender-critical woman at a demo in Edinburgh in 2021, summing up what a sexist mess Scotland has become under the gender tyranny of Nicola Sturgeon. Last year, Sturgeon issued a formal apology for the witch trials that rocked Scotland between the 16th and 18th centuries. When is she going to apologise for the very modern witch-hunts that she herself has witlessly helped to facilitate?
Sexist hate is a daily reality for women who question the idea that you can change sex. Witness those clips in which mobs of masked men yell 'fucking scum' and 'fucking piece of shit' at Kellie-Jay Keen and her gender-critical friends. See the rape and death threats visited upon JK Rowling every week. 'You are next', a lowlife said to her when she expressed sorrow over the stabbing of Salman Rushdie. Or just behold the low-level intimidation that attends virtually every gathering of 'TERFs'. There will always be gangs of men outside gender-critical meetings; men horrified by the idea of women speaking among themselves about their rights; men who ridiculously believe that their feeling of 'womanhood' and badly applied lippy makes them women, too. Better women, in fact. As India Willoughby tweeted at the weekend, 'I'm more of a woman than JK Rowling will ever be'. That's misogyny, too. The idea that a man – yes, India's a bloke – even does womanhood better than women is testament to the low view of womankind that's been whipped up by the trans cult.
Any movement that attracts so many bigots really should have a word with itself. Any activist set that helps to make it fashionable again to call women witches really should engage in some self-reflection. For here's the thing: while it might be the outliers of the trans cult who scream witch and issue death threats and say 'suck my girldick', their tirades only express with greater ferocity and spite the misogyny that is inherent to modern trans activism. The root idea of the contemporary trans movement – that 'transwomen are women' – is itself misogynistic. Its reduction of womanhood from a biological, social, relational phenomenon to a costume that anyone can pull on, even people with dicks, is profoundly sexist. It dehumanises women. It denies the specificity of their experiences. It turns womanhood into a feeling, something flimsy. So, yes, in saying that all it takes to become a woman is three months of wearing a dress, Sturgeon is contributing to the misogyny that motors 21st-century gender ideology.
The mantra 'transwomen are women' underpins the resurgence of misogynistic thinking. There is a traceable line from this mainstream chant to the fringe cries of 'cunt' aimed at any woman who says transwomen are not women; that there's more to being a woman than feeling and image. The violent hatred for 'TERFs' might mostly come from unstable individuals online, but it expresses the sexism and intolerance that are absolutely key to trans activism more broadly, and in particular to its belief that a man can be a woman. We need a firmer fightback against the hatred for 'TERFs' and in defence of the things that are threatened by this new witch-hunt – women's rights, freedom of speech and scientific truth.
Brendan O'Neill is spiked's chief political writer and host of the spiked podcast, The Brendan O'Neill Show. Subscribe to the podcast here. And find Brendan on Instagram: @burntoakboy
Correction: An earlier version of this article stated that an SNP researcher had shared a tweet advocating armed violence. In fact, he shared a tweet calling for Antifa to disrupt gender-critical meetings. This tweet was part of a thread which included a separate tweet encouraging violence.
Picture by: Twitter / JK Rowling.
To enquire about republishing spiked's content, a right to reply or to request a correction, please contact the managing editor, Viv Regan.