Joe Biden's Orwellian presidency
Is the US in a recession? Not if the government changes its meaning.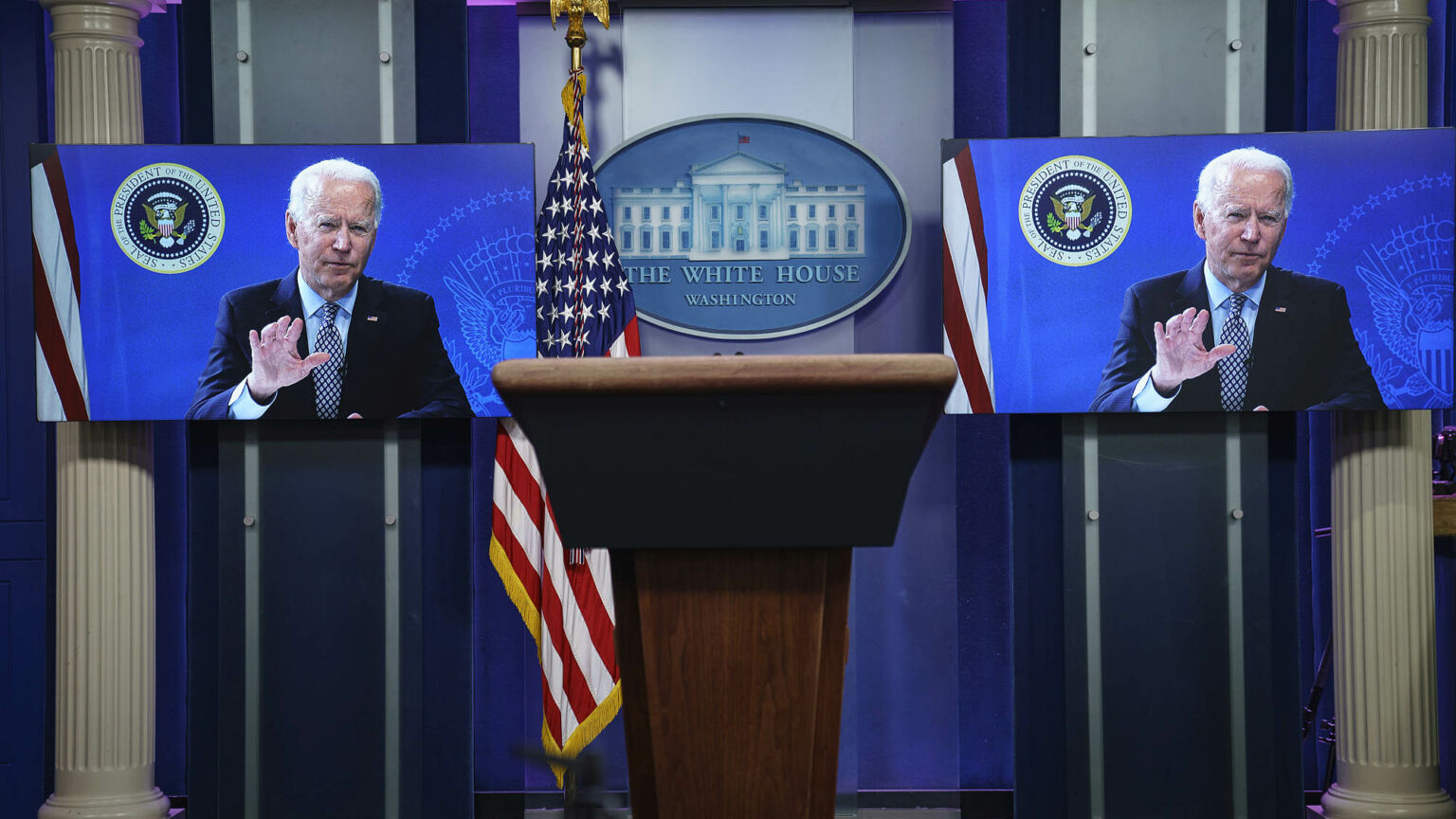 It is no secret that the US economy is in poor health right now. The highest inflation in decades, supply chain snarl-ups and a housing bubble on the verge of bursting. But whatever is happening in the US economy, the Biden administration is adamant that you must not call it a 'recession'. So much so that it is trying to make you doubt the r-word's meaning.
Open any dictionary on the word 'recession', and it will generally say something like this, from the OED: 'A period of temporary economic decline during which trade and industrial activity are reduced, generally identified by a fall in GDP in two successive quarters.' (My emphasis.) And now that the US has already marked one quarter of negative growth, all eyes are understandably on Thursday's GDP figures to see if the second quarter goes negative.
But the Biden White House rejects this dictionary definition. It even put out a blog last week to make this explicit: 'While some maintain that two consecutive quarters of falling real GDP constitute a recession, that is neither the official definition nor the way economists evaluate the state of the business cycle.' Aides have gone further since. They say that if we learn on Thursday that there have been two quarters of negative growth, this is 'unlikely' to 'indicate' a recession. But what else exactly are negative GDP figures supposed to 'indicate'?
There are complicating factors here, of course. The National Bureau of Economic Research (NBER) – whose word is broadly taken as gospel on whether the US is in recession – looks at a broader range of economic metrics than just GDP and it does not limit its assessment to two quarters. But the truth is that in practically every instance since 1948, where there have been two consecutive quarters of negative growth, this has coincided with an 'official' recession. The normie definition has a near-perfect track record.
But the Biden administration cannot help itself. It has made an alarming habit of telling the American people to reject what they see with their own eyes. Instead, you have to accept the truth as handed down by the administration.
All governments spin, of course. They invent new slogans and new mantras to make the nasty medicine taste sweeter. Some governments and politicians tell outright lies. One recent White House occupant was adept at deploying 'alternative facts'. But there is nevertheless something particularly Orwellian about the Biden administration. It doesn't just tell falsehoods. It believes itself to be the arbiter of what is true and false.
To this end, the Biden White House even attempted to set up its own Ministry of Truth earlier this year. The explicit aim of the Disinformation Governance Board, as it was officially known, was to counter 'falsehoods that threaten the national security of the US'. But would that include those the Biden administration thinks of as 'domestic terrorists', like parents who don't want schools to teach woke ideology to their children? Views that contradict the administration's lines are not merely mistaken – they are treated as dangerous misinformation that must be met with censure.
And in its embrace of woke Newspeak, the Biden administration has turned progressive politics on its head. Statutes are amended to replace 'biological sex' with 'gender identity', undermining women's rights, women's sports and women's spaces. Pregnant women become 'birthing parents'. Biden-nominated Supreme Court justices refuse to define the word woman. And when it comes to Biden's 'anti-racist' agenda, 'equality' has been subtly replaced by 'equity' – meaning discrimination on racial grounds is now actively encouraged.
The Biden administration's official, approved truths are a long way from the real thing.
Fraser Myers is deputy editor at spiked and host of the spiked podcast. Follow him on Twitter: @FraserMyers.
To enquire about republishing spiked's content, a right to reply or to request a correction, please contact the managing editor, Viv Regan.