Parents are still being treated like terrorists
The US educational establishment is waging a vicious culture war against families.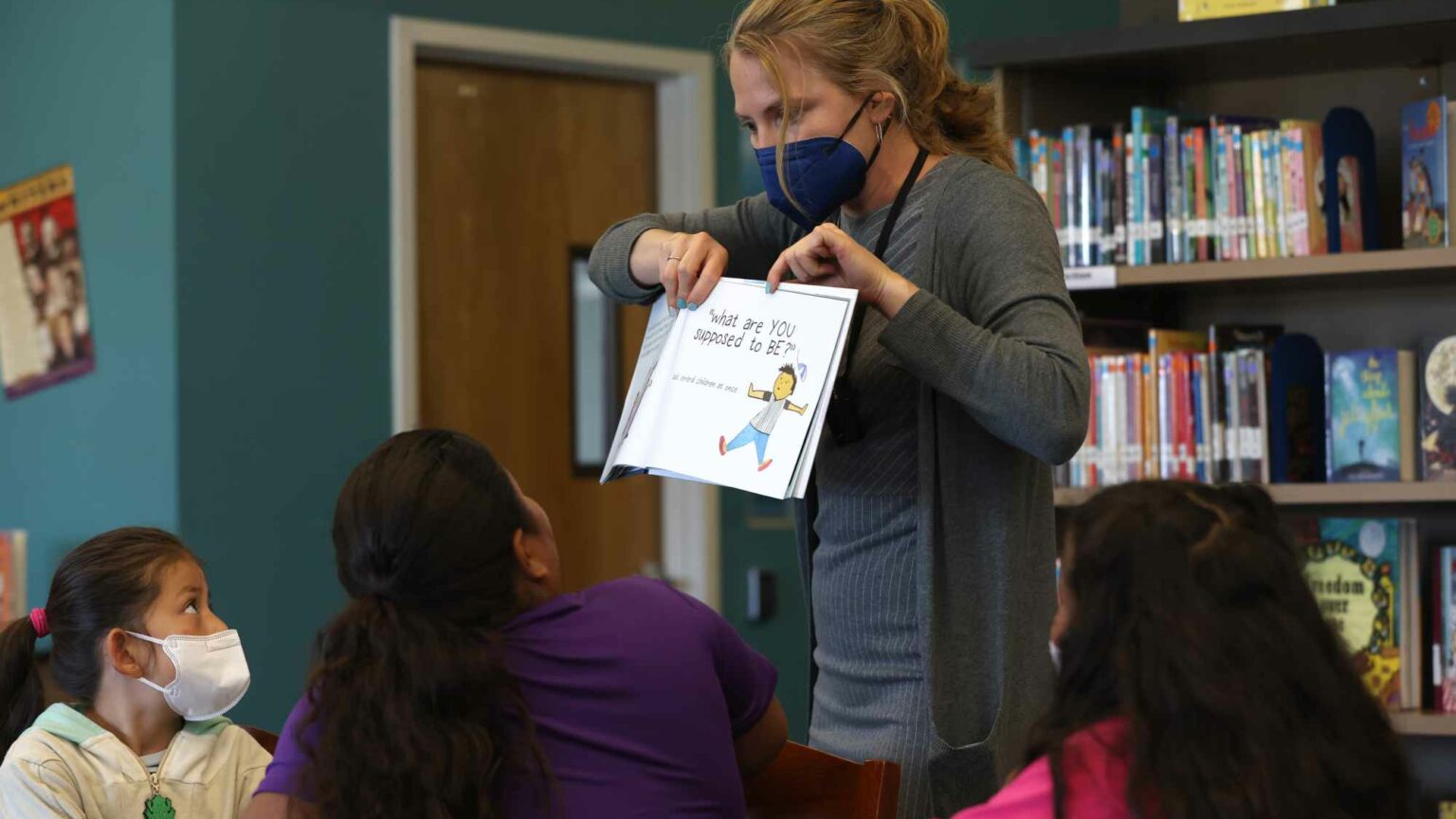 Last year, protests flared up at school-board meetings across the US, as parents expressed their anger and opposition to Covid mask mandates and lessons inspired by critical race theory. Amid these uprisings, in September 2021, the National School Boards Association (NSBA) sent a letter calling on President Biden to investigate the protesters, under the post-9/11 Patriot Act, for 'domestic terrorism and hate crimes'. A few days later, attorney general Merrick Garland issued a memo directing the FBI to collaborate with state attorneys and local law enforcement to monitor and potentially prosecute anyone who threatens school administrators and teachers.
As heavy-handed and scornful as that infamous NSBA letter was, we have now learned that it could have been worse. An independent review has revealed that the original draft of the NSBA letter included an incredible appeal to the Biden administration to deploy the National Guard and military police to school districts where there are protests. After internal debate, the NSBA dropped this request, but it continued to liken parents to terrorists and hate criminals.
There was no basis for the NSBA's claims of widespread violence at school-board meetings. The letter cited more than 20 incidents, but the vast majority of these involved speech-related disruptions, not threats of physical violence. This lack of evidence didn't stop Garland from citing 'a disturbing spike in harassment, intimidation and threats of violence against school administrators, board members, teachers and staff' – or from using that bogus threat as the grounds to deploy the FBI against parents.
The independent review also confirms that the NSBA and the White House worked hand-in-glove on the letter. White House staff discussed a draft of the letter with the NSBA before it was issued, and shared it with Garland's Department of Justice (DoJ). After receiving the letter, President Biden telephoned the president of the NSBA board, Viola Garcia, to thank her. As the Washington Post has reported, Garcia declined to discuss this fact publicly at the time 'because she did not want to further the perception that the group was "in cahoots" with the White House'.
The publication of the NSBA letter caused a huge backlash among parents of all political (and apolitical) persuasions. It fed a growing realisation that the educational establishment, and its political backers in the Democratic Party, views parents as at best irrelevant to their kids' schooling. This patronising attitude was summed up most memorably by Terry McAuliffe, former Democratic governor of Virginia, who said: 'I don't think parents should be telling schools what they should teach.' Protesting parents obviously didn't share that view, and sent a stunning rebuke to McAuliffe by helping to elect Republican Glenn Youngkin in his place last November.
The letter has left the NSBA's reputation in tatters. The NSBA has apologised to its state members, fired its chief executive and it commissioned this independent review. But its latest attempts to come clean about the origins of the letter don't look likely to stem defections. According to Parents Defending Education, school-board associations in 30 states have distanced themselves from the NSBA's letter and 25 states have withdrawn membership, participation or dues from the association. And while the NSBA may have expressed regret to its members, it has yet to apologise to the group it slandered as terrorists – parents.
Raucous school-board meetings do not dominate the media headlines or political debate as much as they did late last year. But the top-down culture-war offensive in schools has not let up. And objecting parents still struggle to push back. In too many cases, school boards are aloof from parents' concerns. Many even tacitly support, if not actively promote, these new woke initiatives in schools.
Educators continue to push lessons that claim to be 'anti-racist' but in fact entrench racial categories, telling kids that who they are and what they can achieve is entirely based on their race. As C Bradley Thompson recently catalogued, the evidence of racialist lessons in US schools is overwhelming. And as a recent report notes, Democrat-leaning states such as California and New York are planning to use Covid-relief funds to train staff in 'implicit bias' and pursue other race-based programmes in schools.
School-board elections, which used to be quiet affairs, have taken on a new edge this year, with slates of concerned parents challenging board incumbents. Opposition to critical race theory is their central message. So far, the results have been mixed. Some challenges, as in red-state Texas, have been quite successful, while others, like in blue-state New York, have been less so. And when school boards have refused to back down, some parents have taken to the courts to try to block schools from pursuing an ideological race-based agenda, again with varied success.
Since last year, a newer front in the culture war in schools has emerged. Radical gender ideology has to some extent displaced race as the top concern. All across the US, sex and gender lessons are being organised for kids, including those as young as five. Parents fear that these lessons lead to the inappropriate sexualisation of their children, or that they might cause impressionable children to become confused about their gender identity.
As with the many 'anti-racist' initiatives, these gender programmes in schools typically have the support of school boards. In a recent incident that went viral, a Las Vegas school board temporarily turned off the microphone of a mother, Kendra Evans, when she complained that her 15-year-old daughter was given a pornographic assignment. As Evans recited the words of the sexually explicit assignment, the board members demanded Evans stop using such language in order to maintain meeting 'decorum'. Of course, the irony was lost on the board. 'If you don't want me to read it to you, what was it like for my 15-year-old daughter to have to memorise [this] pornographic material?', replied Evans.
Another issue that has riled parents has been schools' policing of pronoun usage. In Virginia, the Fairfax County school board has proposed making 'malicious deadnaming' or 'malicious misgendering' an offence that requires student suspension. In Wisconsin, a school district has accused three students of sexual harassment, under Title IX anti-discrimination law, for using non-preferred pronouns when referring to a fellow student.
School boards have lost their way: they are now in the business of compelling students to speak in a certain way to support the cause of transgender activism. As one Virginia mother put it, 'The point of education is reading, writing, math, science, factual history. It's not to get lessons in pronouns.'
Too many school-board members, along with others in the educational establishment, have a low opinion of parents. They don't view it as their role to cooperate with families in the process of educating children. Instead, these elitist educators believe they are in competition with parents over the minds of kids, and that they know better than the parents. Often, their hopes for radically changing society depend on them instilling certain ideas and behaviours in young people, and parents stand in the way of that mission.
Perhaps the most striking example of this condescending, anti-parent perspective is how schools now conceal information about students' gender identities from parents, and hold gender-counselling sessions with students without parents' knowledge. In one case, a Massachusetts teacher was fired because she defied the school principal's demand to keep an 11-year-old girl's gender transition a secret from her parents. This teacher told the parents that their daughter had announced she was 'genderqueer' and that teachers were referring to her by a new masculine name. She was then summarily fired when the parents complained that school officials were acting against their wishes.
Meanwhile, as if implacably woke-minded school boards weren't enough to contend with, parents also still face the threat of an FBI investigation if they protest too loudly. While the NSBA has withdrawn its letter, the DoJ is still chasing after parents. Garland has denied using counter-terrorism statutes to investigate parents, but reports of the FBI interviewing parents after tips to the National Threat Operations Centre have been confirmed by a whistleblower within the DoJ. None of the parents has been charged, but getting a knock on the door from the FBI certainly chills parents' rights to speak up about how schools are run.
Parents have had to confront a vicious culture war being waged in their children's schools. They have been told that they just have to shut up and go along with some truly strange practices – like that of segregating students into 'oppressors' or 'oppressed' according to their race, or of encouraging kids to question their gender identity. Meanwhile, parents have also had to endure the relentless propaganda, emanating from the White House downward, that labels them as crazy and / or 'terrorists'.
But when you have the educational establishment seriously considering the deployment of the National Guard, and the attorney general using terrorism laws and marshalling the power of the FBI against ordinary parents, it is clear who the real extremists and lunatics are here.
Sean Collins is a writer based in New York. Visit his blog, The American Situation.
To enquire about republishing spiked's content, a right to reply or to request a correction, please contact the managing editor, Viv Regan.