'Her penis' and the dangers of trans doublethink
When we pretend that a male sex offender can identify as a woman, we put actual women in danger.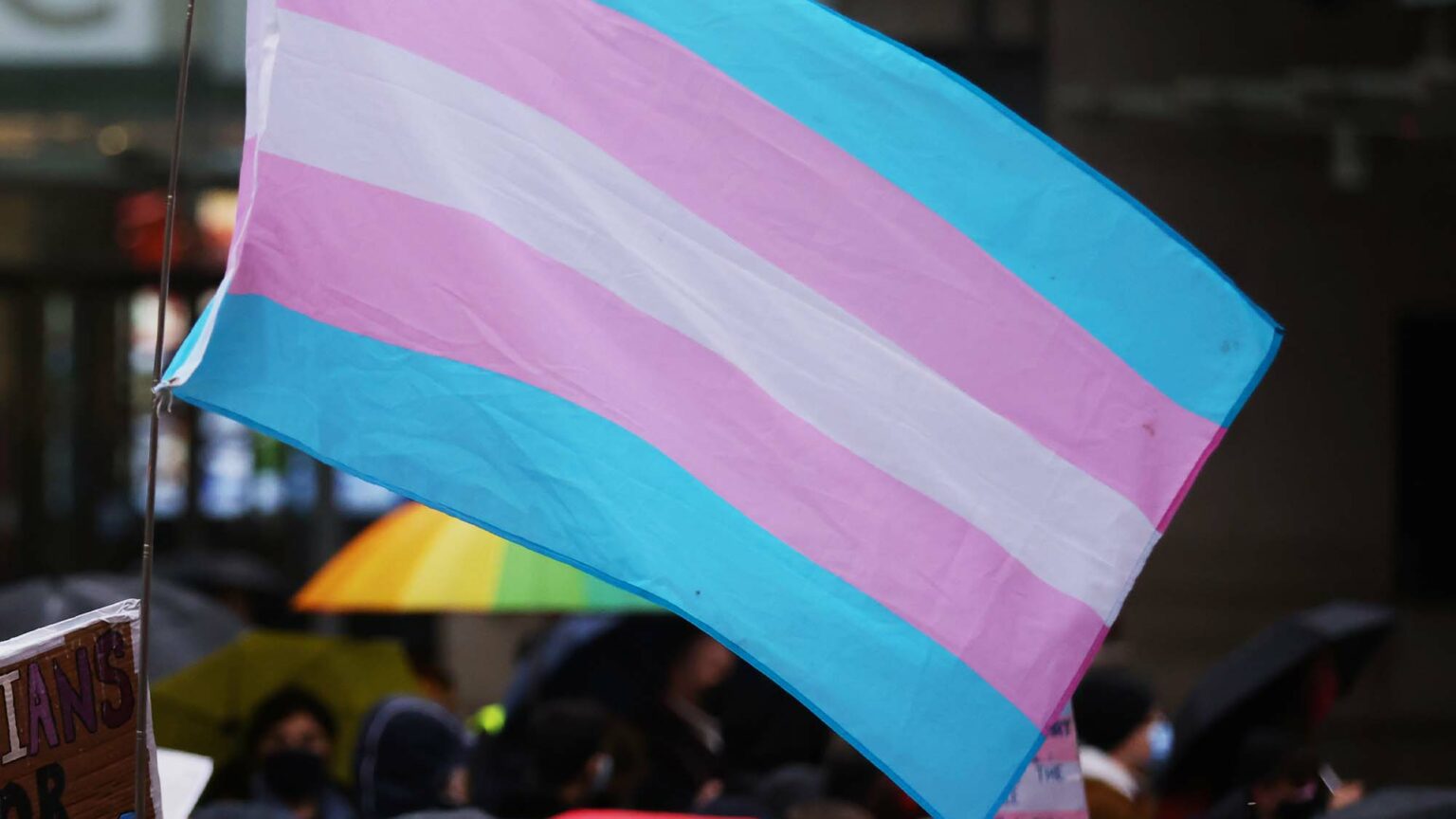 A fabulous example of doublethink was published this week. The Daily Record claimed a 'Scot flashed her penis and used sex toy in public leaving onlookers shocked'. The pronoun 'her' was eventually removed from the headline, after much justified ridicule on social media.
But the details of the story are serious. A sex offender had been found to have 'pleasured himself' in view of an unwilling audience, including children. Witnesses agreed that the person they saw was 'a male', with one describing him as wearing 'an ill-fitting black wig, a ra-ra skirt and a midriff-length top'.
The Glasgow-born male, who goes by the name of Chloe Thompson, has 17 convictions for 22 offences and was still under a suspended-sentence order at the time of this incident. In 2011, when he was known as Andrew McNab, he sexually assaulted an underage person and was put on the Sex Offenders Register. But today, thanks to the tireless work of transgender-lobby groups like Stonewall, the likes of Chloe, if sentenced to prison, could be incarcerated in a women's prison. What could possibly go wrong?
In England, politicians are starting to wake up to the clusterfuck of horror that has been ushered in, in the name of 'trans rights'. Eighteen months ago, equalities minister Liz Truss shelved proposals that would have made getting a Gender Recognition Certificate (GRC) easier. But in Scotland, the government is speeding full-throttle towards allowing men like Thompson to legally identify as women. Moreover, new hate-crime legislation could criminalise those who complain about this impending safeguarding scandal.
Obviously, it would be unfair to characterise every person who wants to change legal gender as a sex offender. But the fact is men like Thompson will abuse the process.
At present in the UK, to obtain a GRC a person must give evidence that they have lived in their 'acquired gender' for two years and have a diagnosis of 'gender dysphoria'. But the SNP-led administration wants to overhaul this, allowing legal gender change from the age of 16, reducing the time spent living in the 'acquired gender' to three months and scrapping the need for a medical diagnosis. In other words, people will be allowed to 'self-identify' into the gender of their choosing.
Most Scots are likely unaware that the progressive-sounding reform of the GRA will have wide and profound consequences. Changing rooms, hospital wards and prisons will become mixed sex, legally open to anyone with the wit and motivation to fill in a form. Elderly or disabled people will no longer have the right to ask that personal care be delivered by someone of the same sex. The legislation might sound dry, and the numbers of trans-identified people small, but the social ramifications of gender self-identification are significant.
A recent poll commissioned by the BBC showed that 40 per cent of Scottish people are in favour of measures to 'speed up and simplify' the process of obtaining a GRC. But of those surveyed, two-thirds admitted they hadn't been following the matter closely. And who can blame them? The trans debate is more confusing and contentious than Scottish independence and Brexit combined.
In what is a now familiar tactic, those who have tried to raise the alarm have been smeared as fascist nutters. Take Patrick Harvie MSP, the co-leader of the Scottish Greens. When a constituent asked him to host a meeting in Holyrood for a feminist-campaign group with concerns about the GRA, he replied: 'I would no more do that than I would host a meeting for anti-abortion campaigners seeking to undermine women's reproductive rights, or anti-Islam campaigners seeking to demonise Muslims for what they wear when they go shopping.'
Harvie is not alone in hiding his prejudice behind a 'be kind' shield. Despite self-identifying as a 'feminist to her fingertips', Scottish first minister Nicola Sturgeon has done nothing to condemn the rape and death threats sent to women opposed to GRA reform within her own party.
Given the lack of joined-up political opposition, the unpleasant task of challenging gender self-identification has fallen to small grassroots feminist groups. This week one group, Fair Play for Women, failed in its bid to ensure that meaningful categories of 'male' and 'female' would be retained in the Scottish census (Fair Play is planning an appeal). Though on Friday, another group, For Women Scotland, won a judicial review against the Scottish government, ensuring that women are recognised 'as a sex', not a 'gender identity' for the purposes of the Gender Representation on Public Boards (Scotland) Act 2018. In essence, ordinary women have banded together to protect the basic rights they thought they had won decades ago.
But while fringe feminist groups have to resort to crowdfunding to raise cash, the Scottish government has continued to pump money into lobby groups which promote gender self-identification. In 2021, organisations claiming to advocate for the protected characteristics 'gender' and 'LGBTI' received funds worth millions from Holyrood.
In its bid to 'out-woke' England, the Scottish government is running toward legislation which will allow dangerous men like Chloe Thompson to be welcomed into women's spaces. The appeal is obvious: the SNP gets to look like the goodies – championing minority rights and distancing itself from the decisions of Westminster. And naturally no one cares about the death threats sent by trans activists (the mouldy old cows at the receiving end are probably 'fascists' anyway). As it stands, the Scottish government has been clear – it cares more about the rights of men like Chloe Thompson than those of his unfortunate victims.
Jo Bartosch is a journalist campaigning for the rights of women and girls.
To enquire about republishing spiked's content, a right to reply or to request a correction, please contact the managing editor, Viv Regan.