The tragedy of Prince Harry
He will come to regret his conversion to wokeness.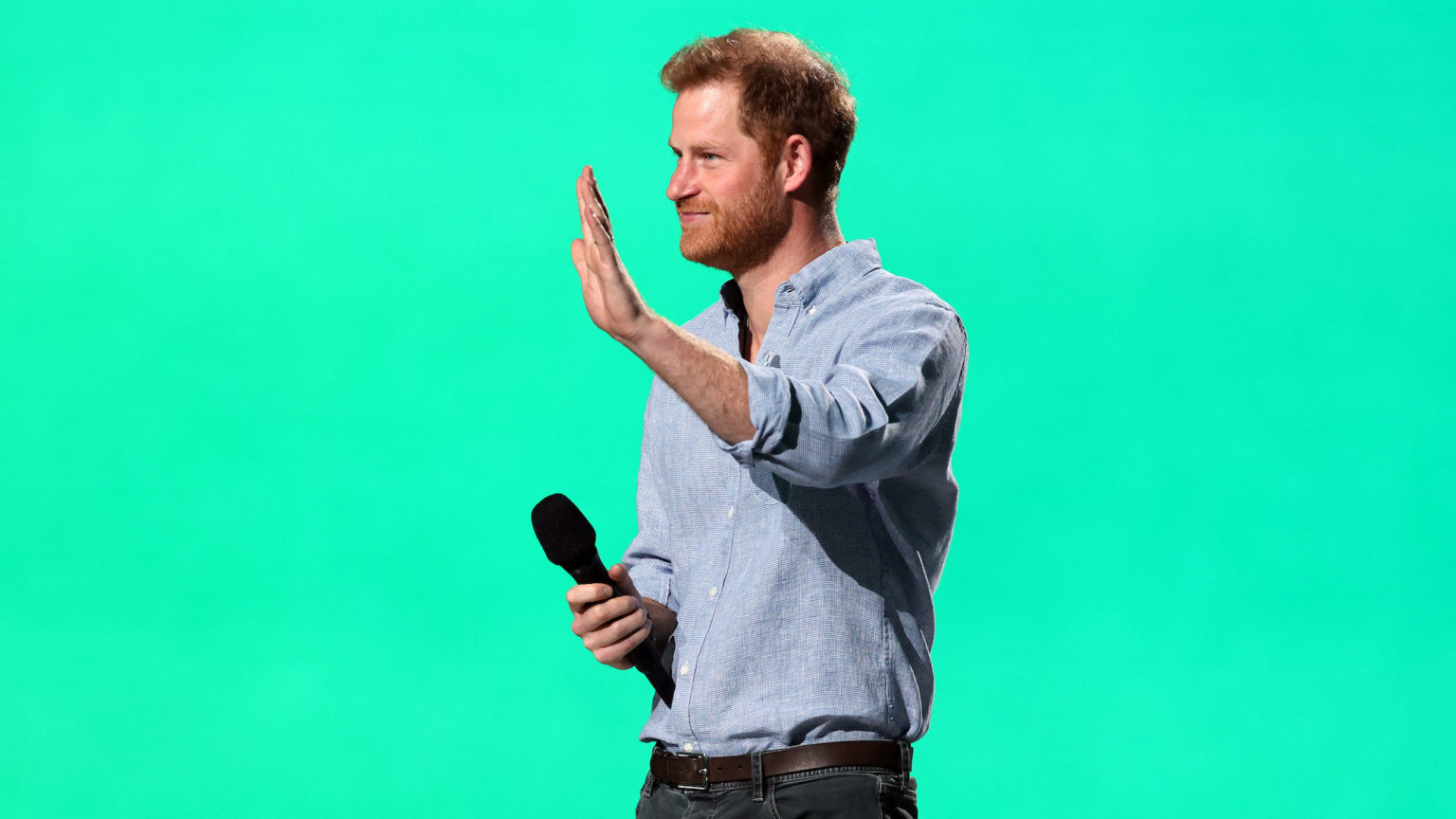 Prince Harry has drunk the woke Kool-Aid. He's guzzled it down. This former squaddie with a penchant for playing naked billiards and dolling up as a Nazi for bantz has had a Damascene conversion to the cult of correct-thinking. He used to be the Loaded Prince, titillating the rah-rah set by sneaking into Glastonbury in a porkpie hat or drinking champagne from a prosthetic leg. Now he's an acolyte of Oprah, boring the world rigid with blather about his 'genetic pain' and why we must all embrace the religion of critical race theory.
There's a delicious irony to Harry's latest self-regarding pronouncements. On the Armchair Expert podcast, hosted by actor Dax Shepard, Harry described life in the royal family as a constant gawp-fest. It was 'a mix between The Truman Show and living in a zoo', he said. So now he's escaped the zoo by… moving to California. Celebville. The pap capital of the world. And by being emotionally incontinent on Oprah's TV show. And by making podcast after podcast about his ups, his downs, his feelings, his therapy, his fallouts with his dad, his arguments with his brother… What next – Harry: My Struggle With Piles?
A couple of years ago all I knew about Prince Henry of Wales is that he was a privileged ponce who liked a pint; now I know everything. And that's entirely his doing, not the evil media's. He won't leave us alone. He accuses us of barging into his life by continuing to buy tabloids that publish pics of him and his wife, but it's him who's barging into our lives. You can't switch on the TV or open a newspaper without seeing Harry wanging on about his feelings. I half expect to see him on a street corner soon, megaphone in hand, yelling at passers-by: 'WILLIAM WON'T TAKE MY CALLS.' Get a therapist, mate.
This is what Harry 'Leave Me Alone!' Mountbatten-Windsor has really done: he's turned the world media into his personal psychologist's couch. 'Privacy' might be the banner under which Harry and Meghan have harangued and sued certain tabloid newspapers, but this therapeutically slutty pair have zero interest in living a private life. Not content with telling Oprah – and hundreds of millions of strangers – about his frosty relationship with Charles and Wills, now Harry has spilt yet more beans for Dax Shepard. He talks about feeling helpless, about his mum, his dad, what he watches on TV, who his neighbours are. Who needs a tabloid hack to go through Harry's bins when he's happy to empty them out on popular podcasts?
Harry's latest chatter about his dad – what about Prince Charles' privacy?! – is very striking. He talks about genetic pain, about how the suffering of the father has been transferred to the son. He believes he has 'experienced some form of pain or suffering that perhaps my father or my parents had suffered'. 'So that means that [Charles is] treating me the way he was treated', he said, confirming how thoroughly he has imbibed the California cult of psychobabble.
This idea of historical pain, or inherited pain, or father-to-son pain is classic millennial bullshit. It speaks to an urge to shirk responsibility for one's life. 'It's not my fault I'm messed up – I got it from my dad.' There ought to come a point in every young adult's life when he or she realises that moral autonomy means taking responsibility for what we think and do and how we behave. But the cult of therapy discourages us from embracing such self-government in favour of telling us that some family member or traumatic event or historical crime is in the driving seat of our lives, shaping our personalities, moulding our emotions. This freezes people into a permanent state of childish bewilderment towards themselves and the world. Harry has entered into this state. It's kind of sad.
Much of what Harry says now is just annoying. His claim that Covid-19 is Mother Earth's way of reprimanding humankind reveals the misanthropy of the woke worldview. His chatter about white privilege – it's like being lectured about obesity by Giant Haystacks – confirms that the trendy, dangerous fad for racialising every area of life has been fully embraced by the elites. His habit of private-jetting his way to climate-change shindigs to give barefoot lectures about environmental destruction reeks of aristocratic hypocrisy.
But leaving all that to one side, it's worth pondering what Harry has lost. Like others in the woke set, he now looks upon the royal family as a cruel, gilded cage in which there is loads of privileged living but not much freedom or emotional honesty. But is his new life really the great stab for liberty he and others claim it is? It seems to me that he is locked into a pretty destructive relationship with the global media, where he must continually offer up more glimpses into his life for the approval and analysis of the self-styled awareness-raisers of the woke set. To stay on side with the new elites he has joined, he must keep giving himself away, presumably until there is nothing left to give. Is that freedom, or the subordination of the self to the voracious cult of self-revelation?
This is the tragedy of Prince Harry. He left the royal family in the name of privacy, but he has far less privacy now than he did when he was a working royal. He struck out for freedom, but performative pain for the gawping woke media is a very phoney form of freedom. He said he wanted to be independent, yet, thanks to the therapeutic worldview, he lives in the shadow of his father and his allegedly corrosive influence more now than when he was in Clarence House. There's a lesson here. Rejecting the ideals of duty, loyalty and family commitment doesn't translate into instant liberty. Harry thinks he broke free from an individuality-crushing cult that punishes honesty and openness and that he is now getting in touch with his true self – I think the precise opposite has happened.
Brendan O'Neill is editor of spiked and host of the spiked podcast, The Brendan O'Neill Show. Subscribe to the podcast here. And find Brendan on Instagram: @burntoakboy
To enquire about republishing spiked's content, a right to reply or to request a correction, please contact the managing editor, Viv Regan.