Stop blaming everything on 'white supremacy'
The Atlanta and Boulder shootings were swiftly pinned on racism. The reality was very different.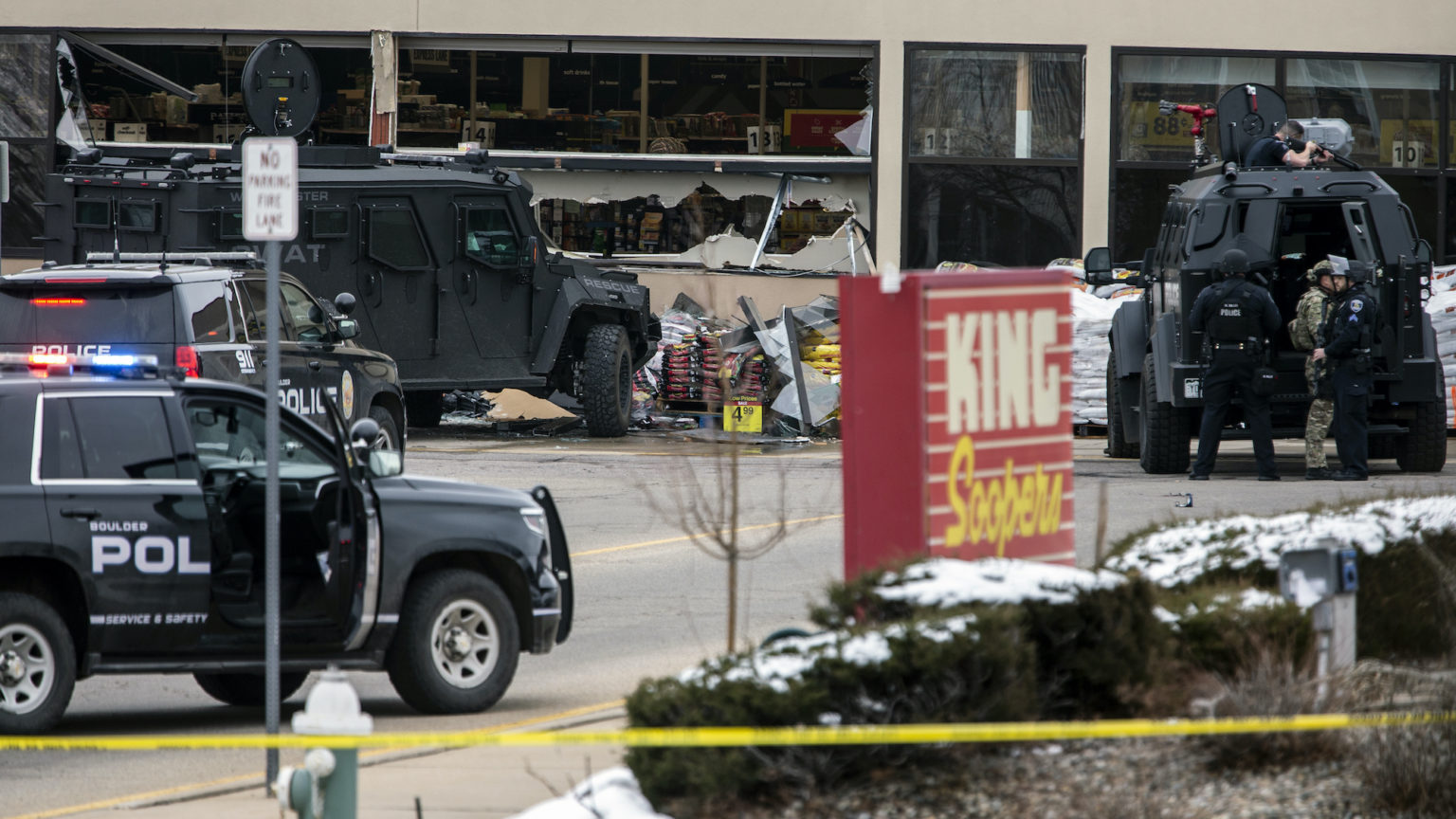 Recently, two terrible crimes occurred which had either almost or entirely nothing to do with racism. The mainstream mass media reaction to both was telling and troubling.
​First, on 16 March 2021, 21-year-old Robert Long opened fire inside three Atlanta-area massage parlours – Young's Asian Massage, Gold Massage Spa, and Aromatherapy Spa – with a semi-automatic nine-millimetre handgun. Long killed eight people, six of them Asian-American, and wounded another.
Far too soon after this, on 23 March 2021, another male walked into a King Soopers market in outdoorsy Boulder, Colorado, and opened fire with a pair of guns. Ten people were killed on this occasion, including an on-duty police officer, and the gunman was himself shot in the leg and hospitalised for several days before being jailed.
​
The reaction to both shootings was immediate, frenzied, and – to those who follow modern 'discourse' in the United States – sadly predictable: journalists and celebrities rushed to blame white men, white racism, 'white supremacy' and 'whiteness' itself for the violence. The headline on a major New York Times article about the Long case read: 'How Racism and Sexism Intertwine to Torment Asian Women.' The Root went with the simpler and more Covid-relevant 'Whiteness Is a Pandemic'.
A sombre Trevor Noah dedicated part of a Daily Show monologue to the violence in Atlanta, saying: '[the] shooter blamed a specific race of people for his problems, and then murdered them because of it. If that's not racism, then the word has no meaning.' Some activists and media figures attempted to link the Atlanta attack to a pre-existing narrative blaming the rhetoric of former President Trump for a genuine recent increase in violence against Asian Americans, with the organiser of a California solidarity protest telling the Los Angeles Times: 'It's important for black and Asian communities to work together on this because… it's about dismantling white supremacy.'
The Boulder shooting caused, if anything, a more dramatic reaction, at least on social media – although, again, one primarily directed at 'whiteness' rather than crime. In a popular tweet – 'Call it what it is!' – the actress Rosanna Arquette immediately labelled the attack 'white supremacist domestic terrorism'. Meena Harris, the niece of the vice president Kamala Harris, posted an even more widely circulated message claiming that 'violent white men are the greatest terrorist threat to our country'. Perhaps most notably, Qasim Rashid, once a serious contender for one of the Virginia seats in the US Congress, compared the 'white' killer – who was apprehended alive, if wounded – to black victims of police violence. He said: 'Tamir Rice was a 12-year-old Black child. Police shot him in 1.7 seconds and let him… die. Colorado terrorist is a grown white man who killed 10 people including a cop. Cops arrested him alive.'
As the old debater's caveat goes, all of this would be troubling if true. However, both shootings – while horrific and disgusting tragedies – turned out to bear almost no resemblance to the racialised picture initially painted of them. Long, as it turns out, specifically told police that 'he had targeted the three Atlanta spas to purge himself of his lust and his addiction to pornography'. As the Manhattan Institute's Heather Mac Donald points out, this explanation is 'wholly credible'. Every one of the establishments targeted had recently been investigated for prostitution, and at least two are reviewed on an internet site frequently used by men seeking sex for money.
According to both Long and acquaintances of his, the young murderer was tormented by his inability to control his own sexual desires and behaviour, which he saw as pulling him away from God. While there is an uncorroborated report that Long said he planned to kill 'Asians' at one of the three massage parlours, he also shot at least two individuals of non-Asian origin – who are mentioned surprisingly rarely in many articles discussing this case – and apparently planned on attacking a non-Asian American Florida business involved with the production of pornography as his next target.
While some level of sub-surface racism could at least theoretically have been a tertiary motivator for the troubled Long, the same cannot be said for the King Soopers shooter. As things turn out, that individual was a first-generation Syrian immigrant named Ahmad Al Aliwi Al-Issa. What little information could be gleaned from his social-media accounts before these rather mysteriously disappeared indicates that he was a practising Muslim who absolutely loathed Donald Trump. Further – if we must engage in this sort of crass bean-counting – every one of his victims was white, including a uniformed Boulder cop. In simple, factually accurate demographic terms, a 'MENA' (Middle Eastern and North African) Arab immigrant killed two car-loads of white people.
Not only does the micro-scale Long and Al-Issa narrative collapse under any investigation – an hour of research also reveals that this is true for the background macro-narrative that was dishonestly pegged to it as well. First, mass shooters as a group are not disproportionately white. Per the quick-access but quite solid empirical resource Statista, 66 of 121 mass-casualty shooters between 1982 and 2021 (54.5 per cent) were white, while 21 (17.3 per cent) were black, 10 were Latino or Hispanic, eight Asian, five 'other' or mixed-race, and nine unknown. This figure for whites actually indicates some degree of under-representation, given that non-Hispanic Caucasians make up 61 to 63 per cent of the US population (although it is certainly possible that one or more of the nine 'unknown' killers was a white man).
Similar – and, if anything more striking – data about anti-Asian violence can also easily be found. To put this mildly, US crime statistics do not indicate that the driving force behind the unfortunate recent spate of attacks on Asian-Americans is 'white supremacy'. According to the 2019 Bureau of Justice Statistics report, 27.5 per cent of serious violent crimes against Asians during the most recent year on record involved a black attacker, roughly 25 per cent involved a white attacker, 21.4 per cent involved a Hispanic or 'other' race attacker, and just 24.1 per cent involved an Asian attacker. This last statistic is truly remarkable, given that crime tends to be massively intra-racial, and the person most likely to kill you is generally your husband or wife. During the same year, 62.1 per cent of all violent crimes against whites had a white perpetrator, and 70.3 per cent of violent crimes against blacks had a black perp.
The reality of a diverse mob of goons picking on 'model minority' Asian-Americans is disturbing and unusual, but not much contested by serious scholars – and it appears to have continued from 2018-19 until today. I and a research associate are currently assembling a spreadsheet documenting dozens of widely publicised recent attacks on Asian-Americans. So far, not only are white supremacists sparse among the culprits, but more than 60 per cent of those identified are black. To give a typical example, the sole suspect in the well-known Oakland Chinatown attacks earlier this year turned out to be a young African-American man named Yaya Muslim.
All this data and wonkery matters. If the sole goal of the Twitterati and future cub reporters assigned to this topic is harmless virtue-signalling, there may seem no real downside to pretending that Muslim Arab immigrants are neo-Nazis, or that MAGA-hatted Trumpers rather than young black guys are robbing Asian grandmothers in Oakland. But if the goal is actually solving problems, then real-world solutions like enhanced policing of Asian neighbourhoods by diverse officers trained to recognise likely suspects will be required – and silly ideas like defunding police while paying neighbourhood Black Lives Matter chapters more to fight 'white supremacy' are revealed to be counterproductive. My take? Put aside the goofy pre-set narratives, and start listening to and dealing with the actual stories we hear in America today.
To enquire about republishing spiked's content, a right to reply or to request a correction, please contact the managing editor, Viv Regan.