We must stop capitulating to this intolerance
The Batley Grammar scandal reveals the depths of liberal cowardice.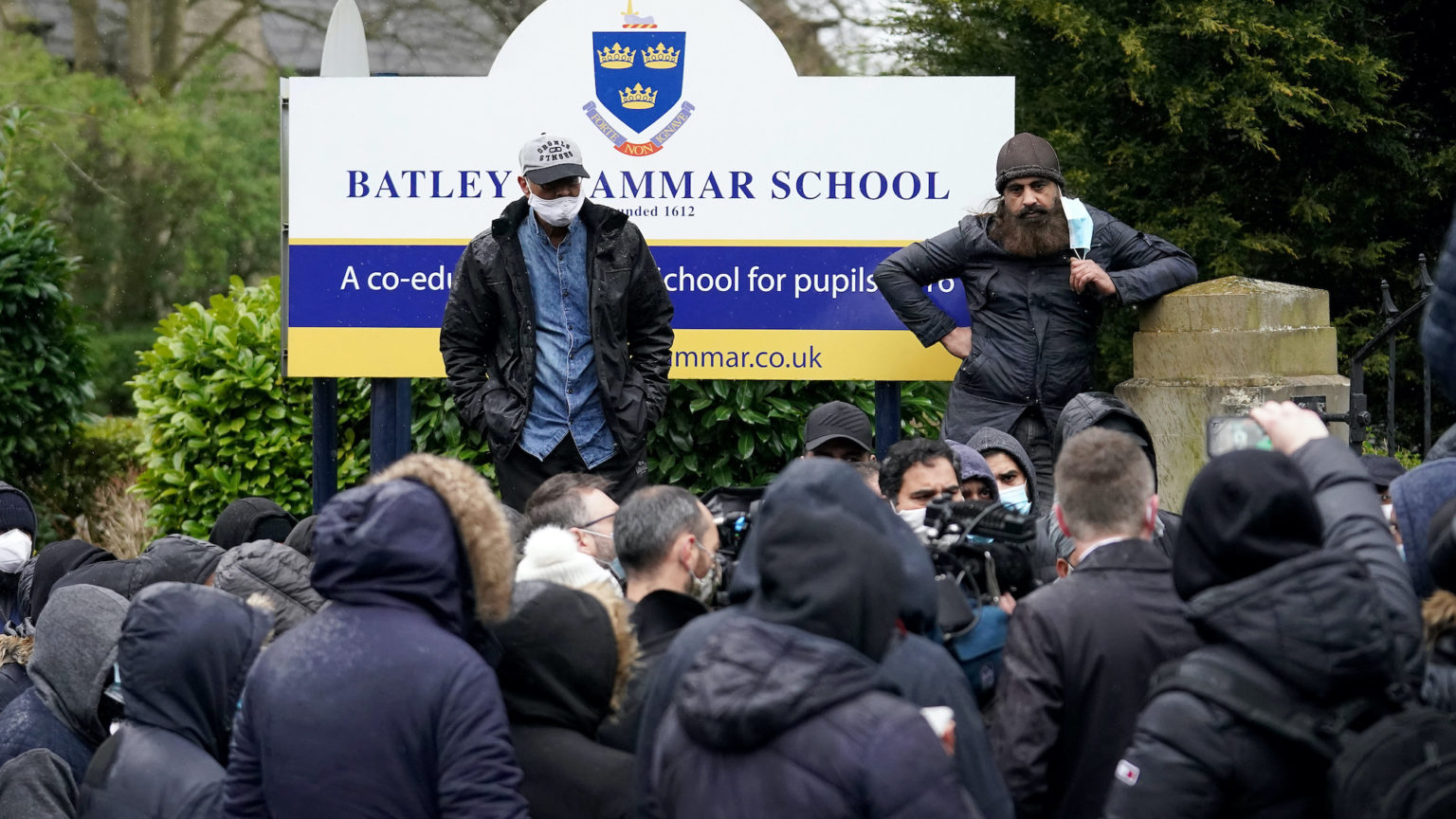 A group of religious conservatives has managed to shut down a school for two days running, exact a grovelling apology from its headteacher, and have a teacher suspended. The teacher's name has been circulated online, both by protesters and a local religious charity, forcing him into police protection.
All this because the teacher showed his pupils images in a lesson that the protesters deem to be offensive.
We might expect the great and good of liberal Britain to be incensed by all this. What we have here are religious fundamentalists demanding a state-funded school align itself to their doctrines and sack a teacher for breaching them.
But as the image in question is one of the Prophet Muhammad, and the protesters in question are Muslim, the same rules apparently do not apply. To side with the mob is, in this case, the noble, progressive position.
The teacher showed cartoons of Muhammad to his pupils, many of whom are Muslim, in a religious-studies class. This was an entirely appropriate thing to do. School curricula cannot be dictated by religious sensitivities. We do not have blasphemy laws in this country and free speech and tolerance are supposed to be fundamental values.
And yet, the school capitulated. Local Labour MP Tracy Brabin even said she was 'pleased that the school has recognised it was inappropriate and apologised'. Meanwhile, the teachers' unions are silent about one of their own being suspended and forced into police protection simply for doing his job as he saw fit.
That this is happening in the wake of the beheading of Samuel Paty last year – the French teacher butchered by an Islamist for showing Muhammad cartoons to his pupils – makes it all the more grotesque. We also recently marked the sixth anniversary of the slaughter at Charlie Hebdo. We do a disservice to the victims of religious intolerance when we undermine the principles they lost their lives for.
This is no longer just about Batley Grammar. This is about whether or not we want to usher in a backdoor blasphemy law. The protesters' demands are quite clear. A 'community leader', addressing the protests this morning, suggested people are 'using freedom of speech as an excuse' to justify 'hurting somebody's emotions and sentiment'. 'Especially as this school is located around the Muslim community, we should be more careful.'
Such claims are being echoed by the chattering classes. Identitarian TV personality Shola Mos-Shogbamimu has accused critics of the Batley mob of peddling 'Islamophobia couched as freedom of speech'. Baroness Sayeeda Warsi suggested showing such cartoons would fuel Islamophobic bullying. Whatever way they try to spin it, they are just making excuses for religious censorship.
What they are saying is that for the sake of religious sensitivity we must all adhere to Islamic prohibitions on speech and expression. This is incompatible with a free society. And it is, in its own way, bigoted. To suggest that Muslims are incapable of having their views challenged is to treat them like lesser citizens, incapable of taking part in a liberal, tolerant society. And to suggest that those dickheads in Batley represent the concerns of the entire 'community' is to tar all Muslims with one brush.
The threat to liberal values today stems from our inability to defend them, from our tendency to capitulate to the demands of any unrepresentative group claiming victim status. In Batley, we get a chilling insight into where this leads. Islamists have managed to shut down a school, get a teacher suspended and teaching materials withdrawn at the snap of their fingers.
Our cowardice is emboldening these regressive movements. It's time to start saying No.
Tom Slater is deputy editor at spiked. Follow him on Twitter: @Tom_Slater_
Picture by: Getty.
To enquire about republishing spiked's content, a right to reply or to request a correction, please contact the managing editor, Viv Regan.