Why sequels are so often terrible
Coming 2 America offers up a mix of empty nostalgia and modish finger-wagging.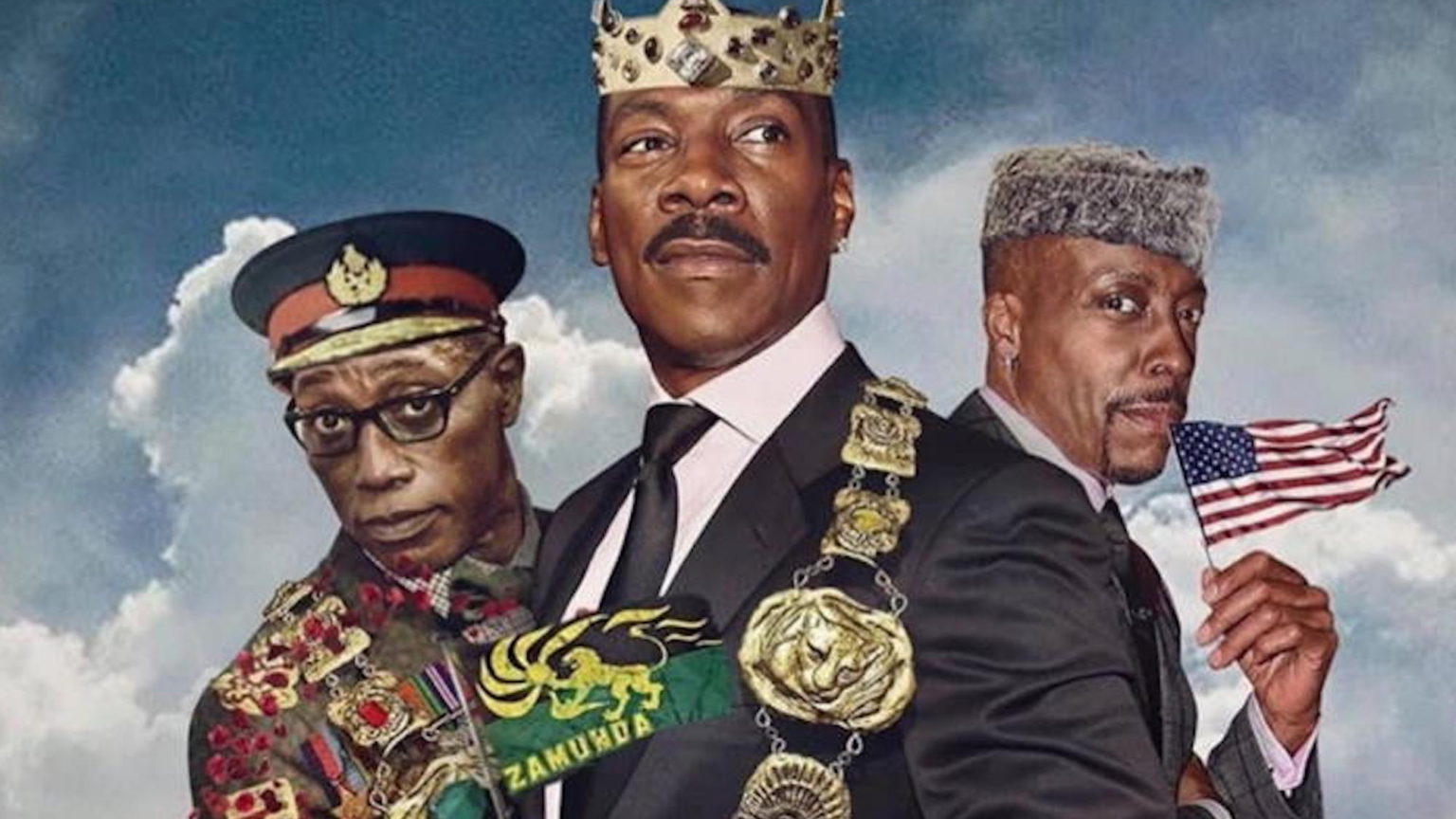 Christopher Marlowe knew how to please a crowd. After the immense commercial success of his play Tamburlaine the Great (1587), he quickly wrote a sequel. That this was an opportunistic endeavour is made explicit in the drama's prologue: 'The general welcomes Tamburlaine receiv'd, / When he arrived last upon the stage, / Have made our poet pen his Second Part.' Marlowe may have been 'cashing in' on one of the first major blockbusters of the Elizabethan stage, but he wasn't afraid to admit it.
In Coming 2 America – released this week on Amazon Prime as a belated follow-up to the popular comedy Coming to America (1988) – the character of Lavelle Junson (played by Jermaine Fowler) makes a similarly metatextual gesture when he implies that he is appearing in 'a sequel to an old movie that nobody asked for'. The line might have worked in a better film but, in addition to the continual flashbacks to the original, it only serves as a reminder of the relative weakness of this latest offering.
The new movie feels like a pantomimic overture of selected elements from the 1988 hit, but without any of the bite. The tone is one of nostalgia, but with an added sense of finger-wagging disapproval of what made Coming to America so funny in the first place. Gone are the days when Eddie Murphy could stand upon a balcony and innocently shout 'fuck you' to the denizens of Queens, having mistaken the phrase for an American pleasantry. Even the lively occupants of the 'My-T-Sharp' barber shop – two of whom are played by a prosthetic-laden Murphy – have been needlessly sanitised, and are at one point chastised by our hero Prince Akeem for their failure to live up to the standards of the #MeToo era. Eddie Murphy is one of the most talented comedic actors in mainstream cinema, yet in Coming 2 America he is rarely given the opportunity to be funny. If you want to see Murphy at his best, try Dolemite Is My Name (2019) instead.
Sequels that have taken too long to materialise invariably seem to suffer from this tension between the expectations of a loyal fanbase and the tendency to pander to the trends of the moment. Most obviously, the makers of the recent Star Wars trilogy were accused of hectoring their audience with identity politics, an odd approach given that sci-fi fans have always been receptive to diversity and the representation of marginalised groups and are bound to resent being treated like bigots in need of re-education. One suspects that any sequels to the original trilogy would have been more interesting had they been conceived in the 1980s or 1990s, before the advent of these new culture wars that have seen so many creatives subordinate their craft to moribund sermonising.
The question of how to address the nostalgic appetites of Star Wars devotees was likewise botched. With The Force Awakens (2015), director JJ Abrams rehashed the plotlines of A New Hope (1977) to the delight of fans, only to have their hero Luke Skywalker transformed into an unrecognisable curmudgeon in Rian Johnson's The Last Jedi (2017). With two creatives pulling the franchise in completely different directions, the end result was a general sense of narrative incoherence.
It is inevitable that Hollywood studios will continue to milk their cash cows until their teats are raw, but it is surely a temptation they might learn to resist. For instance, I have never met a single movie buff who is not of the opinion that the world would be a better place without Exorcist II: The Heretic (1977). The sins of this unintelligible mess are only compounded by the fact that it was preceded by a perfect film (1973's The Exorcist), not to mention the maddening sensation that comes from seeing Richard Burton's talents so flagrantly squandered. I'm reminded of the moment in Kazuo Ishiguro's novel The Unconsoled (1995), in which the narrator watches his friend's infant son draw an image of Superman with his crayon. After multiple failed attempts, the boy finally succeeds. Our narrator looks on in agony as the boy adds more and more touches until, in his recklessness, he ruins his little masterpiece. Sometimes our triumphs are best left alone.
Consider the rarity of noteworthy sequels. The Godfather Part II (1974) is an obvious exception to the law of diminishing returns, and even The Godfather Part III (1990) would have been a fine achievement were it not for one unwatchable performance in a leading role that utterly ruins the film's emotional impact. I am sure that Mad Max: Fury Road (2015) is as wonderful as everyone insists, but I have a total blind spot when it comes to that kind of grubby cyberpunk aesthetic. Sam Raimi's Evil Dead II (1987) is a similarly ugly film, but in the service of slapstick and high comedy this is not only forgivable but necessary. Star Trek II: The Wrath of Khan (1982) is an ambitious sequel which works on its own terms as a tense revenge story in space, but also as an inspired reworking of Herman Melville's novel Moby-Dick (1851). Return to Oz (1985) is a brilliantly dark and perverse follow-up to The Wizard of Oz (1939), although as a sequel it is only ever considered to be 'unofficial'.
Like imaginative cover versions that transpose songs into alternative genres, the most effective movie sequels tend to reinvent the franchise in unexpected ways that mitigate the possibility of unflattering comparisons. Into this category we would place James Cameron's Aliens (1986), which followed Ridley's Scott's creepily ponderous horror film Alien (1979) with a gung-ho action flick complete with foul-mouthed marines and the spectacle of Sigourney Weaver in hand-to-hand combat with a writhing behemoth. Another example would be Ronny Yu's Bride of Chucky (1998), which reinvigorated the Child's Play series by adding arch comedy to a formula that had started to take itself too seriously. In this, it followed the precedent of James Whale's Bride of Frankenstein (1935), a sequel so deliriously camp that surely few fans of Frankenstein (1931) could have seen it coming.
But even with these rare accomplishments, there is always the spectre of Ishiguro's boy going too far with his crayon. For while we should be grateful for Aliens, we have more than paid the price with Alien Resurrection (1997), Alien: Covenant (2017) and not one but two Alien vs Predator movies (2004 and 2007). And while I am unlikely to tire of the sheer lunacy of Bride of Chucky, was there any need for Seed of Chucky (2004), Curse of Chucky (2013), Cult of Chucky (2017) and the lamentable 2019 reboot of Child's Play which removed the very supernatural elements that made the original so sinister?
The disappointment of Coming 2 America should have been easy enough to predict, given that it has arrived three decades too late. In Star Trek II: The Wrath of Khan, our titular villain reminds us of an old Klingon proverb: 'Revenge is a dish that is best served cold.' Sequels, it would seem, are best served piping hot or not at all.
Andrew Doyle is a comedian and spiked columnist. His new book, Free Speech And Why It Matters, is published by Constable. (Buy this book from Amazon(UK).)
Watch the trailer for Coming 2 America:
Picture by: Amazon Studios.
To enquire about republishing spiked's content, a right to reply or to request a correction, please contact the managing editor, Viv Regan.