Texas: a crisis caused by policy, not climate
Blaming climate change for the cold snap, or renewables for the blackouts, lets energy planners off the hook.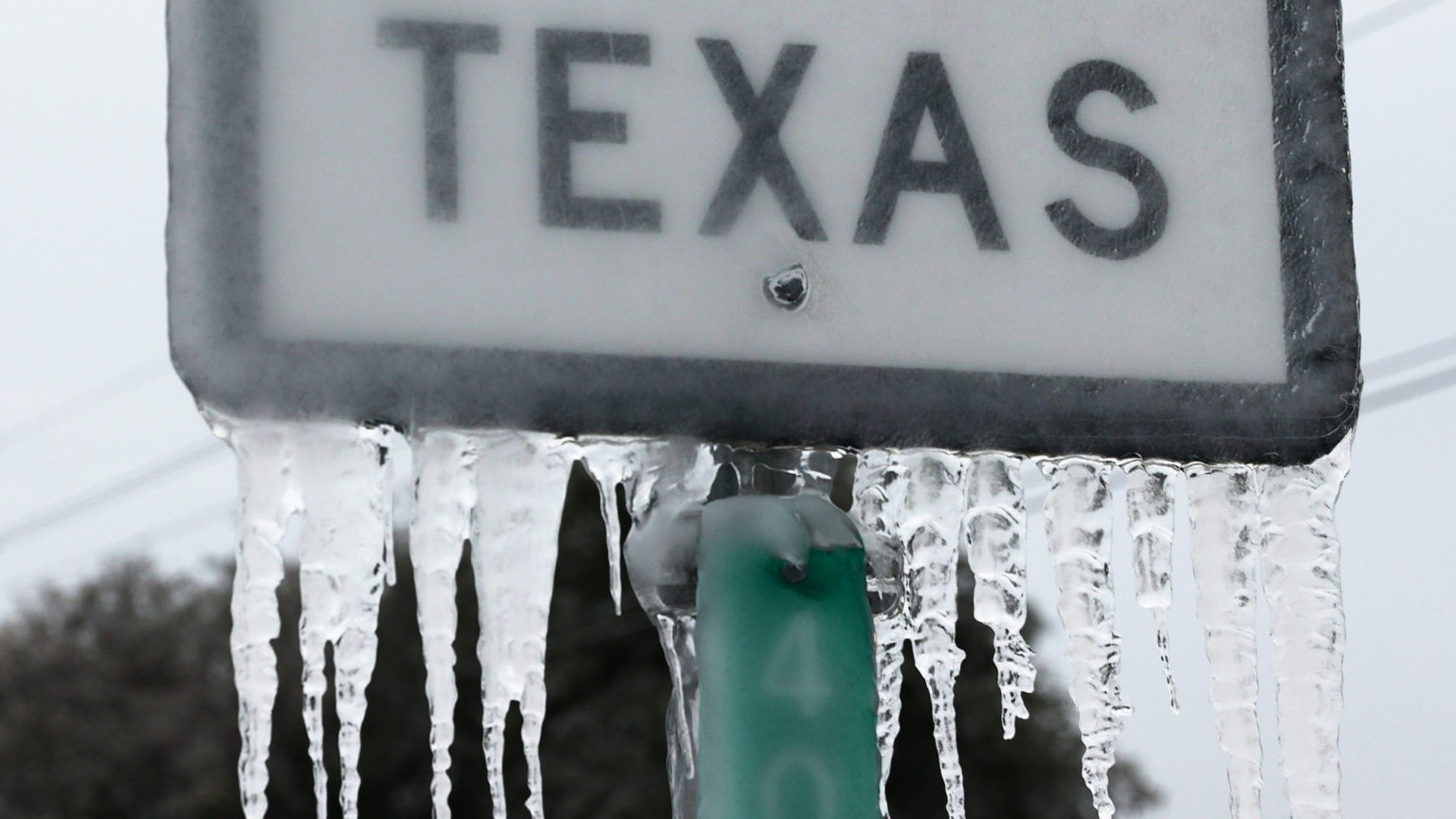 In mid-February, an unexpected and severe cold snap hit most of the USA. It was caused by Arctic air pushed down from the north by a rare but not unprecedented weather system. Even as far south as Texas, temperatures fell to record lows, causing grid failures. Millions were left without power for days, forcing families from their cold homes into their cars.
Early reports suggest the cold snap has claimed at least a dozen lives in the state. This situation, afflicting an energy-rich, wealthy state, has led to a bitter debate about what or who is to blame for the failure of vital infrastructure. Predictably, the debate divides according to where one stands on climate change. But the blame game misses the point as much as blaming extreme cold on global warming does.
At issue is Texas's apparent growing dependence on renewable energy. As the cold weather arrived, people turned up their heating, but wind turbines stalled and snow covered the solar panels. Texas is by far America's largest producer of 'renewable' electricity, producing more even than the more populous and more conspicuously 'green' California.
But Texas is energy-hungry. Despite the scale of green energy in Texas, it produces just 15.6 per cent of Texas's electricity supply (not including hydroelectric). With President Joe Biden's promises of trillions of dollars for nationwide investment in green energy to follow Texas's lead, and with Alexandria Ocasio-Cortez's Green New Deal driving mainstream green narratives from the left, Texas's misfortune has rightly put a huge question mark over the American climate agenda.
But advocates of a green transition have doubled down. 'The infrastructure failures in Texas are quite literally what happens when you don't pursue a Green New Deal', tweeted a defiant AOC last week. This is bonkers, of course. Despite calls to 'weatherise' green energy – ie, adapting wind turbines for extreme temperatures – the Green New Deal cannot explain how wind turbines will turn when there is no wind, how solar panels can produce electricity without sunlight, and how energy can be stored, for days or even weeks, through unfavourable weather conditions – exactly the moment energy is most needed. Energy storage is at its infancy, and battery technology, for now, holds little promise of storing more than a few hours of energy for an economic price. The only conceivable application of batteries is 'smoothing' variable output from unreliable, intermittent wind farms.
The failure in Texas has allowed critics of green energy to point out that making the US wholly dependent on wind and solar for transport, heat, light, industry and homes would risk sending the entire nation back to the dark ages. The proof really is there in Texas. However, AOC's attempt to pass off more poison as the remedy has worked to confuse the issue by introducing blame into the developing situation. But in a complex system with many moving parts, such as a power grid, blame for this particular incident is far from clear.
Some analyses tried to finger renewables for the outages. Placing the blame on any particular technology in this instance is premature and a distraction, partly because, as defenders of green energy argued, there were also substantial problems with natural-gas supply.
Texas is energy-rich and gas is pulled out of the ground relatively close to the generators and homes where it is needed. And so planners have seen no need for gas-storage infrastructure. The cold weather froze gas production and transport hardware, substantially impeding supply to gas generators. 'Ha!', said the greens, 'dependence on fossil fuels caused the problem'. But this would seem to leave Texans with a choice only between completely non-functioning solar panels and wind turbines on the one hand, and inadequate gas supply and generating capacity on the other.
The problem is deepened by claims that episodes of extreme cold can be explained by global warming. Failed Democratic presidential candidate Beto O'Rourke told CNN: 'It's very clear that's what driving these extreme weather events, whether it's severe droughts in the summer or winter storms the likes we haven't seen in anyone's lifetime in Texas.' 'These are going to become more common, more intense and more deadly', he added.
This paints an even bleaker picture of Texans' energy-policy future. There is no merit at all to O'Rourke's claim, yet his view is likely to prevail. Gas production, distribution and generating infrastructure can be made to work in colder weather. Solar panels and wind turbines cannot work if the sun doesn't shine or the wind doesn't blow. And this strikes at the heart of the problem. It is not weather that poses the real risk. Many places on Earth suffer colder, hotter, windier, wetter and drier weather without succumbing to the elements. What makes 'extreme weather' dangerous is policy. Or more to the point: policy failure.
It turns out that planners, whether the Republicans running the state or gas producers, may have not taken sufficient account of the possibility of extreme cold-weather scenarios. Though rare – this latest example seems to be breaking new records – these events are not unheard of. Though the timing of cold episodes is not predictable, the fact that they can occur should have been clear from the historical record.
Planners from both green and brown camps need continuous scrutiny. Grid managers and gas producers certainly failed. But promises of 'weatherised' renewable infrastructure may well leave Texans no better off the next time a cold snap descends on the state. Neither the Green New Deal nor Biden's green agenda will help. Because politicising the provision of basic utilities on any terms other than security of supply and affordability will put loftier ambitions – 'saving the planet' – before the consumers' interests.
For instance, much controversy surrounds the cost of AOC's Green New Deal, with estimates ranging between $28 trillion and $100 trillion. Biden's seemingly more modest opening bid of $2 trillion ($500 billion per year for four years) is still going to cost the equivalent of $1,500 for every American per year for its duration. Is this really the solution to the problem of frozen gas infrastructure?
Even more fanciful is the notion that spending all this money will save Americans from hurricanes, tornadoes, heatwaves, droughts, wildfires, floods or cold snaps. No evidence yet exists that America (or the world) is becoming any more vulnerable to extreme weather.
Yet abundant evidence exists of planning failures being passed off as the consequences of climate change for political ends – from Hurricane Katrina landing on New Orleans in 2005 to hurricanes, wildfires and Texas's cold spell. Fractions of these vast budgets might be better spent on water and land management, and fixing tangible problems, than on false promises and eco-mysticism.
To enquire about republishing spiked's content, a right to reply or to request a correction, please contact the managing editor, Viv Regan.