Climate alarmism won't stop the wildfires
We need practical solutions to natural disasters, not vast carbon bureaucracies and global treaties.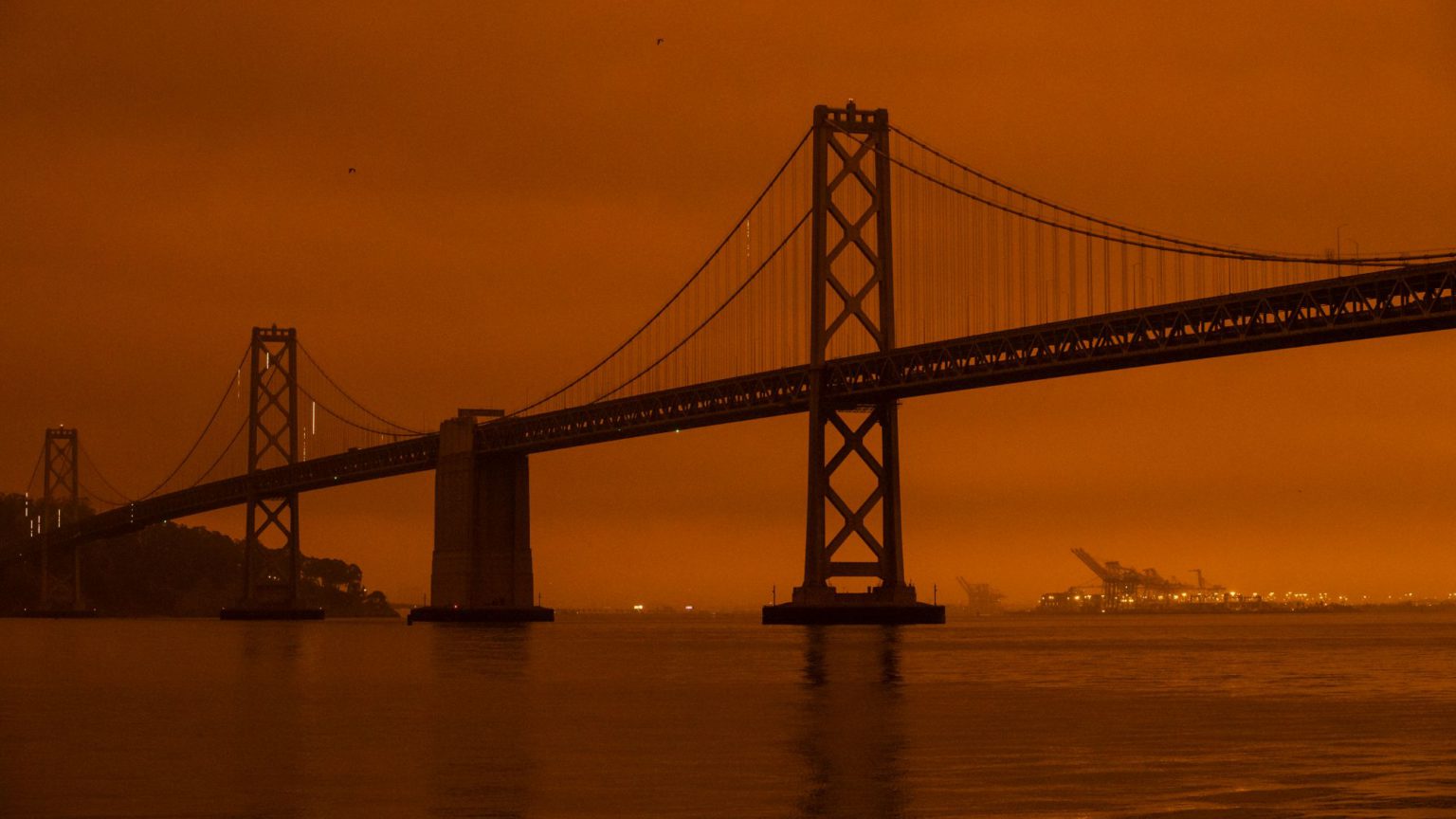 As the presidential election draws nearer and the wildfires afflicting western US states have intensified, the desperate attempts to turn climate change into political capital have reached absurd new heights.
'It shouldn't be so bad', said Joe Biden, 'that millions of Americans live in the shadow of an orange sky and are left asking: "Is Doomsday here?"'. Biden summoned up the four horsemen of our apocalypse: 'The worst pandemic in over 100 years… The worst economic crisis since the Great Depression… Emboldened white supremacy, unseen since the 1960s… And the undeniable, accelerating and punishing reality of climate change.'
Democrats like to treat climate change as a 'wedge' issue. The party has long been dominated by global climate aristocrats like presidential hopeful Al Gore. But it didn't work for him. It didn't work for John Kerry, and it didn't work for Hillary Clinton, either. Barack Obama may have won two terms, but his time in office – with Biden as vice president – arguably set the path for Donald Trump. Trump came to office promising to review America's membership of the 2015 Paris Agreement, which the US is set to leave formally the day after the election.
Voters have remained unconvinced by tales of looming doom. But now the Democrats have a prop: a dramatic orange sky, fuelled by fires running the length of the west coast, from Seattle to San Diego. Does this change the stakes?
'None of this is normal, and confronting climate change is on the ballot this year. Vote, as early as you can, for a habitable planet', tweeted Hillary Clinton. Obama has also joined in the alarmism, tweeting: 'The fires across the West Coast are just the latest examples of the very real ways our changing climate is changing our communities. Protecting our planet is on the ballot. Vote like your life depends on it – because it does.'
It doesn't, of course. Wildfires claim very few American lives – around 250 since the turn of the century – even in this era of global warming. The alarmism reflects the tendency of those who champion lofty causes like saving the planet to forget far more urgent problems on the ground. As I pointed out recently on spiked, it takes an extraordinary callous indifference to the problems visible on California's streets – the homelessness, poverty and drug dependency afflicting millions of people – to pretend instead that there is a bigger problem with the skies.
In the 19th and early 20th centuries, many more lives were lost to flames. For instance, estimates of those killed by the 1918 Cloquet fire, caused by sparks from a train striking dry forest in northern Minnesota, vary between 400 and 1,000. In more recent years, the 2018 wildfire season claimed the lives of over 100 people – 88 in Butte County, Northern California alone. And a year earlier, outbreaks across counties in California took another 47 lives. While the impact does not compare to the magnitude of wildfires a century ago, recent statistics do suggest that something has been going on in California since the 1990s.
But it would be foolish to blame climate change for natural events which are largely unremarkable when placed in a historical perspective. One reason for Californians' increasing vulnerability to the elements is the state's pleasant climate. People want to live in California, and consequently the population has risen from 33.6million in 2000 to 39.6million in 2019. Back in the 1940s, though it was booming, the state's population was just a sixth of what it is now.
Land which was once wilderness – where fires went all but unnoticed – is now home to many communities. Not only have more people moved to California, but also wealthier residents are increasingly looking to live among its natural landscapes, thanks to the cities' growing problems. But with new settlements comes the absolute necessity of land management. And this is where the opportunistic alarmism, seemingly intended to turn tragedies into votes, actually creates an opportunity for Donald Trump.
'If he gets a second term', Biden warned, 'these hellish events will continue to become more common, more devastating and more deadly'. Referring to Trump as a 'climate arsonist', Biden's claim is an attempt to contrast Trump's indifference to climate change with his own pledges to spend $2 trillion on climate change and to take the US back into the Paris Agreement.
Trump, meanwhile, had jetted off to California, where he told awaiting journalists that the answer to the problems of wildfires was 'Good, strong forest management'. Indeed, clearing away debris on forest floors would deprive lightning strikes – and arsonists – of much of the fuel for the mayhem they cause. But to much of the media and climate commentariat, this is a continuation of Trump's climate denial. Many mocked his argument for how forest fires start for being overly simplistic. But to very many other ears, Trump is offering a practical solution to a real problem – something which is clearly not addressed by the Paris Agreement.
After all, even if climate alarmists could point to climate change causing a significant increase in the frequency of wildfire outbreaks (they cannot), solving the problem of climate change does not make wildfires go away. No wildfire can be attributed to climate change alone, whereas every wildfire that causes harm to people or property can be explained as a political failure to meet human needs.
From the Arctic to Australia, wildfires occur where plants and trees grow. No amount of 'protecting the planet' can undo the fact that fire is part and parcel of natural landscapes. It makes intuitive sense to argue that drier, hotter weather can increase the risk of fires breaking out. But the idea that global agreements and vast carbon bureaucracies can protect people from them is absurd. Screaming and shouting about the undeniable link between climate change and the increased risk of wildfires does absolutely nothing to put out the fires, let alone limit their spread or stop them happening. And what is true of wildfires is true of floods, of drought and of storms, whether they are caused by climate change or not.
The image painted by Biden, Obama and Clinton, of a precarious world in which all lives hang in the balance, is at best a counsel of despair. In their fearmongering, they give Trump a huge advantage. They call him a 'denier'. But there he was, promising to deal directly with the problem, not hiding behind 'science', not pledging trillions of dollars and not promising global agreements. Climate-change denial may yet turn out to be a more effective way of dealing with climate change than climate-change alarmism.
Ben Pile blogs at Climate Resistance.
Picture by: Getty.
To enquire about republishing spiked's content, a right to reply or to request a correction, please contact the managing editor, Viv Regan.