How bad minorities became 'white'
Black and Latino Trump voters have been accused of suffering from 'multiracial whiteness'.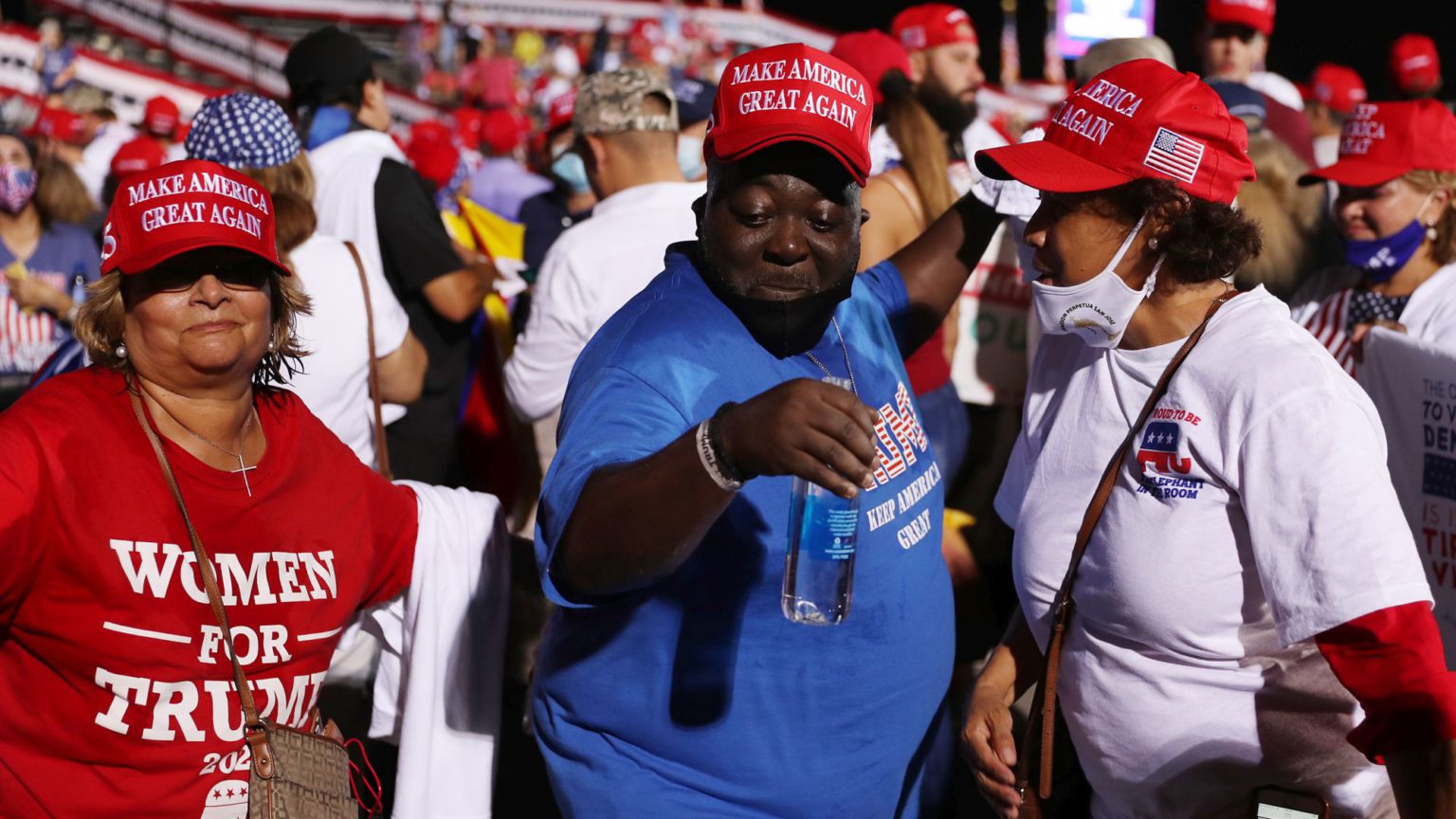 One of the more remarkable results of the 2020 election was that Donald Trump increased his support among non-white voters. Even some of the hardcore Trumpists who stormed the Capitol – whose faces now adorn the FBI's 'wanted' posters – were black and Latino.
Given that Trump is regularly derided as a racist – a white supremacist, even – this demands an explanation. 'What are we to make of unmistakably white mob violence that also includes non-white participants?', asks Cristina Beltrán from New York University in the Washington Post. She argues that we need to think in terms of 'multiracial whiteness'.
Whiteness, Beltrán says, is the 'politics of aggression, exclusion and domination'. And multiracial whiteness 'reflects an understanding of whiteness as a political colour and not simply a racial identity'. It is a 'discriminatory worldview in which feelings of freedom and belonging are produced through the persecution and dehumanisation of others'.
Beltrán is tapping into a now-common view among the woke that all the world's ills stem from a vague notion of 'whiteness'. White people are said to be morally compromised by their white privilege, which gives them unspoken advantages and favours. Meanwhile, white people's reluctance to identify openly with their whiteness is derided as 'white fragility'.
When Beltrán suggests that black and Latino Trump voters have a 'discriminatory worldview' it sounds like she is accusing them of garden-variety racism (not that she provides any evidence that non-white Trump voters hold this view). But in woke circles, racism is not just a question of prejudice or bigotry about skin colour. It's common to hear racism redefined as 'prejudice plus power'. A certain amount of mental gymnastics has to be performed to place these non-white (alleged) racists alongside whites. And so 'multiracial whiteness' is born.
Similarly, this is how the New York Times managed to accuse two Indian boys who harassed four African-American girls of 'enacting American whiteness'. Far lesser crimes than racism – such as simply holding conservative views – also now mark one out as a bad minority. Any deviance from the woke worldview is dismissed as a performance of whiteness or as 'internalised whiteness'.
Even an aspiration to colourblindness – once the hallmark of civil-rights anti-racism – is now denounced as pandering to whiteness. 'For voters who see the very act of acknowledging one's racial identity as itself racist', says Beltrán, 'the politics of multiracial whiteness reinforces their desired approach to colourblind individualism'.
A concept as bizarre and contradictory as multiracial whiteness serves as an excellent reminder that race really is fluid and socially constructed. There has never been and never will be a fixed idea of who is white and who is not.
In 1915, Dow v United States established that immigrants from Syria were eligible to become naturalised citizens based on 'the generally received opinion… that the inhabitants of a portion of Asia, including Syria, [are] to be classed as white persons'. The reverse can be true, too. Italians and Irish immigrants to America have become 'white' over time.
What is so strange about the debate around 'whiteness' is that, on the one hand, the woke often gesture to the fact that race is a social rather than biological construct. But on the other hand, they argue that race should be the bedrock of our identities, our worldview and how we organise society. The fight against this nebulous and ever-shifting notion of whiteness ends up fortifying racial thinking.
The genuinely progressive thing to do is to rid ourselves of race entirely.
Fraser Myers is assistant editor at spiked and host of the spiked podcast. Follow him on Twitter: @FraserMyers.
To enquire about republishing spiked's content, a right to reply or to request a correction, please contact the managing editor, Viv Regan.