Trump's multi-ethnic populism
Despite the charge of racism, Trump actually increased his vote among minority Americans.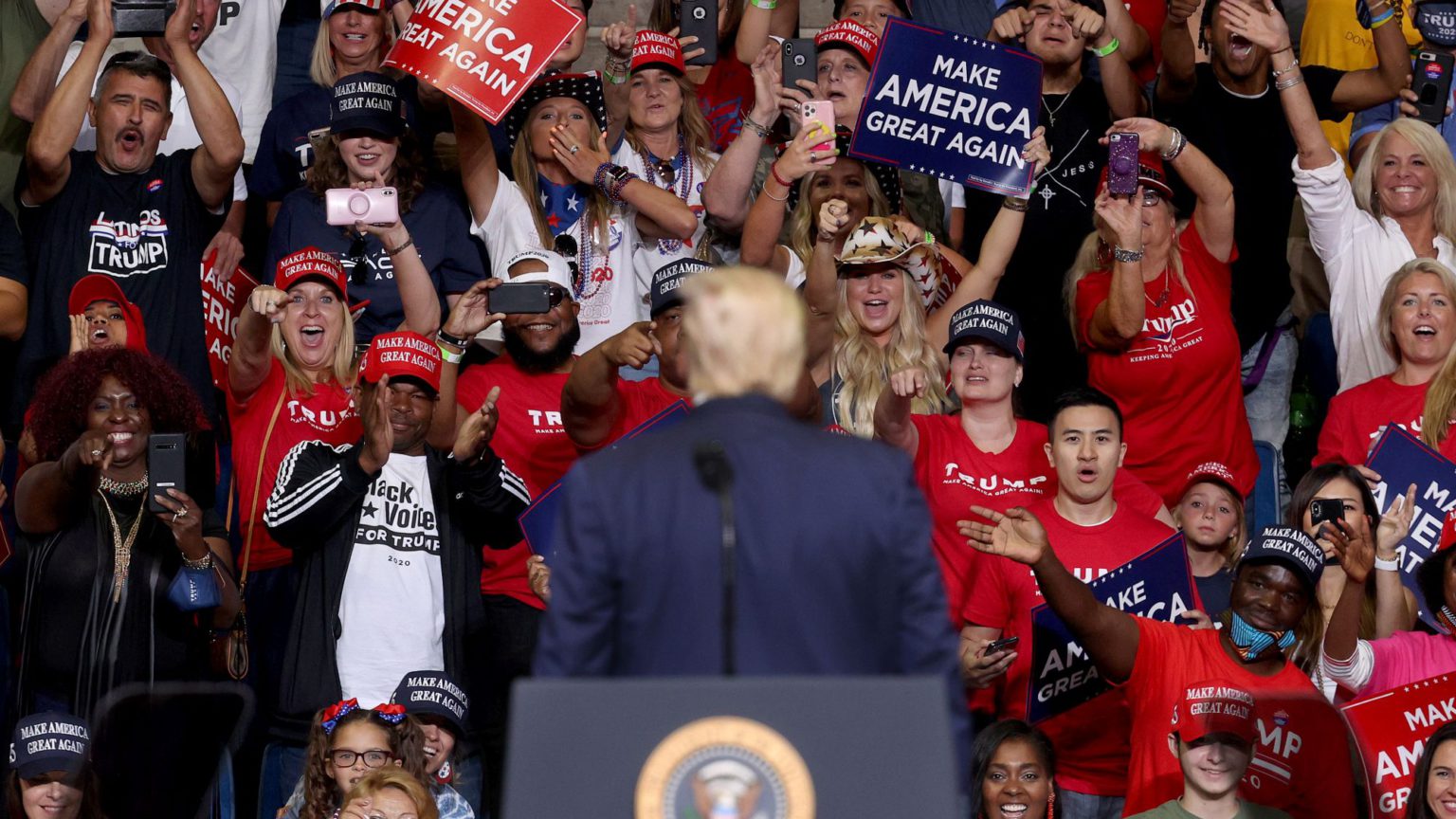 As the votes continue to be counted in battleground states such as Pennsylvania and Georgia, Donald Trump's path to re-election looks to be an increasingly difficult one.
With a CNN exit poll showing that racial inequality was the second-highest priority for American voters, sandwiched between the economy and the coronavirus pandemic, many might have predicted that Trump would lose ground to his Democratic opponent, Joe Biden, in 'non-white' America.
But this was an election which defied conventional wisdom and a series of fascinating voting patterns have emerged. White males in the US, often collectively vilified by the intersectional brigade for being overly privileged, shifted away from Trump and towards Biden. Meanwhile, exit polls suggest Trump managed to increase his support among Hispanic-Americans and African-Americans, along with white women.
Trump, who has been accused of being a racist and a white-supremacist sympathiser, is projected to secure the highest Republican share of non-white voters in a presidential election since 1960. Hispanic voters in Florida's Miami-Dade County were key to Trump's victory in the state. A Telemundo poll before the election found that 71 per cent of Cuban-Americans in the 'Sunshine State' were planning to vote for Trump. In Zapata County, located on the US-Mexico border with a heavily Hispanic population, Trump's vote surged from 33 per cent in 2016 to 52 per cent in 2020. Trump's impressive growth in Hispanic support included both middle-class Cuban-Americans in Florida and working-class Mexican-Americans on the Southern border.
Trump has also been depicted by some as an Islamophobe, especially because of his travel ban which included Muslim-majority countries such as Iran, Libya and Somalia. British Muslim mayor of London Sadiq Khan has established himself as one of Trump's higher-profile critics outside the US. Comparing the language used by the president at rallies with the 'fascists of the 20th century', Khan asserted that Trump was part of the growing global threat of the 'far right'. Many might then expect Trump to be decisively rejected by American Muslim voters. Except that he polled at 35 per cent among this section of the US electorate. To put this in perspective, this figure exceeded support for Trump among Jews (30 per cent) and voters of no religion (25 per cent).
Whether Trump wins or loses, his legacy will be that he helped pave the way towards a patriotic multi-racial conservatism – a far cry from the exclusionary white nationalism he has often been accused of cultivating for political purposes. This Trumpian agenda, which has garnered support in a diversity of ethnic groups, is based on fiercely anti-socialist sentiment, economic patriotism, robust border security, appreciation of faith, traditional social structures and support for the police.
All of this raises serious questions for the Democrats and the left. A supposedly racist Republican president who they loathe with a passion has managed to develop forms of non-white support which clearly demonstrate that demographic change does not automatically translate into Democratic success at the ballot box.
They must also move away from treating Hispanic voters as a homogenous monolithic bloc. Biden dominated among Puerto Ricans in Florida, but was defeated handsomely by Trump among Cuban-Americans. Biden also underperformed in a string of counties along the Texas-Mexico border. The term 'Hispanic' is surely now redundant in American electoral politics.
Even more striking is that despite the wave of Black Lives Matter demonstrations following the police homicide of George Floyd back in June, Trump managed to increase his support among African-American men and women. African-American communities may support police reform, but talk of 'defunding the police' and reduced law-enforcement presence will go down like a lead balloon in many inner-city neighbourhoods struggling with crime and delinquency.
Trump may well be on his way out of the White House, but the widely predicted 'blue wave' has not materialised. The Democratic Party's hope of gaining control of the Senate has all but evaporated. Clearly, calling the president racist was not enough to persuade many minority Americans to vote for the Democrats. Even if Biden wins, Trump will have broadened the Republicans' support far wider than many could have imagined.
Dr Rakib Ehsan is a research fellow at the Henry Jackson Society. Follow him on Twitter: @rakibehsan
To enquire about republishing spiked's content, a right to reply or to request a correction, please contact the managing editor, Viv Regan.