'I was not born in the "wrong body"'
Keira Bell on her High Court battle over puberty blockers.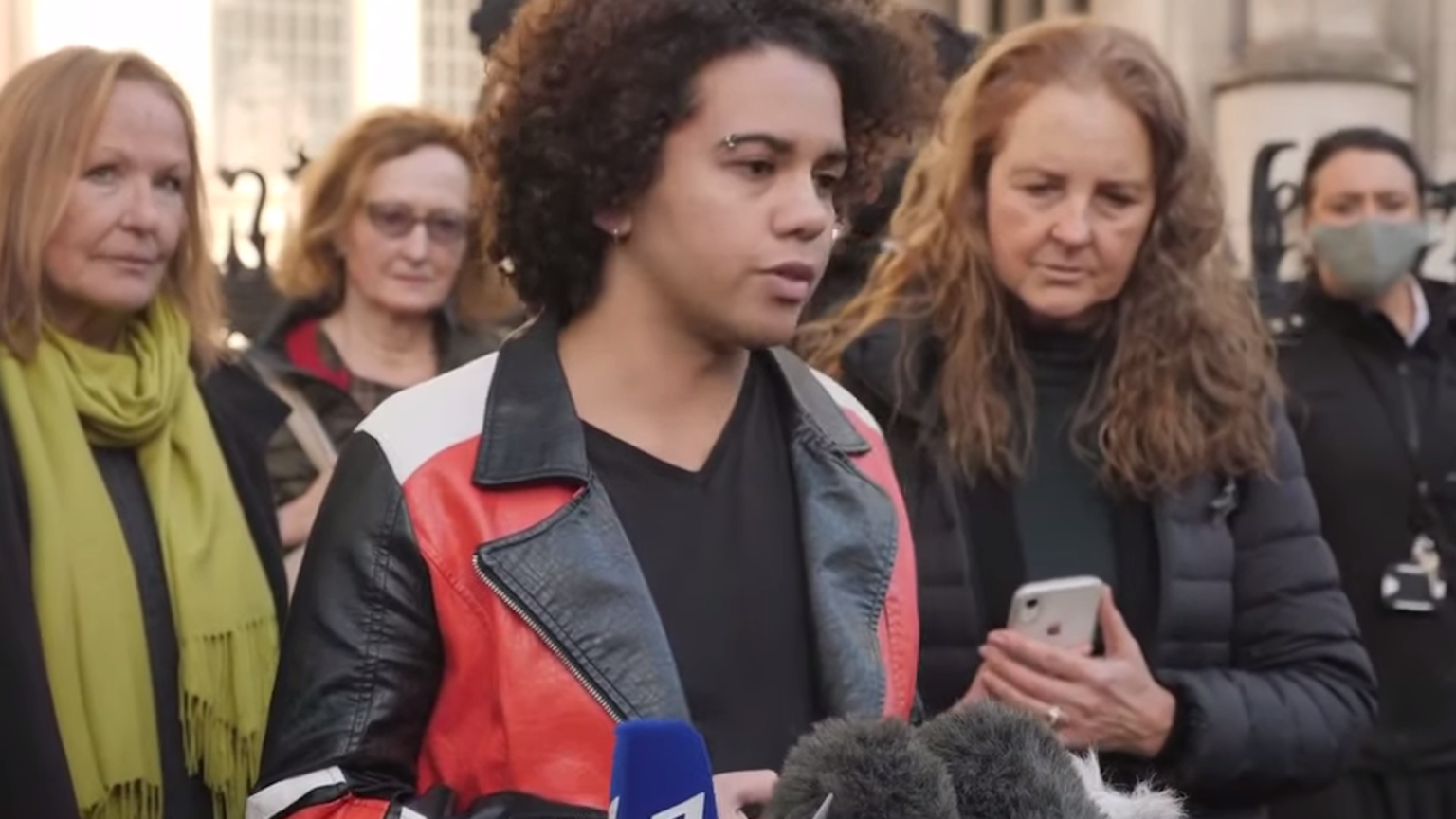 Today Keira Bell stood tall on the steps of the High Court as a proud woman and an outspoken feminist. But only a few years ago, Keira Bell was known as Quincy. She wanted to be a boy. Bell brought legal action against the Tavistock and Portman NHS Foundation Trust, who she says should have challenged her more over her decision to transition. It resulted in a High Court battle that has raised profound questions about consent and the nature of identity.
At just 14, Keira began identifying as a boy and she was referred to the Gender Identity Service (GIDS) at the NHS Tavistock and Portman Clinic when she was 15. She was first seen at GIDs at 16 and was prescribed 'puberty blocker' medication after three appointments. At 17, she began to take testosterone.
The NHS has previously claimed that puberty blockers are 'fully reversible'. But in June this year it quietly changed the advice on its website. The puberty blockers most commonly used are officially licenced for treatment of end-stage prostate cancer. Off-label use for the treatment of children and young people with gender dysphoria is experimental. Known long-term effects include loss of fertility and sexual function, and decreased bone density.
The High Court ruled on Bell's case today. The ruling is clear: puberty-suppressing medication may now only be given to a child if 'he or she is competent to understand the long-term nature of the treatment'. The judgement concluded that children under the age of 13 would be 'highly unlikely' to be capable of giving consent, and that there 'will be enormous difficulties in a child under the age of 16 understanding and weighing-up' the evidence. Clinicians are advised to involve the court where there is any doubt over the capacity of 16- and 17-year-olds to consent. In essence, the bar for prescription of puberty blockers for children with gender dysphoria has been raised.
Susie Green, CEO of Mermaids, the transgender-youth lobby group, complained in a statement that the ruling was an 'unforgivable and shameful betrayal of young people's rights to autonomy over their own bodies'. As previously reported on spiked, Mermaids has enjoyed significant influence over both NHS guidance, statutory bodies and third-sector organisations. This has left young people who experience distress in their developing bodies with few places to turn for support that have not been influenced by trans ideology. Thanks to training from organisations like Mermaids, suffering from 'gender dysphoria' is often taken as evidence of a child's transgender identity.
Indeed, in a highly unusual move, mainstream organisations including Barnardo's, the NSPCC, the National Children's Bureau and the Children's Society signed a joint letter ahead of today's ruling complaining that: 'On matters of health treatment all children have the right to be listened to independently and have their wishes taken seriously – this includes children and young people who identify as trans and who may be undergoing hormone-treatment therapy.'
The only organisations offering impartial advice are those which have been set up by parents, such as Transgender Trend and the Bayswater Support group. For years these small groups have been mocked, sidelined and smeared, but today their stance was vindicated by the High Court.
At a pivotal point in her life, when Keira needed guidance, she was let down. Speaking to me ahead of the ruling, she told me how her isolation as a tomboy was made worse by the fact that no organisation was brave enough to challenge her belief that she was a boy:
'When I was questioning my identity there was nowhere to find support that didn't affirm the delusion of being in the "wrong body". No organisations existed that might be able to tell me that it was okay to be a girl who didn't like stereotypically "girly" things, and that I was no less female because I am same-sex attracted.
'The only way for children and young people to get support for gender dysphoria is for them to go to private, independent therapists. For me that wasn't an option I could afford. Having an impartial therapist would have helped me.'
The consequences for Keira have been profound. Three years ago, when she was just 20, she underwent a double mastectomy with the hope this would alleviate her gender dysphoria. It didn't. And just a year later, she regretted her decision. Today she speaks with a voice deepened by testosterone and she lives with scars from her surgery. 'It's hard to admit that you made a mistake, especially such a big one', she told me.
What helped Keira understand that she was in fact a woman was her developing awareness of the wider political context:
'It was the craziness of identity politics that first made me pay attention to what was happening. The lies and the silencing of alternative viewpoints made me realise that something was wrong. The process of realisation, of my detransition, was gradual – a bit like my transition into identifying as trans had been years before.'
The case of Rachel Dolezal, a white college professor who identified as black and took a role as a chapter president of the National Association for the Advancement of Colored People, was one of the first events to make Keira question her transgender identity:
'I remember being really angry, and it made me think more critically about identity. I couldn't come up with a reason why being transgender was "more valid" than transracial. It was the start of a slow wake-up call.
'I began to think more critically, to ask myself "what makes me a man?" and I couldn't think of an answer that made sense. I had finished my physical transition and my health was beginning to decline. It was at that point I realised I didn't want to live a lie and that it was really important to be myself.'
Keira is a brave young woman who has taken on both the might of the medical establishment and her own personal struggles. But it is a battle she should never have had to fight. Once respected institutions have allowed themselves to become politicised and it is young people like Keira who are paying the price.
Jo Bartosch is a journalist campaigning for the rights of women and girls.
Picture by: YouTube / Sky News.
To enquire about republishing spiked's content, a right to reply or to request a correction, please contact the managing editor, Viv Regan.