We need to 'take back control' of the internet
A new EU directive will censor video streaming and the UK government is still determined to regulate social media.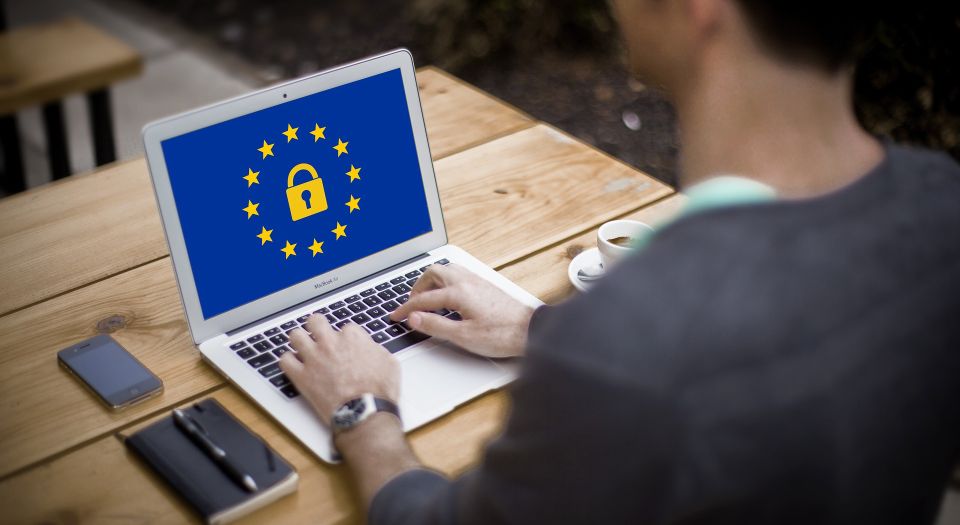 Theresa May's 'online harms' agenda made a comeback this week. A new select-committee report tries to capitalise on widespread fear of the coronavirus in order to advance this censorious programme, which was not expected to be implemented until 2023. A barely noticed Ofcom report released last week is even more concerning. It lays out how parts of this controversial online-harms project are to be snuck into UK law indefinitely – via an EU directive – in just a few weeks' time.
How we got here is important. And it demonstrates exactly why we were right to vote to leave the anti-democratic EU and why our illiberal elite was so in favour of it – the EU allows politicians to implement their often unpopular agendas without public scrutiny.
The Online Harms Bill was unveiled by Therea May's Conservative government in April last year in a panicked flurry after 14-year-old Molly Russell tragically killed herself after viewing online images of self-harm. The rushed proposals included a 'duty of care' on tech firms and a regulator with the power to issue heavy fines to platforms which do not censor sufficiently. Initially, these 'harms' included 'trolling' and 'disinformation'. The definition of harm was kept deliberately vague and expansive so that it could include new 'threats' as they emerge. The dangers of these proposals for internet freedom have been pointed out before on spiked. And there is still a very real danger of mass censorship and the end of an open internet.
Julian Knight MP, chair of the Digital, Culture, Media and Sport (DCMS) Select Committee, which is behind the recent demands, insisted on Tuesday that the government 'get on with the "world-leading" legislation on social media that we've long been promised'. His latest report discusses much more than self-harm videos. It calls for censorious action on anti-5G and anti-vaccination conspiracy theories, bigoted attacks on Asians linked to the virus, and, of course, Russian 'bots'.
The report was, conveniently, released on the same day the Intelligence and Security Committee published its long-awaited report into Russian interference in British democracy. The calls for mass censorship were placed in a context of alleged attacks by the Kremlin. According to Knight, 'the proliferation of dangerous claims about Covid-19 has been unstoppable' and 'without due weight of the law, social-media companies have no incentive' to silence people.
May's government published the initial Online Harms White Paper the month before I broke the news that it was to delay the unenforceable 'Internet Age Verification System' (or 'Porn Block Law', as we called it at the tabloids). The age-verification policy was officially abandoned a few months later. Perhaps mistakenly, some of us had hoped this would lead Boris Johnson to take a more liberal approach than his authoritarian predecessor and that he would drop the online-harms agenda outright. But then, in October, culture secretary Nicky Morgan told parliament that online-harms legislation would, in fact, be pursued because of the failure of the porn-block law.
Meanwhile, Damian Collins, one of the agenda's loudest proponents, was ousted as chairman of the DCMS Committee in favour of Julian Knight, shortly after Boris's re-election.
Now that Collins will no longer play a role in overseeing any official arbiter of truth online – as some have framed the online-harms agenda – he has recently set up an unofficial arbiter of truth. He is the founder of an 'independent, expert fact-checking service for coronavirus' called 'Infotagion'. Lord Puttnam, the chair of the Lords Democracy and Digital Technologies Committee, who made similar calls to rush through the online-harms agenda in June, is another founder. Infotagion answers questions like, 'Is the Illuminati behind the coronavirus?' and 'Is the Covid-19 lockdown intended to create a police state?' with answers such as, 'FALSE: DO NOT SHARE… Lockdown measures are to reduce social contact to slow the spread of Covid-19'. Collins and Co clearly do not have much faith in the intelligence of the electorate.
So who do they want to put in charge of regulating social media? The DCMS committee has given some hint in a previous report on 'fake news'. It called on the government to use Ofcom's broadcast-regulation powers, 'including rules relating to accuracy and impartiality' as 'a basis for setting standards for online content'. In other words, they want our tweets, posts and YouTube videos to be controlled and mediated in a similar way to Sky News and the BBC.
And it looks like they are going to get their way. Ofcom revealed last week that it is pushing ahead with plans to regulate all UK-based video-sharing platforms. It will introduce interim measures, based on the Online Harms White Paper, to ensure the UK complies with the little-known EU-wide Audiovisual Media Services Directive. Ofcom put out a 'Call For Evidence' on 16 July to help it finalise guidance, in which it described how it will enforce 'appropriate measures to protect young people from potentially harmful content and all users from illegal content and incitement to hatred and violence'.
In other words, a form of the online-harms agenda – pertaining to video at least – has been foisted on the UK via the EU. Despite Brexit. And it will be enforced in autumn by Ofcom, just as censorious hardliners like Collins and the DCMS committee have demanded. Ofcom was chosen to do this because, according to last week's report, the government 'concluded that the Online Harms White Paper process would not be completed in time' before the EU's transposition deadline of autumn 2020 – and before the UK fully leaves the Brexit transition period.
Outrageously, the directive will be made law in the UK in just a few weeks, with no serious parliamentary or public debate. And it will remain law after the transition period ends a few months later because all EU regulations will automatically be brought into domestic law. Ofcom adds that it will continue to work with EU bodies, which the UK will have no influence over, to enforce it and protect children from 'hate' and content which could impair their 'moral development' – whatever that means.
Ofcom is completely unsuitable for this job. Social media is more like a town-hall meeting than a television broadcast. Normal people speaking online and in videos should not be regulated like broadcasters (which are already overregulated). And they should certainly not have to apologise or face punishment when they are wrong or one-sided.
One journalist covering the report suggested that the recent Darren Grimes interview with David Starkey, which contained a racist remark, would be the type of content which could be reported and even censored by Ofcom. However, that particular exchange was shown on YouTube — and because YouTube is owned by Google and headquartered in Ireland, the video would, in fact, be regulated by an Irish body. Bizarrely, content made in Britain for a British audience could be censored by another EU state according to this interpretation of EU law. The platforms likely to come under UK jurisdiction are Twitch, TikTok, LiveLeak, Imgur, Vimeo and Snapchat, according to Ofcom.
It's hard to know what to make of this complex web of control and restriction. But self-harm videos are already dealt with by existing laws. And contrary to claims made by Knight and the DCMS committee, there is already too much censorship of online commentary about the Covid virus – of everyone from journalists to scientists. Rather than a regulated internet, a free and open internet is needed more than ever. Rebel voices are essential in science. They are even more valuable in this era of mass conformism and should not be silenced because they go against the grain of establishment orthodoxy.
Unfortunately, the censors are winning. Social media and video platforms abandoned the principles of free speech some time ago, when they started deleting speech they considered 'hateful'. Now, during the pandemic, they appear to have fully abandoned the principles of open inquiry and scientific method, too. They now routinely delete things they label 'misleading', removing the right to be wrong and presupposing that moderators know more than scientists who happen to be in a minority. The European Commission has unsurprisingly been pushing this agenda, meeting with the tech firms behind closed doors and forcing them to sign a new 'code of conduct' and a pledge to remove 'fake news'.
After Brexit, it should be, finally, time for our parliament and our people to have a say about what legislation and rules should govern our internet. Boris Johnson should repeal the EU version of the online-harms agenda and abandon the plan to implement the May government's proposals. After an initial backlash to those last year, the government insisted it would not force the blocking or deletion of legal content. It also gave some vague assurances to protect free speech. We must keep the pressure on and make sure this latest coup doesn't go unopposed.
Liam Deacon is the Brexit Party's former head of press.
Picture by: Getty.
To enquire about republishing spiked's content, a right to reply or to request a correction, please contact the managing editor, Viv Regan.