The Russia report is full of prejudice, but no evidence
The report shows that Brexit is not a Russian conspiracy.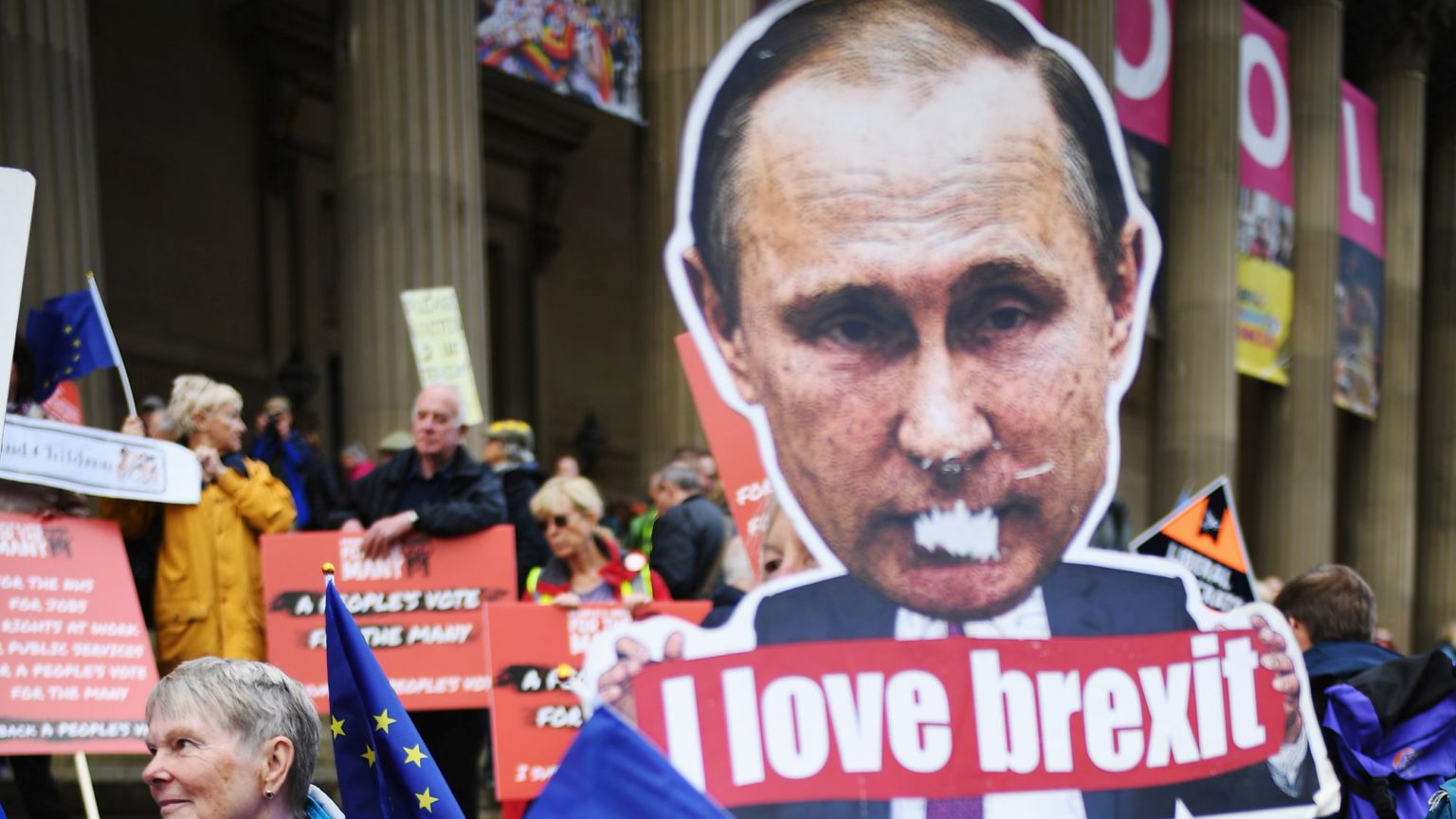 The long-awaited report into alleged Russian interference in UK politics, courtesy of the Intelligence and Security Committee of Parliament, has finally landed. Much to the disappointment of anti-Brexit conspiracy theorists across the UK.
For this is a staggeringly uninsightful document, especially when it comes to the question of the Russian state's role in the 2016 referendum on the UK's membership of the European Union. There is speculation, of course. And lots of assumptions. But there is nothing we haven't heard before. Here is the killer line:
'There have been widespread public allegations that Russia sought to influence the 2016 referendum… The impact of any such attempts would be difficult – if not impossible – to assess, and we have not sought to do so.'
That, in a nutshell, is it. It mentions pre-existing 'open source' reports on the role of Russian bots on social media. But it doesn't confirm or deny these reports. In fact, it provides no evidence of Russian interference in the Brexit vote, nor, moreover, does it search for any. Incredibly, the committee even calls on the government to, er, launch an intelligence community-led investigation into 'potential Russian interference in the EU referendum', and publish an 'unclassified summary', and criticises it for not doing so earlier. Got that? This is a report on Russian interference in, among other things, the EU referendum, calling for a report on interference in the EU referendum. 'This would… represent a helpful reassurance to the public that the UK's democratic processes had remained relatively safe.' Somehow one doubts that.
What is odd about the committee's bizarre demand for another report is that it thinks this is justified by the US's very public inquiries into Russian interference in the 2016 US presidential election. Perhaps at the time the report was written it seemed like it was. But, since the Mueller Inquiry failed to 'establish that members of the Trump campaign conspired or coordinated with the Russian government in its election interference activities', the whole Russiagate fiasco has slowly but surely unraveled. So the idea that the UK should head down the same road seems foolish at best.
Still, you have to feel for those committed anti-Brexiteers who were convinced that UK prime minister Boris Johnson was holding back this report's publication because it would expose Brexit as a Russia-orchestrated plot. It seems now they will have to wait for yet another report.
Seemingly, though, the tweet-addled denizens of Remainia were not too bothered. They had already prepared themselves for the absence of a smoking gun – indeed, any clear evidence of a Russian conspiracy. In fact, as Oddball Prize-winning journalist Carole Cadwalladr told her FBPE minions just hours ahead of the report's release, not only would the report be inconclusive, the very 'right-wing outriders' (including, er, spiked) and 'social-media platforms used by bad actors to interfere in our politics will be used to spin the news today'. Or, to put it another way, those who report the absence of a conspiracy are part of the conspiracy.
Not that this almost impressive X Files-ish conviction that the truth is out there is a surprise. It is at the heart of the conspiracy theorist's mindset. To its initiates, belief in the existence of a conspiracy precedes evidence of a conspiracy. And just as the conspiracy theorist's faith is logically prior to the establishment of evidence, so it survives, and thrives, in the absence of evidence.
Think of how the other supposed bodies of evidence used to undermine Brexit have turned to dust: Cambridge Analytica, the great data-hackers behind Brexit, who, it turns out, never actually worked on any Brexit campaign; or the allegations that Arron Banks pumped millions of pounds' worth of 'dark money' into the Leave.eu campaign in return for a stake in a gold mine, which were dismissed by the National Crime Agency last year. And note that despite the collapse of these claims, the faith of conspiracy theorists like Cadwalladr remains as strong as ever. 'Russia is still behind it', they think. 'The conspiracy is just larger and more complex than we thought.'
It's not, of course. It is just that their need for it to be Russia is too strong, because their antipathy to Brexit is too great. Without the belief that Russia interfered in and corrupted the referendum, they would have to face the reality: namely, that on 23 June 2016, 17.4million people voted, seriously, thoughtfully and in good conscience, to leave the EU. Their minds weren't hacked. Their motivations weren't racist or xenophobic. They simply wanted to repatriate lawmaking powers hitherto given up to the EU – in other words, 'take back control'.
There is an unintended consequence of Remainers' obsession with this Russian conspiracy: it has exacerbated and fuelled anti-Russian sentiment among our political and cultural elites, much of it hanging over from the Cold War. And that is one of the most striking aspects of this particular report into Russian interference: it is full to the brim with anti-Russian prejudice and Cold War-era flights of fancy.
So in an early section asking 'What does Russia want?', the committee concludes, simply, that Russia is 'fundamentally nihilistic'. It wants to undermine our democratic institutions, because, well, 'any actions it can take which damage the West are fundamentally good for Russia'. All this is fine for a spy thriller, but a parliamentary report?
It gets worse. In a later section, it rehearses borderline xenophobic assumptions about UK-based Russians, many of whom are now British citizens. It talks of the residents of 'Londongrad' and their 'Russian money' and 'industry of enablers', all of whom might be used to 'promote the nefarious interests of the Russian state'. It's dangerous stuff. British citizens with Russian backgrounds are being conjured up here as the enemy within, a group forever working for a shadowy foreign power.
Perhaps this caricature of Russia and Russians shouldn't be a surprise, given the identity of those 'experts' the committee relied on outside the 'intelligence community': two New Cold War advocates in the shape of Anne Applebaum and Edward Lucas; avowed anti-Putin activist and hedge-fund manager William Browder; an ex-member of Margaret Thatcher's Soviet Advisory team and NATO adviser called Christopher Donnelly; and last but not least, Christopher Steele, the spook-for-hire responsible for producing the dirty and very dodgy dossier alleging Donald Trump was a Russian asset – in fact, just recently a British court found Steele guilty of failing to check claims made in said dossier.
These aren't dispassionate experts on the Russian state and the politics of Russia; they are veterans of the old and new Cold War. Their animosity towards Moscow is matched only by their fear and loathing of what they see as the rise of populism.
The report contends throughout that the 'fundamentally nihilistic' Russian state is dead set on sowing discord and confusion, and undermining public trust in democratic institutions. Why would it bother, though? It seems that those pursuing this Russia conspiracy theory, in an attempt to undermine and delegitimise a democratic vote, are doing a pretty good job of that all by themselves.
Tim Black is a spiked columnist.
Picture by: Getty.
To enquire about republishing spiked's content, a right to reply or to request a correction, please contact the managing editor, Viv Regan.