How Labour lost coal country
Labour's ties with its working-class base have been under serious strain for some time.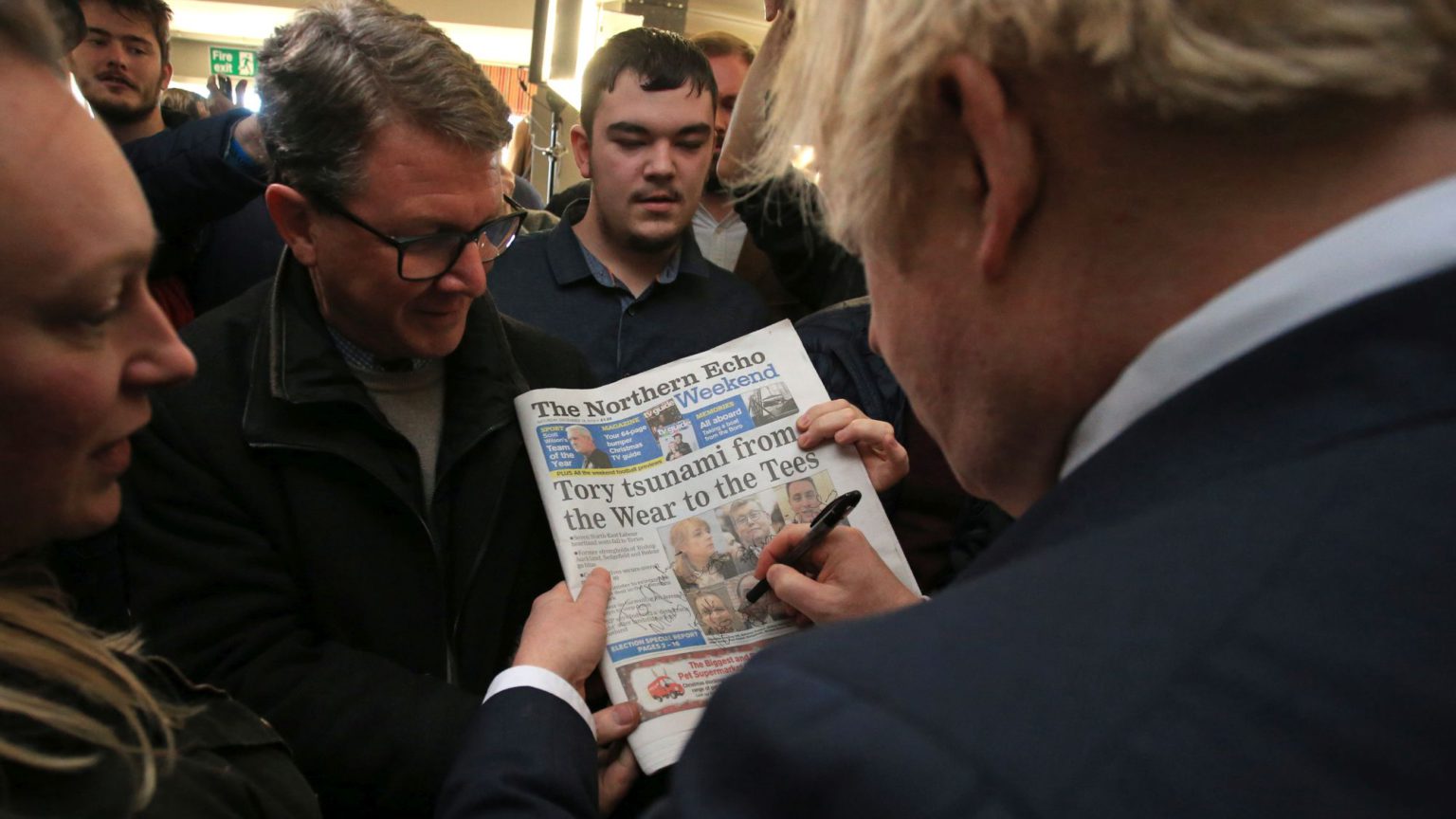 Shattering Labour's 'red wall' of safe seats in working-class towns in the Midlands and the north, Boris Johnson has led the Conservatives to its largest parliamentary majority since 1987. Remarkably, the Tories can now 'blockbuster' an uninterrupted stream of blue seats beginning from Redcar in north-east England, all the way across to Clwyd South in north Wales. Labour, delivering its worst General Election performance in the postwar era, now finds itself well behind the Tories in a raft of former coal-mining constituencies. We have witnessed a dramatic realignment of our politics.
As I have previously argued on spiked, Labour's fudging of Brexit, its obsession with open-borders cosmopolitanism and its risky indulgence in racial identity politics has been straining its ties with many traditional working-class voters in the provinces for some time.
The warning signs were there. In the local council elections back in May, Labour lost overall control of councils in places such as Burnley, Darlington, Stockton-on-Tees, Hartlepool, Middlesbrough and Bolsover. In the European elections, Labour performed poorly in places which delivered high Leave votes in the EU referendum – finishing well behind the Brexit Party.
What was Labour's reaction? During the party conference in September, a motion was passed to radically extend a raft of social and political rights, including the allocation of voting rights to all those with UK residency – irrespective of national citizenship. Leader Jeremy Corbyn also pledged to support a 'great deal of movement' under a future post-Brexit Labour government. Until election day, the Labour leader maintained a bizarre position of 'neutrality' on Brexit – the most important issue of our time.
Labour paid a devastating price. Post-industrial Labour 'citadels' such as Blyth Valley in the north east, Leigh in Greater Manchester and Wrexham in Wales returned Conservative MPs for the first time in generations. In Bassetlaw – a former coalfield territory in provincial Nottinghamshire, previously held by Labour's John Mann – Labour suffered a spectacular drop in its vote share of nearly 25 percentage points. The Conservative Party now has a large majority of more than 14,000 votes in the seat.
County Durham was also a nightmare for Labour. Bishop Auckland returned a Conservative MP for the first time in its history – with 25-year-old Dehenna Davison winning a majority of nearly 8,000 votes. In the 1997 Labour landslide victory, Tony Blair won 71.2 per cent of the vote in his Sedgefield constituency – but in this election, it was one of many sensational Conservative gains. Corbynite 'rising star' Laura Pidcock – who once remarked that she would struggle to be friends with a Tory voter – lost her seat of Durham North West to the Conservatives.
To top it all off, 'Beast of Bolsover' Dennis Skinner ended his 49 years as MP for Bolsover, a constituency which lies at the heart of Derbyshire coal country. Skinner – a former coalminer and a left-wing Eurosceptic firebrand – suffered a humiliating loss to the Tories.
Jeremy Corbyn's concession speech following such a catastrophic result was telling. Professing his love for the constituency that elected him for the tenth consecutive occasion, he expressed regret that he was not able to campaign more in Islington North. Quite understandable – his politics may go down a treat in chattering-class Islington, but it clearly went down like a lead balloon in working-class Brexitland.
The reality is this: other parties wanted the votes of habitually Labour-voting, pro-Brexit voters more than their own natural party did. Some of these voters will have stayed at home, but a good number will have given their vote to Nigel Farage's Brexit Party and, remarkably, to the Conservatives. The modern Labour Party is no longer the party of traditional blue-collar voters. It is a party which loses seats like Blyth Valley to the Tories and gains seats from them in places like Putney in west London. The Conservatives took a huge gamble by focusing their energy on traditionally Labour-voting Brexit territory, but the rewards have been monumental.
Are we on the verge of a fundamental shift within the Tory party? The Brexit-leaning deindustrialised provinces – many of whom opposed the Conservatives' programme of austerity – have returned a raft of new Conservative MPs to the Commons. The parliamentary party is now decidedly more northern and working-class. Many of its new blue-collar voters are still anxious about the inequalities produced by market capitalism and want a more interventionist economic model.
Prime minister Boris Johnson has thanked 'first-time Tory voters' for providing him with the solid parliamentary majority he needed to move on with the UK's withdrawal from the EU. If the PM and his party are serious about building this relationship with voters in working-class, Leave-voting 'coal country', it must become a 'Red Tory' administration. A government which blends a sensible social-democratic programme of well-funded public services and comprehensive state investment in technical education, with a conservative approach to cultural matters, which includes the introduction of a points-based immigration system and tougher sentences for criminals. As well as funding infrastructure projects designed to boost connectivity within regions, it must also restore robust 'on-the-beat' neighbourhood policing. A self-governing, economically social-democratic, socially conservative UK, characterised by a dynamic 'red-blue' politics rooted in a public desire for security and belonging, would be a winning formula.
Johnson has a golden chance to embed Conservative support in habitually Labour-voting coal country. Whether he will grasp the opportunity remains to be seen.
Dr Rakib Ehsan is a research fellow at the Henry Jackson Society. Follow him on Twitter: @rakibehsan.
Picture by: Getty
To enquire about republishing spiked's content, a right to reply or to request a correction, please contact the managing editor, Viv Regan.