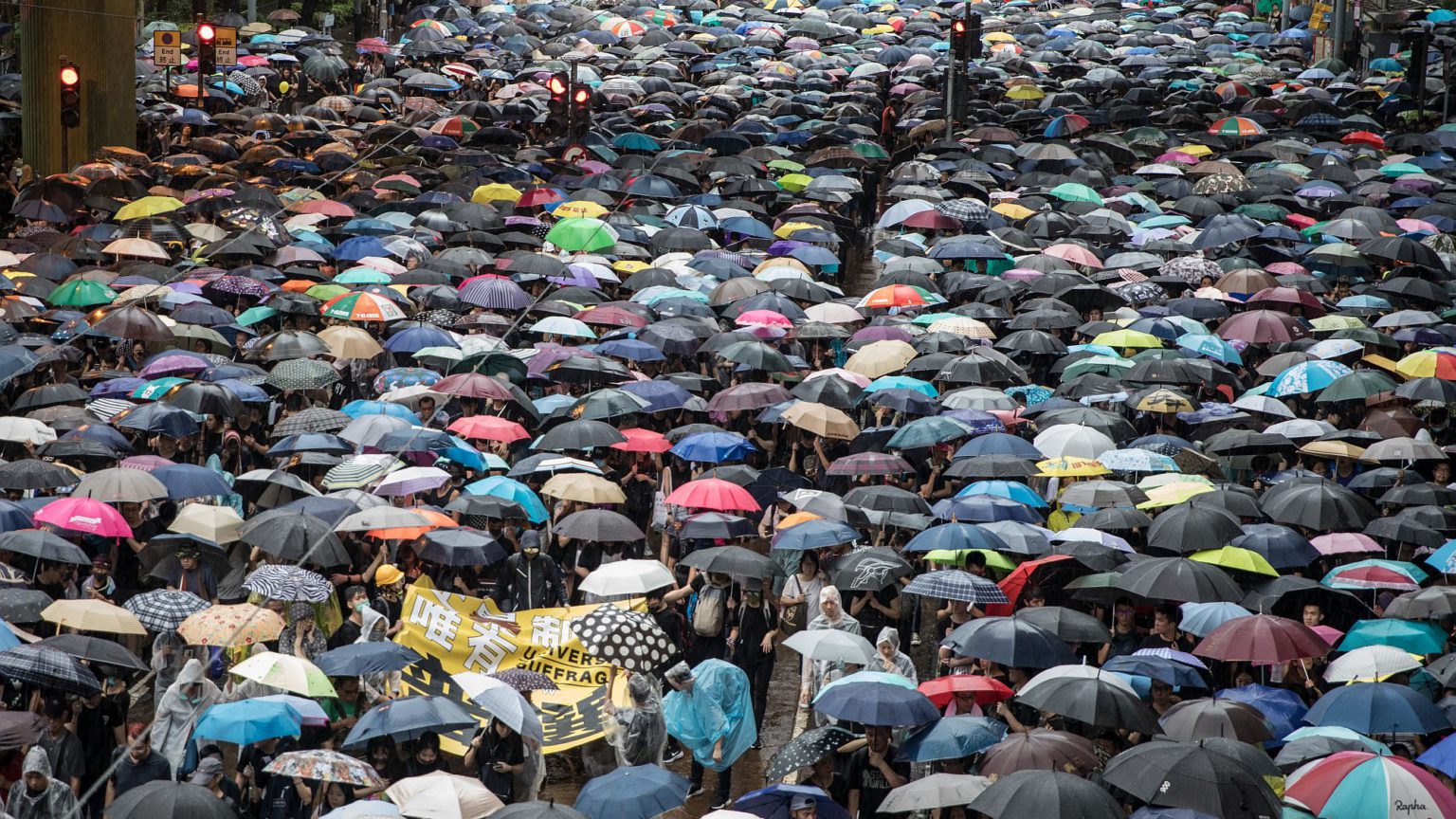 Hong Kong's yearning for change
Pro-democracy protesters are on a collision course with the Chinese state.
Since the early 1980s, Sundays in Hong Kong have been the occasion for a regular, rather sedate protest. Hundreds of thousands of largely female migrant workers – typically Filipino and Indonesian domestic helpers – take over the central areas of the city, sit on cardboard sheets on the floor, or crouch on boxes, from morning until night, and call for improved pay and conditions. They do this every Sunday, because that is their only statutory rest day.
Over the past three months, however, this decades' long protest has been supplanted by a rather less sedate pro-democracy protest. It has come at a significant financial cost, too. Earlier this month, protesters invaded the Legislative Council (LegCo), causing an estimated £4million worth of damage. They have also damaged roads and shop windows, disrupted businesses, and caused consternation on the Hong Kong stock exchange. Hong Kong's chief executive Carrie Lam said that since the protests began, an 'economic tsunami' has hit the islands.
But neither economic concerns, nor torrential rain, seem to have dampened the hunger for change in Hong Kong. Last weekend, there was reportedly 1.7million Hong Kongers on the streets – one quarter of the entire population – defying an official ban on public demonstrations. Marching through the rain, umbrellas at the ready, crowds filled the streets. It was almost impossible to walk, let alone riot.
But the self-consciously pacifist tone of the latest demonstration indicates a tactical retreat from the rioting of recent weeks. It makes political sense, too. Locals have expressed concern at the damage and inconvenience caused by the riots, and the protesters soon recognised that their recent Hong Kong International Airport blockade was a public-relations disaster, especially after some of their number tied up and beat a Chinese journalist suspected of being a spy. This weekend, in a display of contrition, protesters have even held up signs apologising for any inconvenience, and those who burst into the LegCo café, and helped themselves to drinks, made sure they left the correct payment.
The stakes are rising, too. China is amassing troops on the border in Shenzhen. It is a very public show of strength. Normally, China hides its military activities from view, so it is notable that the current phalanx of armoured personnel carriers and tanks is in plain sight. Indeed, the Chinese authorities have purposely filmed and broadcast the images of their armed might on social media in the hope of frightening Hong Kong protesters off the street.
But it has not worked. The protesters are not frightened of the threat of Chinese violence, and one can understand why, given they have already faced violent treatment at the hands of the Hong Kong police, paid thugs, and oppositional, pro-Beijing forces.
Some Western politicians and commentators seem almost to be willing China to send troops into Hong Kong, in order to provide a decisive reason to endorse the protesters fully. If only China invaded, Tiananmen Square-style, then everything would be clear-cut: China could be presented as the uncompromising enemy of democracy, and Western politicians could enjoy a sense of moral certainty. Hence they have had to invent the possibility of a Tiananmen-style invasion in order to condemn it. As it is, however, the protesters are battling Hong Kong's own police force. And Western governments are reluctant to be seen endorsing what could be classified as public disorder.
China has played a canny long game here. Much to the chagrin of Western media, it has made no military advances into Hong Kong. Which is hardly surprising given it is due to mark the 70th anniversary of the foundation of the People's Republic on 1 October. Chinese president Xi Jinping will not want to bloody the celebrations… at least not just yet.
The grievances of protesters have a long history, but the catalyst for the recent demonstrations was the extradition treaty demanded by mainland China. For a long time, China has used snatch squads to kidnap political dissidents in Hong Kong, and bring them over the border to be treated to the full force of Chinese law. Ironically, the Chinese state assumed that formalising the practice in the form of an extradition treaty would assuage Hong Kongers' concerns. Instead, in Hong Kongers' eyes, it merely enshrined the right of China to interfere in a semi-autonomous region; rode roughshod over the belief that Hong Kong is a democratic regime separate from – but attached to – China; and exposed the legislative agents representing Hong Kong as little more than Chinese patsies. What started as a criticism of the independent integrity of the LegCo and its high-ranking personnel has been transformed into a criticism of Beijing's involvement in Hong Kong's legislative affairs.
Yet, in truth, like it or not, Britain handed Hong Kong back to China in 1997. The Basic Law – the unique legislative framework that legitimates the 'one country, two systems' policy, whereby a non-democratic, single-party, authoritarian socialist-market economy co-exists alongside a democratic, market-driven province, in mutually harmonious mistrust – was programmed for a 50-year trial period. The Basic Law says that China will respect, and not interfere in, Hong Kong's 'previous capitalist system'. It also pledges to ensure Hong Kong's ' way of life shall remain unchanged for 50 years'.
It means that in 2047, Hong Kong will lose its favoured status, and become just another region of China. The clock is ticking. When the Basic Law was written, no one imagined that China would become one of the preeminent capitalist powers in the world. And one of Hong Kongers' many concerns is that their homeland will become just a poor cousin of China's southern powerhouse, Guangdong – a region of 114million people, with a GDP of £1.2 trillion (the same as Australia), and home to the mega-cities of Guangzhou and Shenzhen.
That said, both Chinese and Hong Kong leaders want the same thing: to re-establish order and make the protesters pack up and go away so that Hong Kong can go back to being the global financial and services leader in the region. It is an arrangement that serves both sides well. Nearly 60 per cent of all China's outbound investment (including the 'Belt and Road' initiative) is channelled through Hong Kong, which remains the third largest financial centre in the world – after New York and London – and the second largest foreign-exchange market in Asia. But with the economy contracting, and political uncertainty in the air, these are difficult times for China's and Hong Kong's ruling elites.
The protesters are not going away, and they have now published five demands. First, they want the Hong Kong government to withdraw the extradition bill. So far it has 'suspended' the bill, but pointedly refuses to withdraw it, leading many to suspect the bill will re-emerge some time soon.
Second, they want Carrie Lam to resign. But she does not seem to be going anywhere, not least because Beijing refuses to accept her resignation, saying she 'has to stay to clean up the mess she created'. However, it should be noted that even her political supporters in Hong Kong are distancing themselves from her.
Third, protesters are demanding an official inquiry into police brutality. China may not be that keen on this, but accepting some high-profile heads will have to roll has become a common Communist Party response to charges of institutional corruption and illegality.
Fourth, protesters want all arrested protesters to be released. This is a possibility, but China is keen for the protests to be seen as a legal rather than a political matter. Ringleaders, especially those keen on liberating Hong Kong from China, will undoubtedly not be released any time soon. However, Joshua Wong, one of the founding members of the Demisisto Party, was released from prison in mid-June (after being detained following a previous infraction relating to the 2014 Umbrella Movement) and has become a leading voice in the pro-democracy movement. He may possibly be seen as a compromising, calming voice. Most importantly for Beijing, handing out jail terms means that arrested activists are constitutionally ineligible for public office for the next five years.
Fifth, protesters are demanding greater democratic freedoms. This demand does not represent a break with China, nor is it a condemnation of the Chinese state per se. Rather, it is a reiteration of the 'one country, two systems' model. That said, it is this demand that China will want to manage the most. Democracy in Hong Kong codifies the differences between itself and China at the very time that China is making preparations to integrate Hong Kong fully into its one-party state. As such, the call for greater democracy is a demand the Communist Party will recognise as the source of future confrontation. Not just in Hong Kong, but quite possibly in China itself.
Yinzi Huli is a Chinese journalist.
Picture by: Getty.
To enquire about republishing spiked's content, a right to reply or to request a correction, please contact the managing editor, Viv Regan.