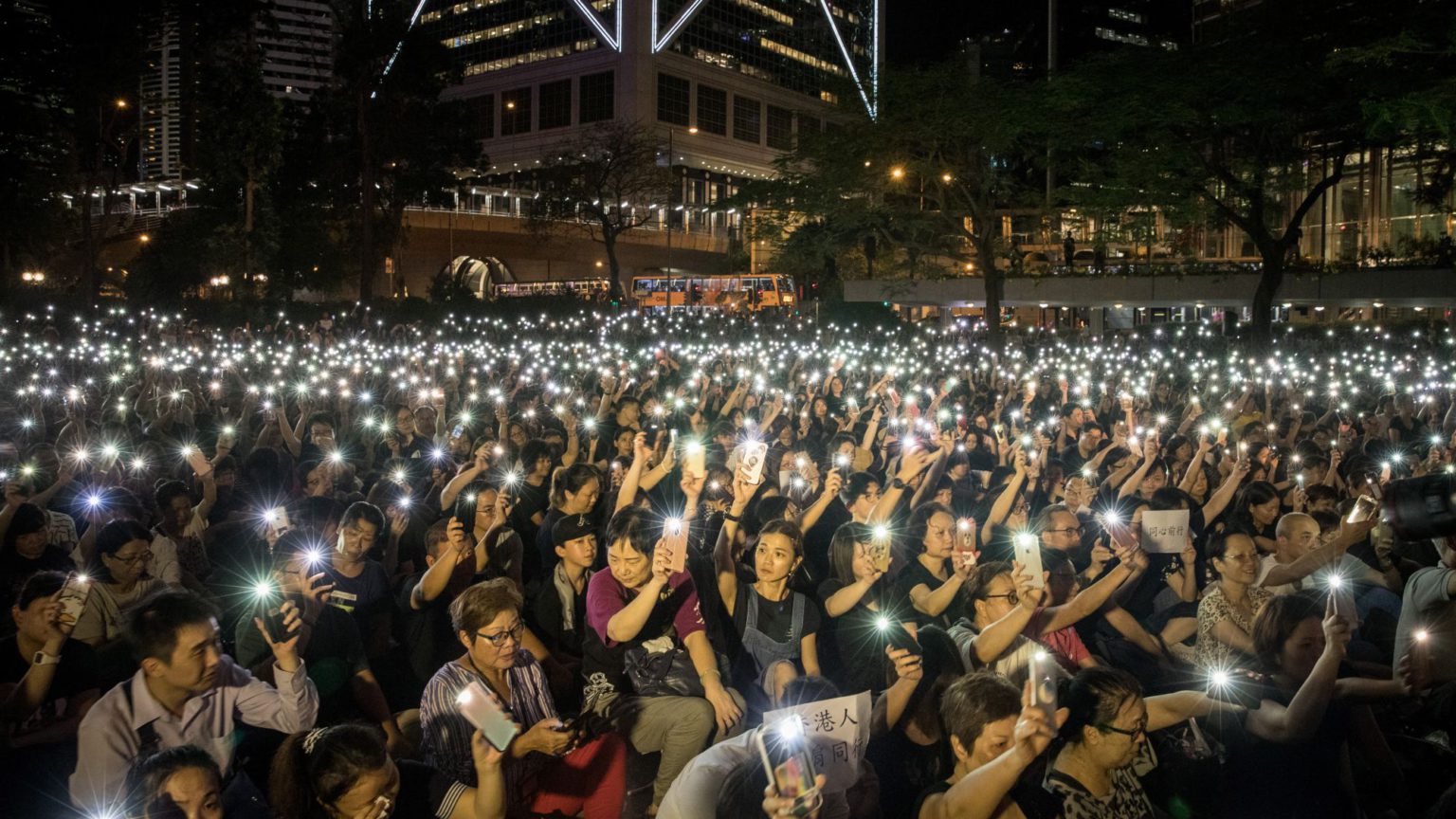 How Hong Kong's rulers lost control
Never underestimate Hong Kong's yearning for freedom and democracy.
After several weeks of protests against Hong Kong's controversial extradition bill, one question is on many people's minds: how long will it be before China's People's Liberation Army (PLA) intervenes against pro-democracy protesters and the world witnesses a rerun of the Tiananmen Square massacre? A day after protesters stormed Hong Kong's legislative council (LegCo), the PLA's Hong Kong garrison announced that it had been conducting drills.
We might ask who needs the PLA when Hong Kong's own uniformed thugs are doing such a great job of brutalising the demonstrators. In Mong Kok, police charged unarmed protesters with batons. Elsewhere, police have deployed tear gas, pepper spray, plastic bullets and bean-bag rounds against protesters. Police have even raided hospital A&E departments to arrest the injured.
This strategy is backfiring badly on Hong Kong's rulers. Mothers' support groups have been set up to protest against the police brutality, and they have held two large rallies to date. Members of the public have covered walls with post-it notes carrying messages of solidarity with the marchers.
Last Monday, the police switched tactics. They retreated, allowing protesters to break into the LegCo chambers. This move was quickly outed as a police ploy to goad the protesters into overreacting. A government source was then able to say that the LegCo invasion was organised by a group of die-hard radicals intent on nothing but destruction. But this move backfired, too. Inside the LegCo, protesters ripped up the constitution and spraypainted Hong Kong's bauhinia flower symbol black — and this seems to have won the pro-democracy movement more support.
Protesters have also taken to raising Hong Kong's old colonial flag. This was not an act of nostalgia for British rule, but a two-fingered salute to Beijing, effectively saying the Chinese are even worse colonialists than the British.
The young radicals of today's pro-democracy movement also seem to be learning from the mistakes of the 2014 Umbrella Movement. That movement lost support because it continued to disrupt daily life for ordinary Hong Kongers, without making any tangible gains to show for it.
The latest protests, by contrast, have moved away from the parliament, civil-service buildings and police headquarters to another part of town (not coincidentally, a three-minute march from a PLA garrison). Firstly, this avoids major disruptions to daily life. Secondly, it allows the protesters to spread their message further.
Significantly, on Sunday, one protest march snaked through the commercial district of Tsim Sha Tsui to the new high-speed railway terminus. This is an area that is full of tourists from the Chinese mainland. Protesters informed the mainlanders of their goals and even encouraged them to join the march. The protesters have also looked for support internationally. Crowdfunded adverts have been placed in newspapers around the world and protesters have made appeals to the United Nations Human Rights Council in Geneva.
All of this pressure on the Hong Kong government has certainly had an effect. The extradition bill that provoked the protests has been suspended, although it has not been fully withdrawn.
The government has also tried to quell the protests by attempting to open a dialogue with students at a Hong Kong university. However, the students have dismissed the offer as a publicity stunt. Clearly, the protesters don't want tea and sympathy, but democracy, autonomy and freedom from the threat of arbitrary detention and deportation to mainland China. Arguably, the executive's overtures to the students were part of an attempt to portray the protesters as little more than frustrated youths. But while the young may be at the forefront of the protests, there is strong support for their ideas across the whole of Hong Kong society.
This seems to be beyond the government's comprehension. Mostly because it is so aloof from public opinion. The executive's Central Policy Unit used to conduct regular opinion polls on key issues, but it has not carried out any such polls for two years. Since the protests began, Hong Kong's chief executive, Carrie Lam, has virtually dropped out of public sight, making very few public appearances and avoiding hard questions from journalists.
Today, Lam held a press conference reiterating that the extradition bill would not be reintroduced. She said it was 'dead'. But she still refused to say it would be withdrawn for good. She could placate a large section of the population if she confirmed that it had been withdrawn. But for some obscure reason, the word refuses to pass her lips. She also offered more public consultations on the matter, but these are generally understood to be a sham.
No doubt Lam cares a lot less about the people of Hong Kong than she does about Beijing. In fact, Beijing has been just as inept as the Hong Kong executive. Past initiatives that have provoked mass protest in Hong Kong, such as an attempt in 2003 to pass a stringent national-security act and a 2012 attempt to introduce patriotic education, were all local initiatives. But the extradition bill was clearly pushed by Beijing. It should be no surprise that the authoritarians in Beijing underestimated the strength of desire for democracy among Hong Kongers.
The fact the protesters chose to end their march on Sunday at the railway terminus has a symbolic significance. The opening of the railway line has meant that mainland-run immigration checks are being conducted on the Hong Kong side of the border for the first time. This is presented as a matter of convenience, but it sets a precedent. The One Country, Two Systems policy comes to an end in 2047 – 50 nyears after Hong Kong was returned to China by the British in 1997. That means Hong Kong will have to give up its high degree of autonomy. These border checks suggest that Hong Kong will have to adapt its laws and practices to meet the mainland's needs well before 2047.
The new railway is also one of a clutch of expensive infrastructure projects intended to tie the Hong Kong economy into a new entity called the Greater Bay Area. This will link Hong Kong to Macau and nine other cities in southern China, with the ambition of creating an economic hub to rival Tokyo Bay or the greater metropolitan New York area. While it may make good economic sense, it is effectively taking decision-making about the direction of the Hong Kong economy out of Hong Kongers' hands. The plan is a further indication of Beijing's desire to exert more and more control over Hong Kong.
Problems for Beijing lie ahead. As the 2047 date approaches, polls suggest that the people of Hong Kong identify more strongly as Hong Kongers than they do with China. There is a growing antipathy towards the mainland.
The leadership in Beijing and Hong Kong might not have been wrongfooted had they understood and respected the people's desire for democracy.
Mischa Moselle is a Hong Kong-based writer and English language teacher.
Picture by: Getty.
To enquire about republishing spiked's content, a right to reply or to request a correction, please contact the managing editor, Viv Regan.