Jeremy Hunt: beware the man in the empty suit
Does anybody know what he actually believes?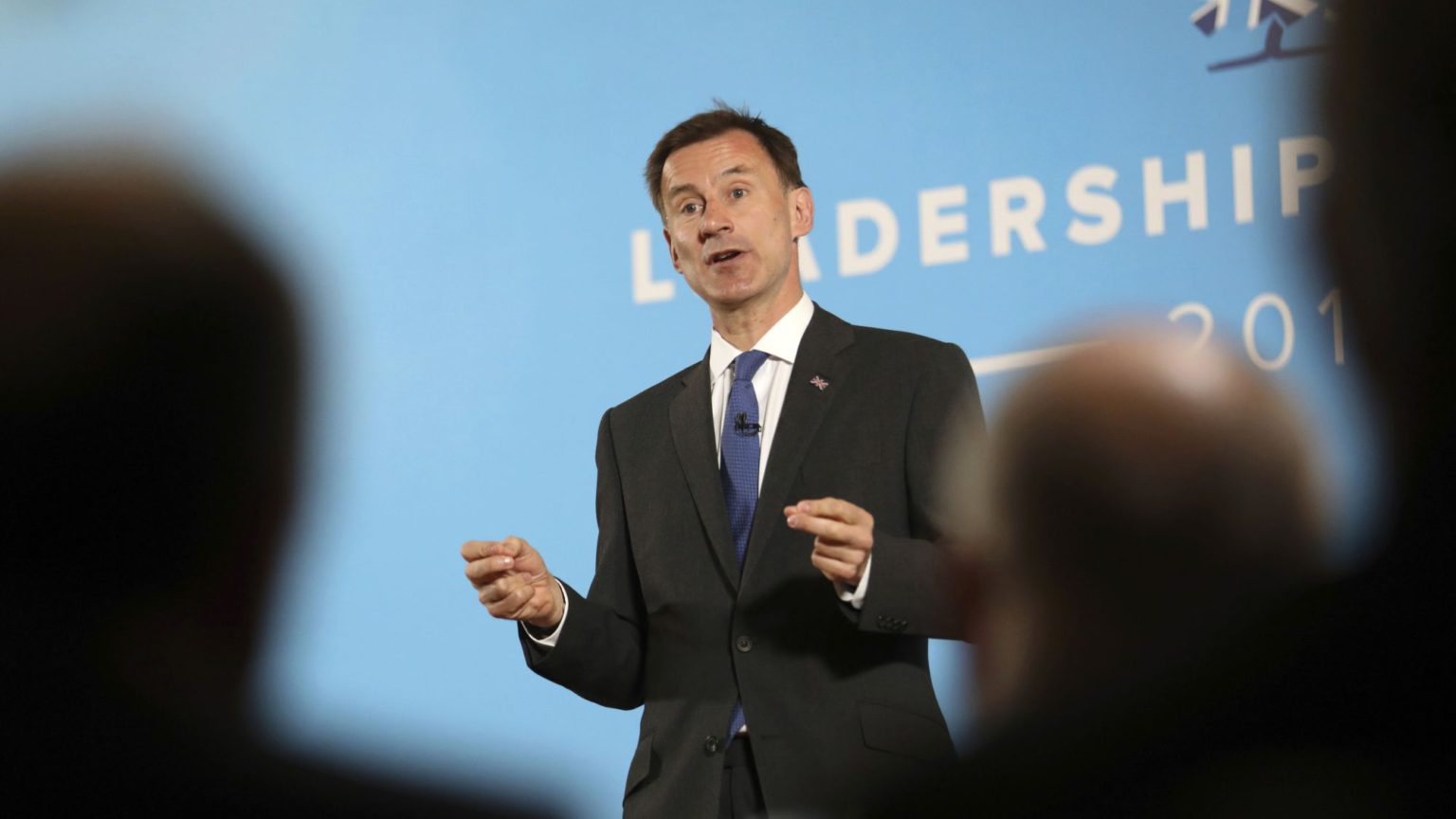 'Unprincipled windsock', 'Theresa in trousers' and 'Hunty McHuntface' – these are some of the ways Jeremy Hunt's fellow Conservatives have described the wannabe prime minister. (The latter was a pre-planned gag by Hunt himself at a hustings last week.) All point to a serious hollowness at the heart of the man who wants to lead the country out of its most profound democratic crisis since the arrival of universal suffrage.
Hunt has been a Conservative MP since 2005 and a cabinet minister since 2010. But in all these years on the frontline of politics, few are able to divine what he actually thinks about politics – or if he thinks about politics at all.
In the leadership campaign, Hunt has stressed his experience as an entrepreneur, not only to the point of tedium but also to the point of absurdity. The son of an admiral, educated at Charterhouse and Oxford, he has spoken, somewhat disingenuously, of the 'daily grind to stay alive'. This experience is supposed to give him the skills necessary for a tough negotiation with Brussels. Like May, his hapless predecessor, Hunt is treating the leadership contest like little more than a job interview, touting his capacity to 'get the job done', over any political beliefs and ideas. Hence, 'Theresa in trousers'.
Hunt should not be so keen to emphasise this chapter in his life. Luke Turner, editor of music magazine The Quietus, recalls working for Hunt for three years at his publishing firm, Hotcourses. He describes how he was 'shocked' to be informed that Hunt was standing as a Conservative MP and parachuted into an ultra-safe seat, considering that Hunt 'never really displayed much in the way of political enthusiasm in the past'. Another Hotcourses colleague gained an insight into Hunt's politics: 'He once said to me during the fledgeling stages of his political career, "Well, both my parents are Conservative so it's pretty much a foregone conclusion I would be too."' Inspiring stuff.
So why an 'unprincipled windsock'? This comment came from Conservative peer Andrew Cooper, dismayed at Hunt's apparent conversion from Remainer to Brexiteer. Hunt has tried on a number of positions on Brexit and has clearly yet to find one that fits.
During the Brexit campaign, he joined the Project Fear chorus, warning that leaving the EU would put the health service in danger. Within days of the Leave vote, he called for a second referendum, while advocating a 'Norway Plus' compromise position (leaving some EU institutions while remaining in the Single Market). Since then, he has gone from backing Theresa May's deal to flirting with No Deal – then labelling No Deal a disaster. His latest idea is to organise a cross-party negotiating team while leaving No Deal on the table – an option he says he will pursue 'with a heavy heart'. One thing Hunt's plan does not include is a deadline for Brexit, which raises the possibility of another unpopular compromise in the vein of May's failed withdrawal treaty. He is acutely aware that Tory members favour a No Deal Brexit and so has to keep the option open during the leadership race. But his constant shifting of position makes him impossible to trust on the issue.
The only issue where Jeremy Hunt seems to have displayed some consistency is abortion. Last month, he reiterated his support for reducing the legal limit on abortions from 24 weeks to 12. As Ann Furedi wrote on spiked, he has conjured up a kind of 'Goldilocks' limit from thin air, too short to please pro-choicers and too long to please anti-abortion activists: 'A comfort zone for people who want to appear to stand on some reasonable middle ground. It is a compromise without purpose or principle.' Thus, even when he is consistent, he is principle-free.
British politics has surely had enough of principle-lite technocrats like Jeremy Hunt. The British public deserves better.
Fraser Myers is a staff writer at spiked and host of the spiked podcast. Follow him on Twitter: @FraserMyers.
Picture by: Getty.
To enquire about republishing spiked's content, a right to reply or to request a correction, please contact the managing editor, Viv Regan.