The battle for Hong Kong
Hong Kong's protesters are fighting for life and liberty.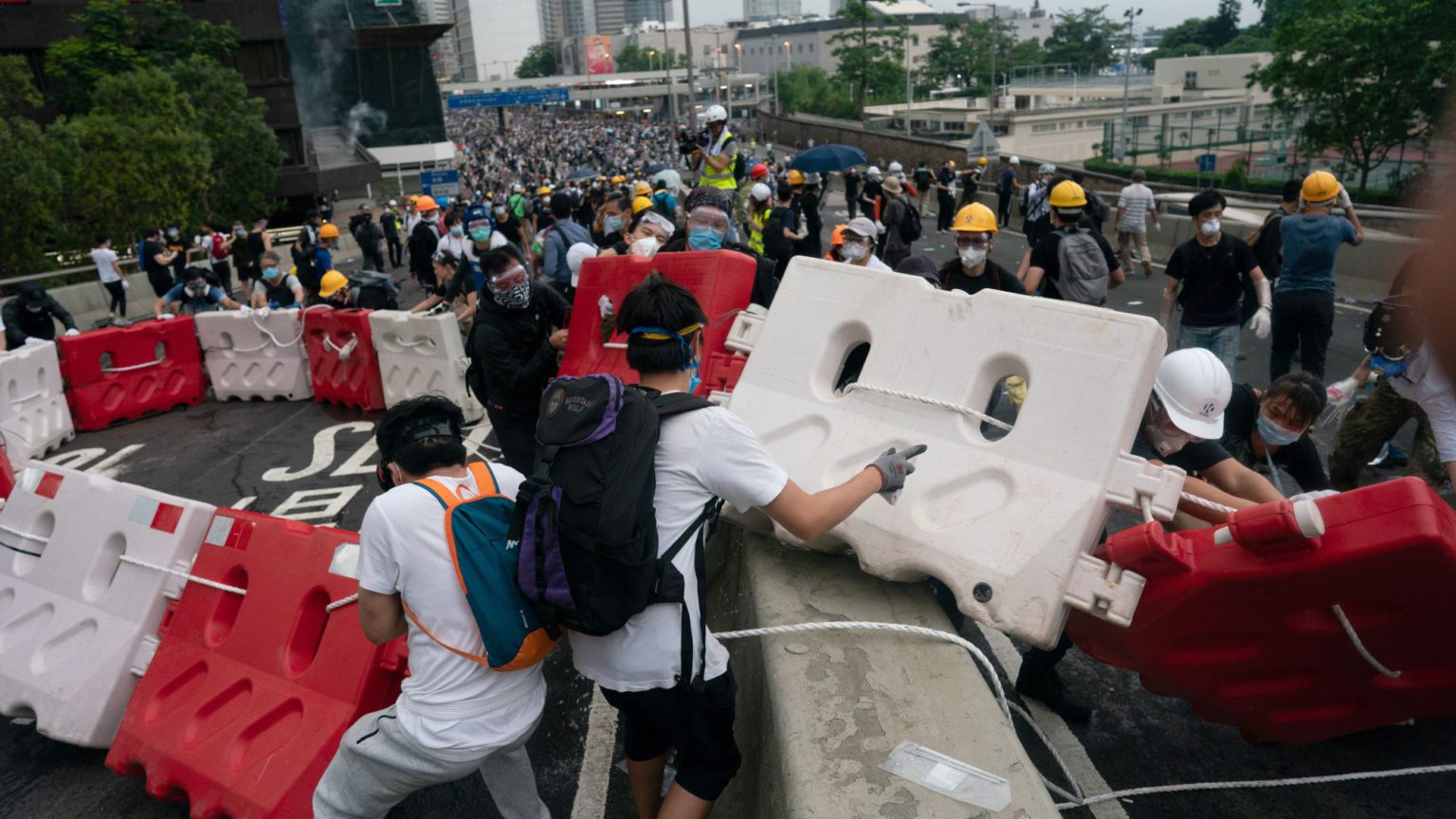 In Hong Kong, the political elites are struggling to insulate themselves from popular opinion. In a remarkable turn of events, local media report that the government may delay bludgeoning through a law that threatens free expression and trashes the territory's international reputation.
The passage of Hong Kong's controversial extradition bill was once seen as inevitable. But that has been called into question under pressure from a Hong Kong public that the bill was designed to intimidate. In extraordinary scenes on Wednesday, protesters temporarily succeeded in denying lawmakers access to their own parliament building to discuss the much-loathed bill. The political elites will come under further pressure from demonstrations and strikes planned for this Sunday and Monday.
The act in question will rubberstamp current practice. At the moment, Chinese forces cross the border into Hong Kong to kidnap people they don't like. The victims then reappear months later making televised 'confessions' or are forced to testify in front of courts with 99 per cent conviction rates. Those forces aren't shy. They even snatched one tycoon from a landmark five-star hotel right in the city centre. If the extradition law is passed, the Hong Kong judicial system will have no choice but to pass any fugitives over.
As Jingan Young explains elsewhere on spiked, the consequences for life and liberty in Hong Kong go far beyond the threat of arbitrary detention. The bill will inhibit free speech and undermine the rule of law. In order to preserve Hong Kong's unique freedoms and semi-autonomous status, there has deliberately been no extradition treaty between the territory and the Mainland – until now. Many Hong Kongers are asking themselves, once this changes, what else could be up for grabs?
There are also fears for the economy. Foreign companies which want to be part of the Chinese market come to Hong Kong to sign contracts. They know that contracts in Hong Kong will be honoured, while the law in China is more random in its application. It is entirely possible that pressure from business is as big a factor in the hinted-at delay of the extradition bill as pressure from the public.
There is also widespread dismay at the police response to the protests, which started out as ridiculous and ended with a disturbing show of violence. After the peaceful mass march on Sunday, the police accused journalists of 'abusing' their press passes, even though there is no such thing as a Hong Kong press pass. The police also drew mockery when they displayed some of the 'offensive' weapons they had confiscated from protesters. While there were a few Stanley knives, some of the so-called weapons included some really ominous cigarette lighters, face masks and – shock horror – t-shirts.
On Wednesday morning, the police claimed to have been attacked by protestors with sharpened iron bars, bricks and petrol bombs. There is some photographic evidence that some protestors dug up paving stones and brought bottles of petrol with them. It looks as if the paving stones were used to build a barricade. But I have seen no evidence of any petrol bombs or iron bars being used against the police.
There is plenty of evidence of the police's heavy-handedness, on the other hand. Oblivious to the world's press watching, Asia's Finest pumped out water and pepper spray and used snatch squads to beat up individual protestors. For the first time in Hong Kong's history, they also deployed tear gas, rubber bullets and shotguns firing beanbag rounds. They must have been taking lessons from Emmanuel Macron's response to the gilets jaunes. Public radio also reported that a male and female protester were taken into a room in the parliament building by police and female screams were heard coming from the room. When two legislators went to investigate, they were told that the female protester had scratched an officer's hand. They were then told it was none of their business before being shooed away.
Other eyewitness accounts report police officers aiming beanbag rounds at protesters' heads and even firing at journalists. At a police press conference following Wednesday's protest, journalists turned up in protective gear to protest the police treatment of journalists. Adding insult to injury, recordings have emerged of the police taunting priests and shouting at students to go fuck their mothers.
Hong Kong's political elites seem to have been caught as much on the hop as the police. Until the first protests on Sunday, Hong Kong's pro-democracy movement seemed to be on the wane. Back in 2014, the Umbrella Movement staged 79 days of protest in an attempt to pressure the authorities to give Hong Kong the democracy and autonomy it had been promised under the Basic Law, the territory's constitution negotiated as part of the handover deal between Britain and China. But since 2014, the government has brought legal cases against 33 leaders of the Umbrella Movement, 16 of whom sit in the 26-strong pro-democracy side in Hong Kong's Legislative Council. Prison or suspended prison sentences have been given to 18 leaders, while six legislators have been disqualified from sitting in the body.
In any case, the Legislative Council is always rigged in the government's favour. Just like the EU's so-called parliament, the Legislative Council votes on legislation presented to it by an unelected bureaucracy. The body is composed not only of members from geographical constituencies (as is normal for a most parliaments around the world), but also functional constituencies, mainly representing conservative-leaning business sectors.
The Umbrella Movement was ultimately unsuccessful in bringing democracy to Hong Kong. The student movement initially gained mass support from the public but lost it by refusing to change tactics. It disrupted daily life for weeks even after it was obvious it had had no impact on the government. On other occasions, however, the Hong Kong public has successfully forced its elites into climbdowns. In 2003, demonstrators blocked the imposition of stringent security laws. Protests in 2012 prevented the government from making the education system more 'patriotic'.
For the sake of Hong Kong's future, let's hope the government climbs down soon.
Mischa Moselle is a Hong Kong-based writer and English language teacher.
To enquire about republishing spiked's content, a right to reply or to request a correction, please contact the managing editor, Viv Regan.