Led By Donkeys makes an ass of itself – again
The Remain poster boys have made a series of spectacular gaffes.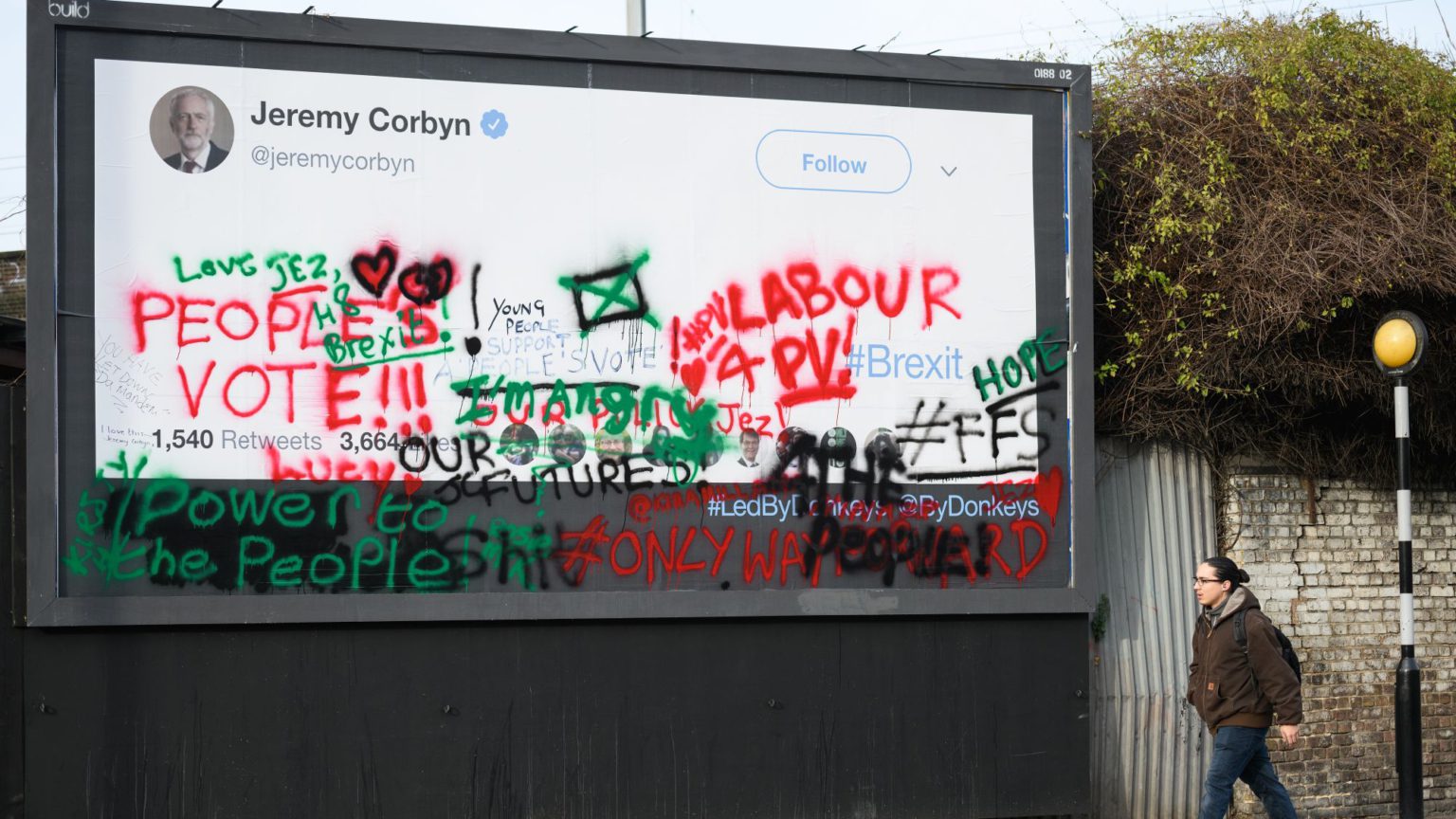 Led By Donkeys, a pro-Remain campaign group, was set up after the EU referendum to draw attention to the alleged hypocrisies and broken promises of leading pro-Brexit politicians. It does so by plastering billboards with old quotes from the likes of David Davis, Liam Fox and Dominic Raab. These campaigners are adored by many leading Remainers. But they have a habit of making spectacular gaffes.
This week, in an attempt to troll Donald Trump during his UK state visit, the Led By Donkeys crew projected a MAGA-style hat, emblazoned with John McCain's name, and the US naval warship named after him, his father and his grandfather, on to Madame Tussauds. The late McCain was a prominent critic of Trump, and they hoped this would get under his tangerine skin:
Hey @realDonaldTrump, we read the story about the sailors on a US warship being ordered to hide from you because you're triggered by the name on their hats. So we turned Madame Tussaud's into a giant USS John McCain baseball cap. Welcome to London! pic.twitter.com/KuynOwupFm

— Led By Donkeys (@ByDonkeys) June 3, 2019
But McCain was also everything protesters claim to hate about Trump. He once called the president of Iran a 'monkey'. He refused to stop using the word 'gooks' to describe the soldiers who captured and tortured him in Vietnam. Reporters once overheard him snap at his wife that 'at least I don't plaster on makeup like a trollop, you cunt'. And, lest we forget, he was also a crazed warmonger, who backed every bombing campaign going. Hardly a man to venerate.
This wasn't the first time Led By Donkeys botched one of its cunning stunts. During the recent EU elections, its series of anti-Brexit Party billboards also caused controversy. As the Brexit Party did not have a manifesto – beyond pledging to leave the EU – Led By Donkeys decided to make its own Brexit Party 'manifesto' by digging up old controversial quotes from some of the party's leading figures (most of which were unrelated to Brexit). A poster featuring Ann Widdecombe featured the quote 'homosexual acts are wrongful', and suggested Widdecombe wanted to 'target gay people'.
Great work @ByDonkeys – leading from the front against Farage and his business of division and hate. #EuropeanElections2019 #BrexitShambles pic.twitter.com/jOrCoVXUmU

— Justin Smith (@BrexposedU) May 16, 2019
But as many pointed out, the context here was woefully unclear, and most people would simply have seen a billboard full of homophobic messages. The Led By Donkeys team agreed to remove it.
Those billboards also might have got them in trouble in more ways than one. A Guido Fawkes investigation recently alleged that Led By Donkeys breached legal spending limits by over £70,000 during the EU election campaign.
EXC: Anti-Brexit Billboard Campaign 'Led By Donkeys' in Massive Apparent Breach of Electoral Law https://t.co/NXpnm633ul pic.twitter.com/sZ8wBeRwUg

— Guido Fawkes (@GuidoFawkes) May 17, 2019
This is particularly embarrassing given Remoaners' unflappable belief that it was Vote Leave's alleged spending irregularities that 'stole' the referendum.
Led By Donkeys? Run by asses, more like.
Picture by: Getty.
To enquire about republishing spiked's content, a right to reply or to request a correction, please contact the managing editor, Viv Regan.