The whitewashing of John McCain
For some people, being anti-Trump absolves you of all other sins.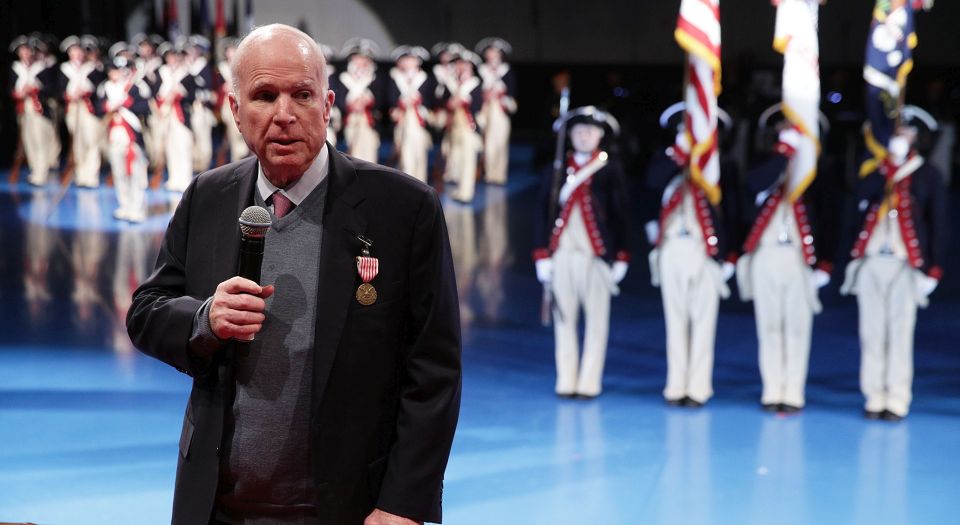 For a clear illustration of the effects of Trump Derangement Syndrome, look no further than the elevation to the status of secular saint of the recently deceased Republican senator and former presidential hopeful, John McCain. McCain was famously critical of Donald Trump during his election campaign. He accused Trump of using rhetoric which 'fired up the crazies' and he withdrew his support of Trump's candidacy following the emergence of the 'grab them by the pussy' tape. In death, McCain has added a further snub, refusing to allow Trump to attend his funeral.
Amid the rolling-news hagiography of the late senator, CNN's Jake Tapper veered momentarily off-script to ask whether 'the reason there's so much reverence for him today is because of who's in the White House right now'. Indeed, the organs of the #Resistance have struggled to contain their appreciation for the right-wing senator ever since he first criticised Trump. Last year, a writer for the Washington Post said it is 'simply impossible to overestimate the love, bordering on worship, that reporters in Washington' had for McCain. Following his death, a Washington Post editorial claimed that 'all over this world, Mr McCain is associated with freedom and democracy'. He 'championed human rights with verve and timelessness – speaking out against repression and authoritarianism', apparently.
Gushing tributes have flooded in from prominent Democrats. Minority senate leader Chuck Schumer says McCain was a 'truth-teller… never afraid to speak truth to power' – a clear reference to his attacks on Trump. Schumer says he will propose a bill to rename the Senate's Russell building after McCain. Even the Bernie Sanders wing of the Democratic Party has heaped praise on him: Alexandria Ocasio-Cortez called him an 'unparalleled example of human decency'.
McCain's military record in Vietnam – particularly his refusal to be released from a Vietnamese prison ahead of other POWs who had been there longer than him – has understandably made him a moral exemplar to some. But that doesn't change the fact that he was also a serial warmonger who endorsed every disastrous US military intervention of the past two decades. He has even called for military action in Nigeria, Mali, North Korea, Iran, Sudan and Russia. In a competitive field, he held some of the most hawkish foreign-policy views of any American politician. He cosied up to dictators in Libya and Saudi Arabia – 'Thank God for the Saudis', he once said to CNN. But for today's so-called Resistance, simply being anti-Trump puts you on the right side of history.
The overblown, hysterical reaction to Trump, the belief that his victory heralded a return to the 1930s, that he is a uniquely evil president, is having a profound effect on some people's understanding of the recent past. The relentless media love-bombing of McCain has completely transformed his reputation. According to a Fox News poll, while just 41 per cent of Republicans hold a favourable view of the late senator, 60 per cent of Democrats do. Similarly, George W Bush, architect of the 21st century's bloodiest war and overseer of the financial crisis, now receives standing ovations at speaking engagements because he has criticised Trump. His approval rating has rocketed to 54 per cent among Democrats, according to a CNN poll.
Trump Derangement Syndrome is whitewashing some of the most destructive events and decisions of recent history and rehabilitating those responsible for them.
Fraser Myers is a writer. Follow him on Twitter: @FraserMyers
Picture by: Getty
To enquire about republishing spiked's content, a right to reply or to request a correction, please contact the managing editor, Viv Regan.