The real Roger Scruton scandal
It is the behaviour of the New Statesman that has been most disturbing.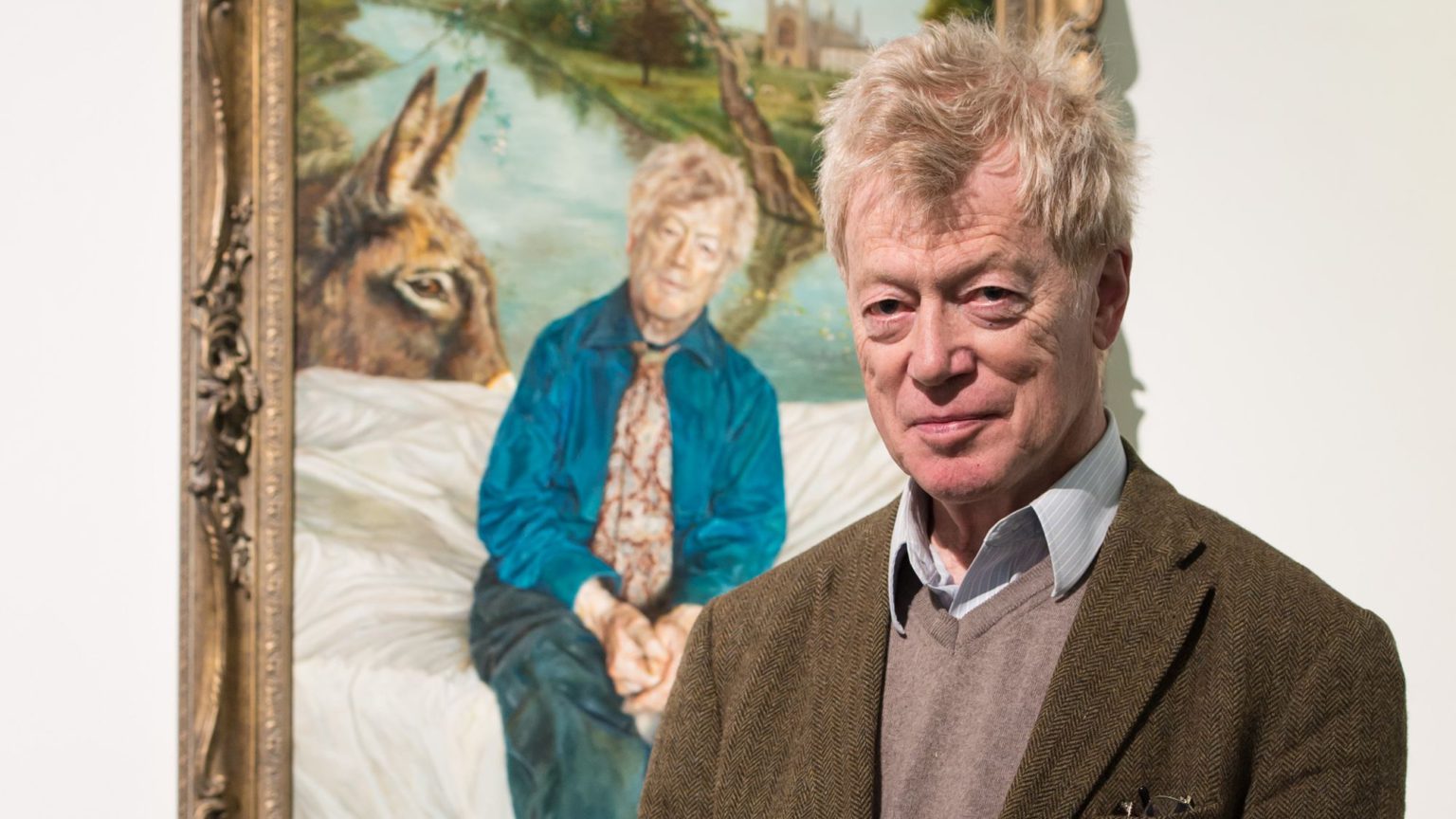 The Roger Scruton scandal is indeed disturbing. Not because of what Roger Scruton said, but because of what the New Statesman did. In order to score a hit against a conservative philosopher cum Tory adviser who has always rubbed leftists up the wrong way, the New Statesman's deputy editor dispensed with the ethics of journalism, wilfully distorted a quotation, and inferred racism where, to the best of our knowledge, none exists. Scruton's comments were not particularly shocking, but the New Statesman's behaviour was.
Scruton had been a housing adviser to the Conservative government. Yesterday he was sacked for his 'unacceptable comments' in the New Statesman interview, as the minister of housing put it. Reading the general media coverage of the scandal, and the New Statesman's promotion of the interview online, you could be forgiven for thinking that these 'unacceptable comments' from Scruton included anti-Chinese racism and anti-Semitism. But they didn't; it only looks that way because of the New Statesman's unethical sleight of hand and virtual misquotation – usually a huge no-no in the world of respectable journalism.
All those who think Scruton expressed racial hatred against Chinese people and Jews really should read the interview. They might find that they have more questions for the New Statesman's deputy editor, George Eaton, who conducted the interview, than they do for Scruton. Take the claims of anti-Chinese racism. In his Twitter-summary of Scruton's comments, Mr Eaton has the philosopher saying the following: 'Each Chinese person is a kind of replica of the next one and that is a very frightening thing.' That would indeed be a racist thing to say, playing on the stereotype that all Chinese people look and behave the same. But that isn't what Scruton said. He said: 'They're creating robots out of their own people… each Chinese person is a kind of replica of the next one and that is a very frightening thing.'
So Scruton, it seems, was talking about the Chinese Communist Party and its expectation of conformism from the populace, not the Chinese people. By taking his comments out of context, Mr Eaton, quite wilfully it seems, turned criticism of a tyrannical government into a racist slur against a whole people. But it's even worse than that. Mr Eaton did not only take the comments out of context – he also changed them, in a small but nonetheless important way. In his tweet, his use of a capital 'E' on 'Each' – in order to make the sentence 'Each Chinese person is a kind of replica of the next one and that is a very frightening thing' look like a standalone comment – is, to all intents and purposes, a misquotation. In the actual interview article, the 'each' has a small 'e', and is preceded by ellipsis, because it was clearly part of a broader comment by Scruton on the authoritarian nature of contemporary China. A journalist has misrepresented the views of a public figure to make him seem racist – isn't that more scandalous than Scruton's strong-worded critique of what he views as Chinese conformism?
What about anti-Semitism? Again, Scruton says nothing in the interview that could be construed as anti-Jewish hatred, and yet the New Statesman infers that he did. Scruton made critical comments about the 'Soros empire' in Hungary. He was referring to George Soros, the Hungarian-American philanthropist who funds many so-called 'progressive' think-tanks and institutions. Soros is Jewish, and according to some liberal observers, this means any criticism of him is by definition anti-Semitic. This is a perverse idea. Is there a 'Soros empire' in Hungary? That's certainly not a phrase I would use, but it is an indisputable fact that Soros funds various groups inside Hungary and across Europe. The depiction of all anti-Soros criticism as anti-Semitic is dodgy on two levels in particular. First, it demonises and seeks to silence all public discussion of a billionaire and his political interests. And secondly, it seriously harms the crucial struggle against resurgent anti-Semitism by weaponising accusations of anti-Semitism to the cynical end of silencing dissent on Soros and his political role – and this can only deepen the depressing cynicism that already exists towards the seriousness of anti-Semitism.
Let's put it like this. If someone were to say that Ed Miliband is a wily, puppeteering political figure who uses his North London connections to do down ordinary people, that would clearly be anti-Semitic. But if someone said Mr Miliband was a piss-poor leader of the Labour Party who hasn't got two ideas to rub together, that is not anti-Semitic. Do you see? Likewise, if a Hungarian hard-right agitator says Soros is a sinister, octopus-style figure puppeteering the Western world, that is anti-Semitic. But if someone – Scruton, say – says Soros funds various campaign groups that have a detrimental impact on conservative values, that is not anti-Semitic.
In order to fortify the smear that Scruton is anti-Semitic – despite the fact that he said nothing about Jews in the interview – Mr Eaton refers to an old speech Scruton made in which he seemed to suggest that Hungarian Jews are part of the 'Soros empire'. Gross, right? Only, once again, his comments are taken out of context. He said, in the speech titled 'The Need for Nations', delivered in Hungary a few years ago, that 'many of the Budapest intelligentsia are Jewish, and form part of the extensive networks around the Soros Empire'. Why did he make this claim? He said many of these Jewish intellectuals are 'rightly suspicious of nationalism', because of the anti-Semitic horrors of the 1930s and 40s, and they are also confronted with the 'indigenous anti-Semitism [that] still plays a part in Hungarian society and politics'. These past and present experiences are an 'obstacle to the emergence of a shared national loyalty among ethnic Hungarians and Jews', he said. So he was sympathising with the plight of Hungary's Jews. Did Mr Eaton not have space to point this out?
Scruton's other 'unacceptable comments' include saying that Hungarians in recent years have been 'alarmed' by 'the sudden invasion of huge tribes of Muslims from the Middle East'. This is indeed very worrying language. It is the one part of the interview that feels ugly. So why not challenge it? Why simply cite it as evidence for why Scruton is unfit for public life? For a public role that has precisely nothing to do with immigration or Islam?
Scruton also said that Islamophobia is a word 'invented by the Muslim Brotherhood in order to stop discussion of a major issue'. What's wrong with that? I would dispute that the Muslim Brotherhood invented the word. There are so many competing claims as to who invented it. And in the UK context, it was the Runnymede Trust that popularised it. But it strikes many of us as utterly uncontroversial to suggest that accusations of Islamophobia are used to close down discussion about Islam, Islamist extremism, social and cultural tensions, and so on. Because Scruton thinks Islamophobia is a phrase used to chill public debate, he deserves to be sacked? That's crazy.
Here's the truth of it: most of Scruton's comments were not particularly alarming or surprising. He criticised China's enforcement of conformism, repeated his concerns about George Soros's growing influence, and called for a more open debate about issues relating to Islam. Demanding someone's scalp because you disagree with their views is one of the most depressing features of our age. In the interview, Scruton was doing what Scruton has always done – provoke and challenge and irritate. It is the New Statesman that has changed. A once prestigious magazine now distorts and virtually misquotes as part of a transparent hit job against a philosopher whose views it doesn't like. In this scandal, it is the dishonesty and anti-intellectualism of the New Statesman that should concern those who care for the state of public life.
Brendan O'Neill is editor of spiked and host of the spiked podcast, The Brendan O'Neill Show. Subscribe to the podcast here. And find Brendan on Instagram: @burntoakboy
Watch Brendan O'Neill's speech at the March to Leave below:
Picture by: Getty.
To enquire about republishing spiked's content, a right to reply or to request a correction, please contact the managing editor, Viv Regan.