A rally for democracy
Thousands came to Parliament Square to defend their democratic vote for Brexit.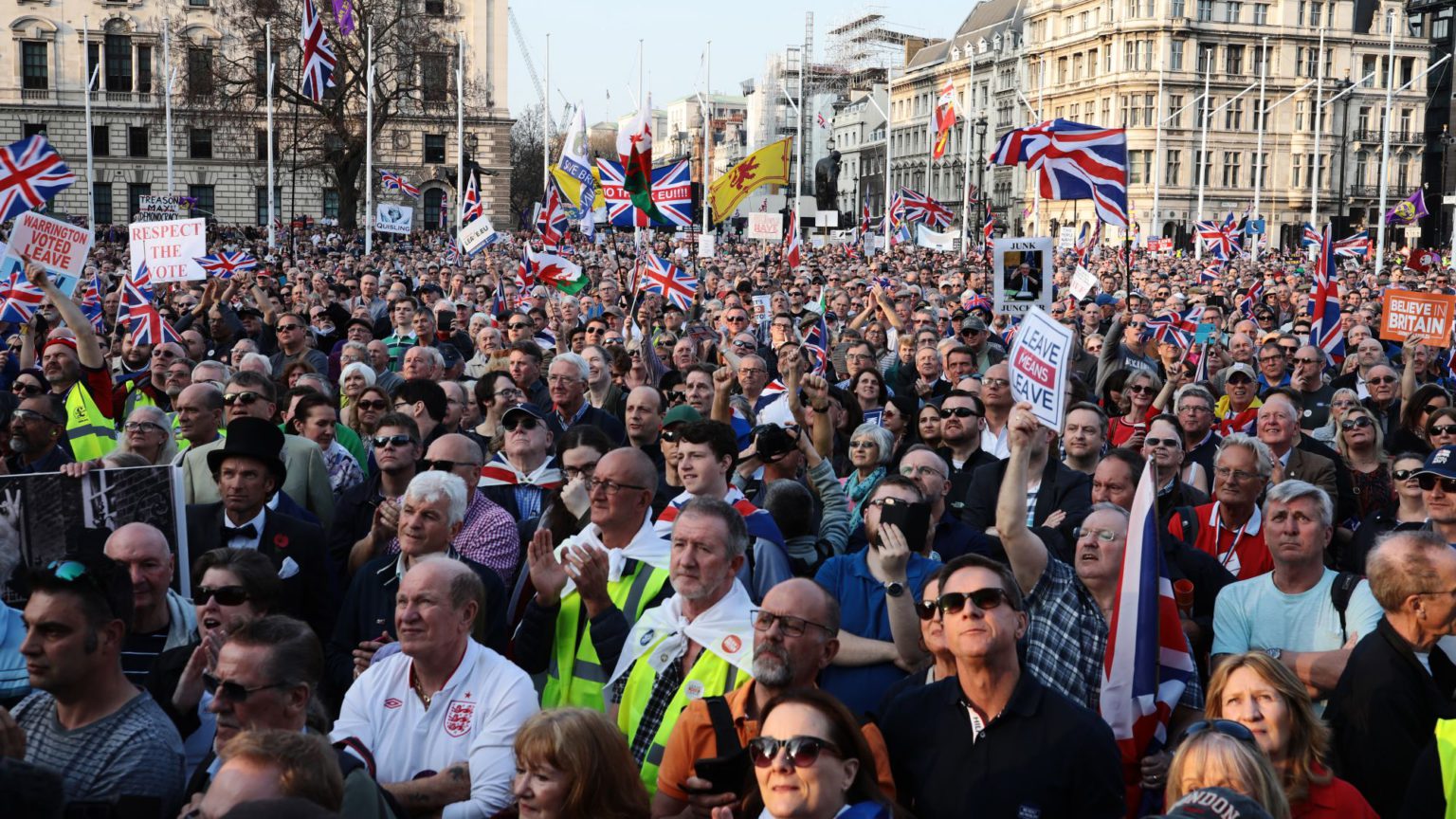 29 March 2019. That was the day we were supposed to leave the EU. Again and again, we were promised – the prime minister alone promised at least 50 times – that we would be out by now. Again and again, we were told we would be leaving the Single Market and the Customs Union. We were promised that we would cease to be subject to EU law and EU courts. 17.4million people voted for Brexit in 2016, but nearly two-and-a-half years later, the government and MPs are refusing to deliver it.
It was these betrayals that brought thousands of protesters to Parliament Square last Friday for the March to Leave, organised by Leave Means Leave. Brexit voters should have been celebrating, but instead we were demonstrating.
Nowadays, protesting seems to be something people do largely for fun. Scenes of kids, dogs and twee placards with ironic puns are a common sight at most middle-class, 'polite' protests. The March to Leave was very good-natured but it was noticeably different to those other kinds of protest. This was not the usual protest crowd: many were working class and many had never been on a demo before. Nor did the March to Leave gesture to some vague, unquantifiable outcome or political position – against climate change, for women, etc. Rather, it called for Britain to leave the EU in line with the largest democratic mandate in British history and for politicians to fulfil the promises they have made time and again.
Leave Means Leave invited speakers from across the political spectrum, including spiked's editor Brendan O'Neill, Nigel Farage, Labour's Kate Hoey, trade unionist Paul Embery, and Claire Fox of the Academy of Ideas. One thing that was clear from the speeches, from the placards and from talking to the demonstrators was how Brexit is now a question of democracy, pure and simple. The biggest cheers came when one of the speakers called for the reassertion of our democratic rights.
Several marchers turned up dressed as Suffragettes to pay tribute to those who fought and died to secure democracy. One hundred years on from the Representation of the People Act, which gave the vote to working-class men and some women, the largest-ever vote in British history is being ignored.
One group of Brexiteers carried a coffin emblazoned with the word 'democracy' and Theresa May's face. Many were angry with May's sellout deal and saw a No Deal Brexit as the best way to fulfil the vote for Brexit. As the rally was happening, MPs were voting on May's withdrawal deal for the third time. Cheers erupted as word got out that it was voted down by 344 votes to 286. Although only a small number of MPs voted against the deal to save Brexit — many voted against because they think it doesn't go far enough in killing off Brexit.
'They are not listening to people's votes', said one woman, who had joined the march in Sunderland as it made its way down to London. 'There is massive support for Brexit out there in the country, but it's not reflected in parliament', she told me. 'Parliament vs the people', read some banners. 'It's a betrayal of trust', said one marcher. 'They are a bunch of charlatans', he added, referring to parliament across the road.
Parliament's betrayal of the people's will and the ensuing breakdown of trust meant that many on the rally felt disenfranchised. Some said they weren't sure if they would vote again anytime soon. 'I have no confidence in them now, I feel politically marooned', said one protester.
People had not come from far and wide to talk about Canada Plus or Norway Minus, to voice concerns over immigration or to offer a particular set of post-Brexit policy prescriptions. Those issues could wait. The main message was clear: our so-called representatives in parliament have refused to act upon the simple and clear instruction from those they were elected to represent.
That this was a march for democratic rights was lost on many commentators. Another smaller fringe rally, Make Brexit Happen, was hosted by UKIP and Tommy Robinson in Whitehall. Many on social media willfully conflated it with the Leave Means Leave demo, accusing mainstream Brexiteer speakers of sharing a platform with the far right. 'Vote Brexit, get Tommy Robinson', said a columnist for the New European. An SNP MP posted a video of the marchers, saying she saw a Nazi salute that made her 'sick' – though there was no evidence of this in the video. Brexit voters have no doubt become used to the slur that we are all fascists and racists, but it is particularly galling that a demo for democracy could be smeared as a demo for fascism – its polar opposite.
The March to Leave was an important restatement of the real battle lines in the Brexit debate: between those who wish to see democracy respected and enacted in full, and those who are happy to see the public's democratically expressed wishes watered down, softened or ignored entirely. It says a great deal about the elite's view of democracy that we even had to march for it in the first place.
Fraser Myers is a staff writer at spiked and host of the spiked podcast. Follow him on Twitter: @FraserMyers.
Watch our report from the March to Leave below:
To enquire about republishing spiked's content, a right to reply or to request a correction, please contact the managing editor, Viv Regan.