The reactionaries are on the march
That anti-Brexit march was a despicable spectacle.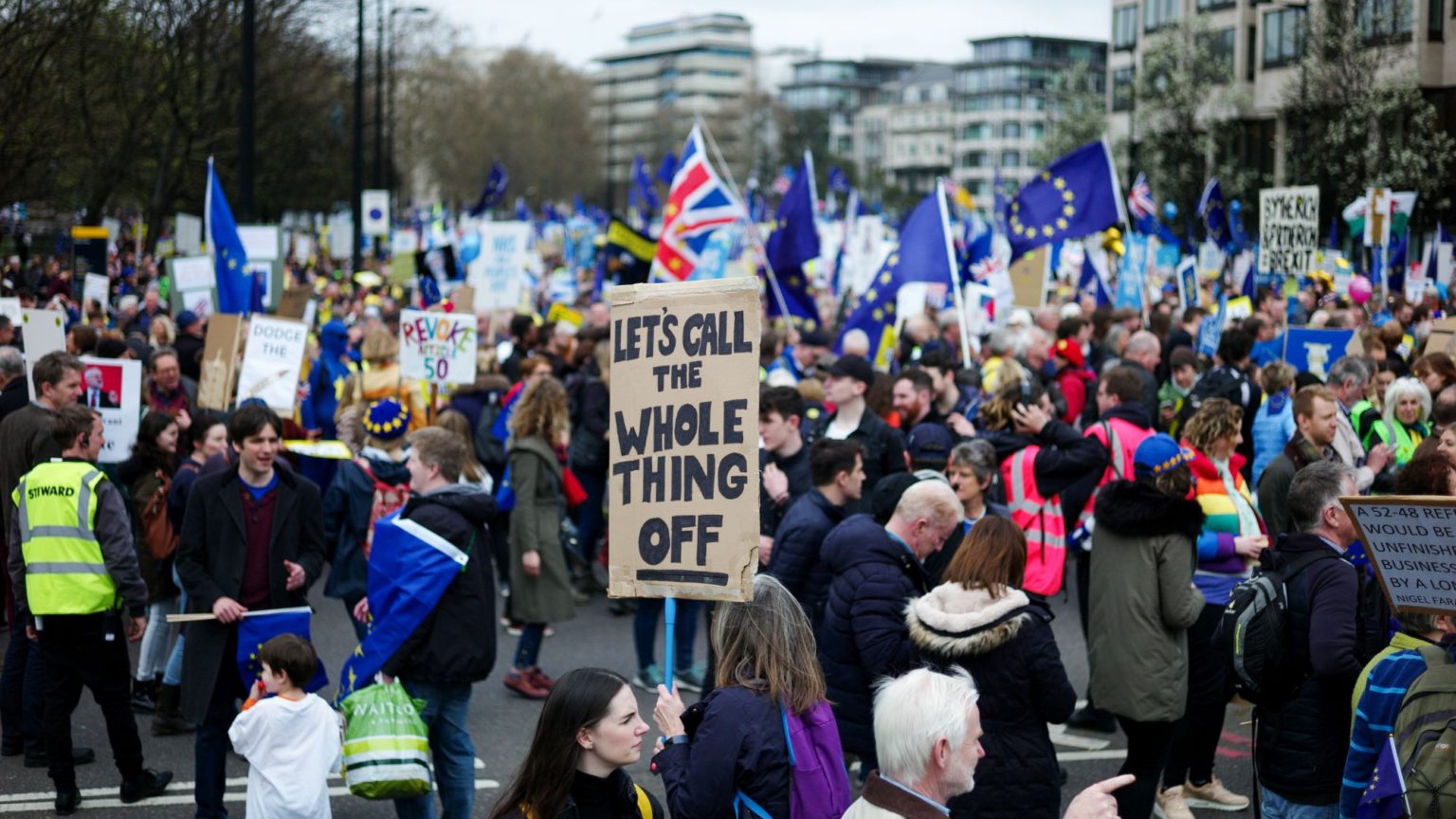 Polite. That's the word many sympathetic commentators have used to describe the second-referendum march in London on Saturday, at which hundreds of thousands gathered to demand an end to Brexit.
The placards were replete with sub-Radio 4 'wit'. 'It would be fantastically British to revoke [Article 50], put the kettle on and apologise to our neighbours for all the fuss', read one placard. Such bourgeois, craft-table schtick was held up as protest at its most British.
Neo-Dickensian elitist James O'Brien kicked off the first of the big speeches, insisting that Leave voters were not the enemy: we were just lied to, we were conned. This was a common refrain – though, as Richard Bacon (co-emcee with Mariella Frostrup) admitted, few, if any, Leave voters will have been present to hear it.
This march wasn't polite. At best, it was passive aggressive – a procession of the irked middle classes, who for decades have become accustomed to getting their way without having to bother to explain why they are obviously, always, right.
But fury with the Leave-voting 'mob' was never far from the surface. 'Ooh Look! grammatically correct, properly spelt placards!', read one placard, sporting some questionable capitalisation. 'In March 1933, 17.3 million Germans Voted for Hitler', read another.
The pretence that this was all about giving the people 'the final say' quickly evaporated. The petition, signed by millions, calling for the unilateral revocation of Article 50 was hailed from the platform throughout the day, to much applause.
For those still maintaining the charade, they made it clear that any second referendum would be rigged against Leave. People's Vote luminary Caroline Lucas told Sky News yesterday that No Deal should be left off the ballot paper, leaving us with a choice between May's sell-out deal and Remain.
Tory grandee Michael Heseltine – who received a rapturous reception at the march – also let the cat out of the bag. After explaining why Thatcher and Churchill would have backed Remain, he thundered: 'One way or another, you, the people, must decide. You, the people, must be free to vote to remain.'
At one point Steve Coogan led the crowd in unveiling a huge banner, bearing a quote from 2012 from former Brexit secretary David Davis: 'If a democracy cannot change its mind, it ceases to be a democracy.' That the first vote hasn't been implemented yet doesn't seem to dent their apparently perfect logic.
I feel sorry for these Remoaner marchers, fooled by such obvious lies like 'a second referendum is more democratic'. Or that a few million signatures on an e-petition and 400,000 people on a march (the organisers' one-million figure has been debunked) trumps the 17.4million who voted Leave.
None of this is to say that the march and that petition are not significant. The backlash to the Brexit vote has revealed that there are far more anti-democratic, pleb-hating elitists in this country than I ever dared imagine. I'm happy to admit that. But they are, thankfully, a minority, even among Remain voters.
Remainers are right to say that so many marchers cannot be dismissed as members of the 'elite'. But they are siding with the elite. For centuries, people have gathered in Parliament Square to rail against the establishment; this lot were demanding the establishment take back control.
This is one of the reasons why, despite the march's considerable size, the atmosphere was remarkably damp, completely lacking in edge. There were children everywhere. I could count the police I spotted on one hand. The only person I saw arrested was a young man who got a bit overexcited and lit a flare.
This is because these people are not a threat to our rulers – they are a gift to our rulers. They are the stage army of an elite desperate to put Brexit voters back in our box. They are fighting for the rights of the political class to ignore what voters tell them. They are not Remainers, they are reactionaries.
History will not be kind to them.
Tom Slater is deputy editor at spiked. Follow him on Twitter: @Tom_Slater_
To enquire about republishing spiked's content, a right to reply or to request a correction, please contact the managing editor, Viv Regan.