Ego is making a mess of American politics
Trump, Northam, Schultz: different political outlooks, same narcissism.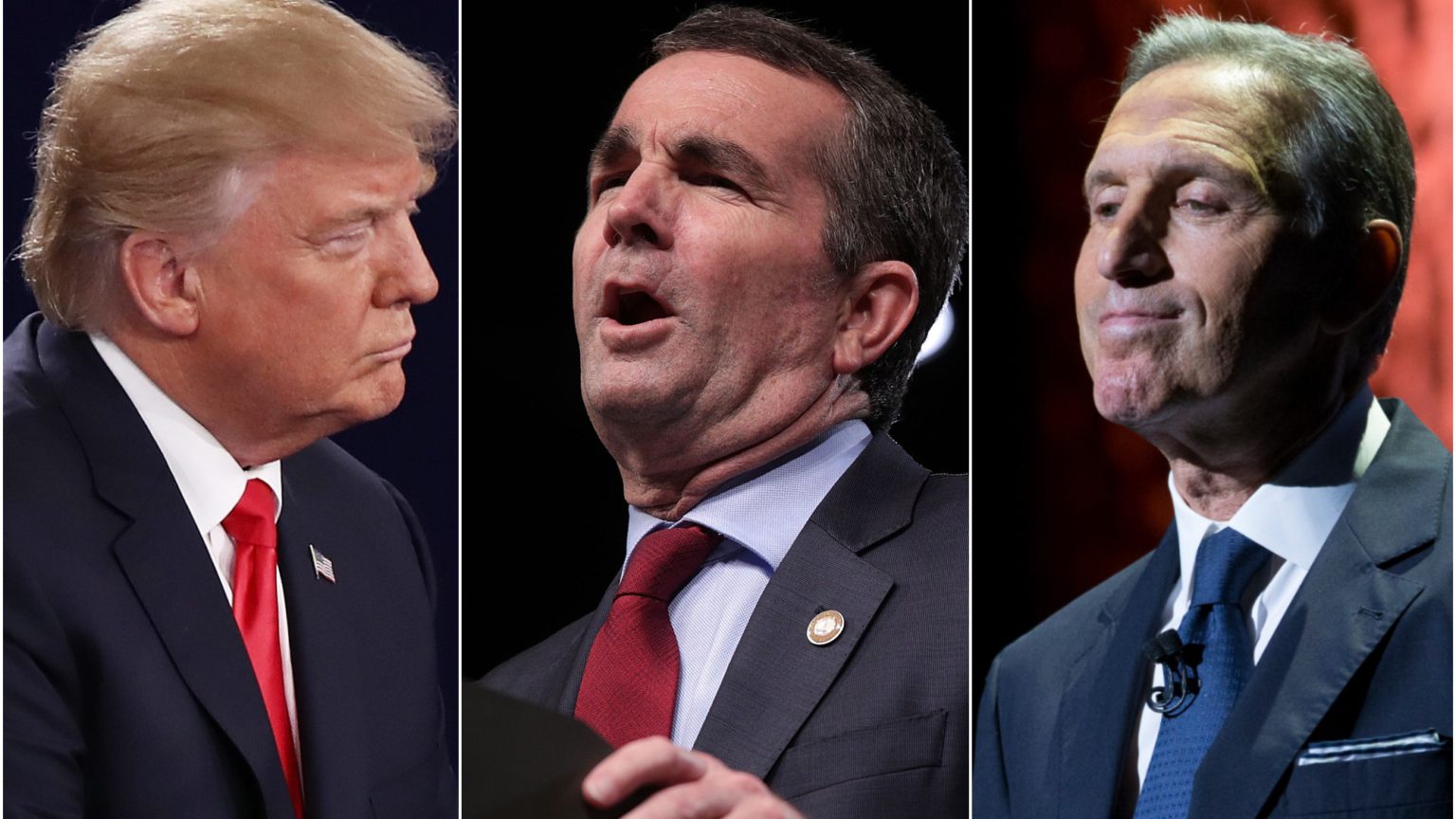 Criticising the ambition and overweening self-confidence of a candidate for high executive office is like criticising a dog for barking. You don't run for president or governor without a desire to wield power and the belief that you're capable of skillfully discharging the awesome responsibilities of office. Still, egoism, idealism and degrees of altruism are not mutually exclusive, and some politicians are motivated, at least in part, by commitments to public service. Others – not so much.
Consider the lessons in political narcissism offered by these three men: Donald Trump, Virginia governor Ralph Northam, and Starbucks billionaire Howard Schultz. They're divided by ideologies (representing right, left and centre, respectively), but they share an entirely self-absorbed, self-interested approach to office. For Trump, who revels in flattery and the roar of the crowd, and has refused to divest his assets (or reveal his tax returns), the presidency is an obvious exercise in ego gratification and profiteering, which he can barely disguise. For Trump, there is no shame in narcissism.
Schultz tries to project empathy and unselfishness, discussing such airy concepts as 'servant leadership' with Gwyneth Paltrow, while dispensing platitudes about civility and musings about an imaginary silent, centrist majority. (Partisanship is strong even among registered independents, many of whom lean Republican or Democratic.)
He claims to be intent on making America 'better', if not great, but having declared Donald Trump unfit for office, he is embarking on a campaign that can only help secure a two-term Trump presidency. Schultz has focused most of his criticism on Democrats and, as Jonathan Chait points out in New York magazine, his 'own polling indicates that he would lose badly, and would throw the race to Trump'. So why is he running? As his website says, Schultz is on a 'journey', fuelled by lots of self-regard and little understanding of American politics. He hopes 'to share my truth, listen to yours, build trust and focus on things that can make us better'. Instead of running for president, he should self-publish a self-help book.
Embattled governor Ralph Northam seems mostly intent on making himself better. Cast out by his own Democratic party and besieged by calls to resign after his utterly maladroit response to the discovery of racist photographs on his medical-school yearbook page, he is clinging to office in order to clear his name and avoid being labelled a 'racist for life'. You can perhaps sympathise with Northam's desire to restore his reputation, but that is an entirely self-interested pursuit. He was hired to serve the people of Virginia: his oath of office did not include a promise to repair his public image.
Northam's few defenders argue that he is being hounded out of office unfairly on the basis of a 35-year-old photograph. But it was his clearly dishonest and perversely sanctimonious response to its discovery that prompted the loudest demands that he resign. First Northam acknowledged appearing either in blackface or a Klan outfit in his yearbook photo, and then, on second thought, some 24 hours later, he declared, 'the picture is not me', adding that he had never even seen his medical-school yearbook until it appeared in the news. He couldn't explain his utterly contradictory responses, but he did offer a tribute to his own honesty, as well as an admission that he had appeared in blackface on another occasion, while displaying some familiarity with the difficulty of getting shoe polish off your face.
But whether or not Northam was lying then or lying now, whether or not he once dabbled in racism, whether or not calls for his resignation are fair, he can no longer effectively serve as governor. Virtually no one will work with him. Staying in office may be in his interests, but it is not in the interests of Virginia or the public policies he claims to favour.
'It's not about Ralph anymore', former Virginia governor and Northam ally Terry McAuliffe says, calling on Northam to resign. Besides, he won't restore his reputation by remaining in office to the detriment of his state. If Northam wants to demonstrate good character, distinguishing himself from the likes of Donald Trump and Howard Schultz, he'll take this admonition to heart: It's not about you anymore. It never was.
Wendy Kaminer is an author, a lawyer and a former national board member of the American Civil Liberties Union.
Picture by: Getty.
To enquire about republishing spiked's content, a right to reply or to request a correction, please contact the managing editor, Viv Regan.