It's time to call off all this offence archaeology
Ralph Northam should be judged by his public record, not a decades-old photo.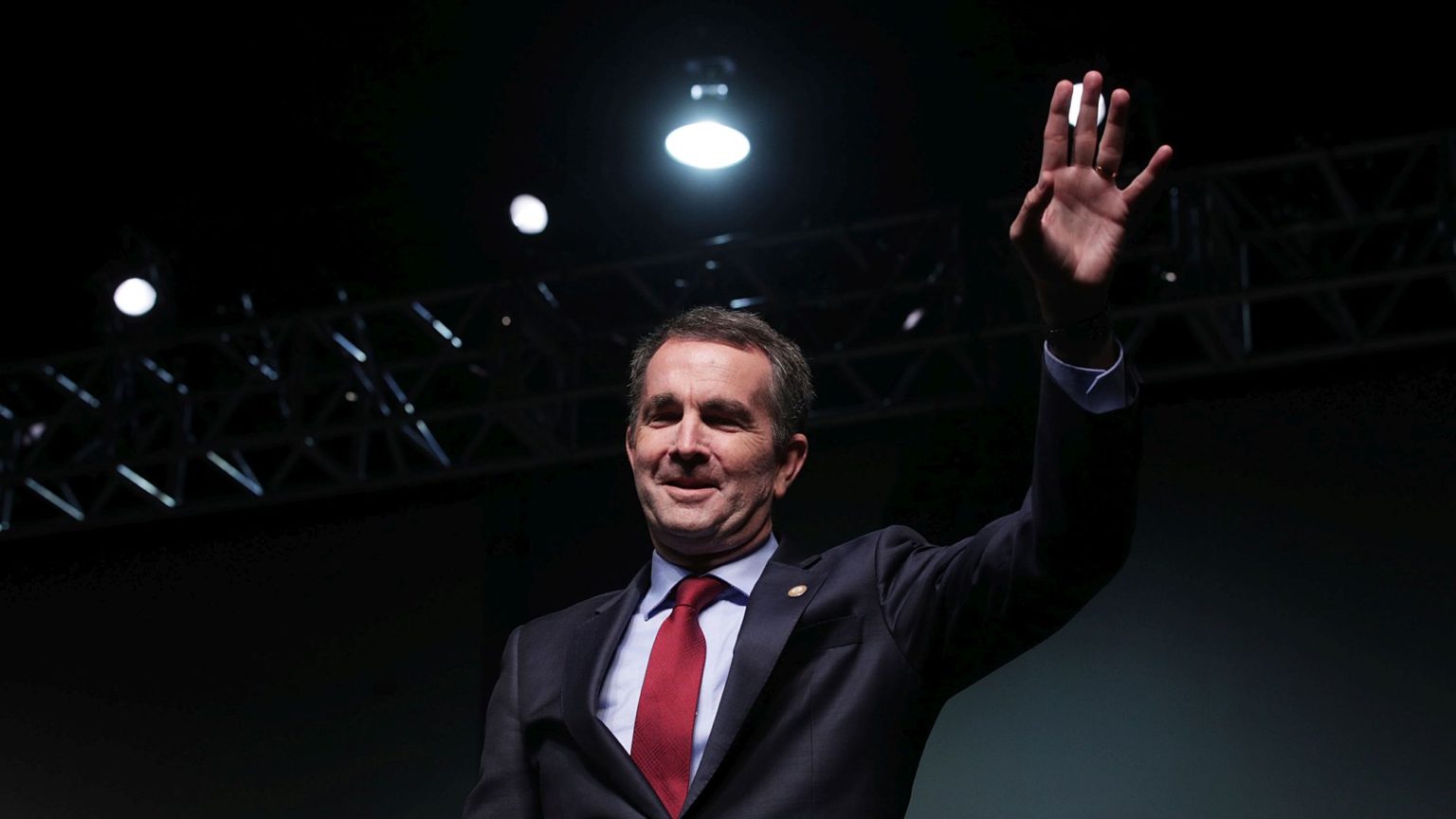 Let's get right to the point: the Democratic governor of Virginia, Ralph Northam, should not resign.
Late last week a copy of Northam's personal page from his 1984 medical-school yearbook emerged. Along with innocuous photos of him, it included a photo of two people in costume, holding drinks, one dressed as a member of the Ku Klux Klan and the other in blackface. It was clearly a racist image that nearly everyone would find offensive. Almost immediately, politicians from both parties called for Northam to resign.
Appalling as the KKK and blackface images are, a photo from more than 30 years ago, on its own, is not an acceptable reason for removing from office a public figure like Northam. This is an example of what the writer Freddie de Boer calls 'offence archaeology' – digging into a public person's past life to find incriminating evidence of misdeeds or the use of an offensive word. It is an all-too-convenient way to defeat a political opponent without having to win the battle of ideas. It is also the kind of move used by authoritarian regimes of the past, although now it is more likely to be adopted by a politically influenced public mob, often via social media.
Republicans and conservatives are being complete hypocrites in calling for Northam's head. Only a few months ago, they were – rightly – denouncing the Democratic senators who excavated Brett Kavanaugh's high-school yearbook, during the hearing to confirm him to the Supreme Court. They ridiculed Democrats for questioning the meaning of 'mysterious entries' like 'Renate Alumnius' and 'boofing'. In his impassioned response to the Democrats, Republican senator Lindsey Graham railed against the character assassination of Kavanaugh by means of his old yearbook: 'This is going to destroy the ability of good people to come forward, because of this crap. Your high-school yearbook?! You have interacted with professional women all your life – not one accusation!'
Writing in the National Review, Kyle Smith says the differences between the Northam and Kavanaugh yearbooks are 'obvious'. He cites three: Kavanaugh was younger (18 in high school) than Northam (24 in medical school); Northam's photo was racist and Kavanaugh would have been rightly sunk if anything similar was found; and the accusations against Kavanaugh were all minor ones (like 'boofing'). But, in condemning the content of Northam's yearbook (and defending the content of Kavanaugh's), conservatives like Smith are accepting that yearbook excavations are fair game. If so, what a dreary prospect: we can now look forward to endless discussions about the photos and words in political figures' yearbooks. I would call that a dumbing down and degradation of political discourse.
One of the main problems with offence archaeology is that it obliterates all that someone has done and said between one apparent terrible word or photo in the past and today. You can argue that Kavanaugh's 18 is an excusable youthful age, while Northam's 24 is an inexcusable adult age, if you want. But both cases happened more than 30 years ago. In response to the attack on Kavanaugh's character, surely the main defence is the one Lindsey Graham cited – that in all of Kavanaugh's interactions since his high-school days, there were no accusations against him. (In fact, he received praise from the women professionals and students he interacted with.) Likewise, I have not heard any Republicans (or Democrats) come up with evidence that Northam has acted with racial prejudice towards black Americans since his medical-school days. That's what should matter.
This case is a test of principle for Republicans, and many of them are failing it. They appear happy to indulge in the politics of offence archaeology if it is someone on the other side that is being brought down. Indeed, by no coincidence, the Democrat Northam had only a few days earlier become a bigger target for Republicans when he gave a radio interview that led conservatives to accuse him of supporting infanticide.
Virginia Democrats had proposed to modify the law regarding abortion in the final trimester of pregnancy to protect the health of the mother. In his interview, Northam said late-term abortions would be permissible in cases of severe deformities or non-viable fetuses, and went on to talk about a situation in which the infant would be delivered and then 'a discussion would ensue between the physicians and the mother'. Republicans called Northam a monster for saying the killing of a baby after birth was acceptable. He angrily challenged that portrayal of his comments, tweeting: 'I have devoted my whole life to caring for children and any insinuation otherwise is shameful and disgusting.'
It is fair enough if conservatives want to argue their case against abortion, and they are free to try to convince others that what Northam supports is wrong and even amounts to the equivalent of infanticide. But by joining in the mob to bring him down, they are distorting this debate by simply trying to delegitimise their antagonist over an old photograph.
At the same time, I readily admit that Northam's case is not at all an easy one to defend. There is no question that the images of blackface and the KKK are demeaning. It is possible that the two figures in the photo were at a party, but that is no excuse. It is not at all like those donning sombreros at a Mexican-themed party – it is harking back to the worst discrimination and terror against black Americans. And, on top of this, there has been Northam's erratic and confusing responses to the emergence of the photo: he first apologised for it, only then to hold a press conference at which he claimed he wasn't one of the individuals in the offending photo. Bizarrely, he said he did compete in a dance contest in blackface once, in what he described as a Michael Jackson costume (and, when asked by a reporter if he would moonwalk, he seemed to start to, only for his wife to tell him it was inappropriate).
So, yes, the photo is indefensible, and Northam may be a lame politician who can't get his story straight. But it's the tough cases that test principles. We have to say that yearbooks are off limits when it comes to serious political discourse. People must be judged by all that they have accomplished in public life, and should not be brought low by an incriminating tidbit or two from the past. Going further down this road of offence archaeology will ultimately destroy our politics and public life, and the lives of the people involved.
Sean Collins is a writer based in New York. Visit his blog, The American Situation.
Picture by: Getty.
To enquire about republishing spiked's content, a right to reply or to request a correction, please contact the managing editor, Viv Regan.