Bristol piano man: in defence of romance
The fury against this heartbroken man has been crazy and cruel.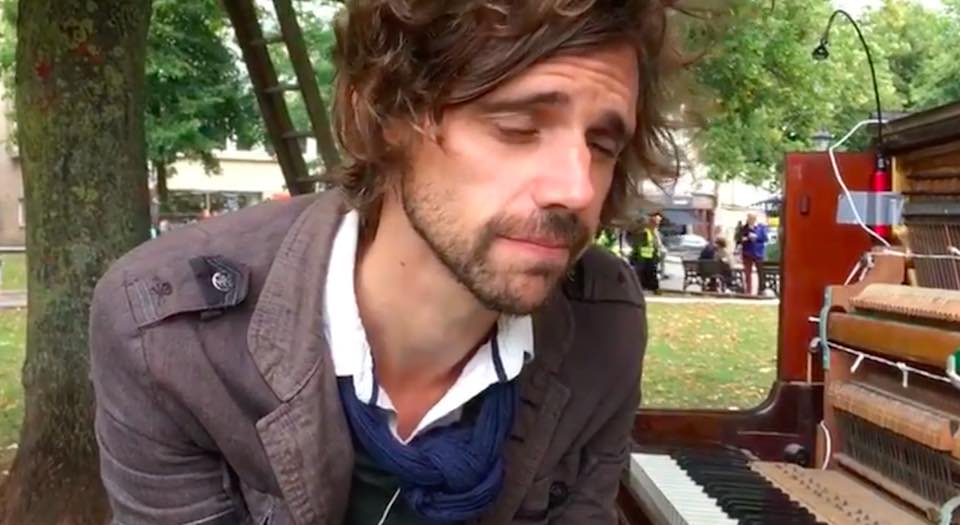 Who doesn't love a good romance? Whether it's the tragic love story of Romeo and Juliet, or the self-sacrificing devotion of Humphrey Bogart's Rick Blaine to Ingrid Bergman's Ilsa Lund in Casablanca, or the neurotic friends-to-lovers relationship of When Harry Met Sally. It doesn't matter how many times we see variations on the theme – man and woman are meant to be together; life obstacles get in the way; it looks like it will never work out; big romantic gesture; credits roll as guy finally gets his girl – we still lap it up. In real life, too, it tends to be the proposals and get-togethers with the most romantic drama that we want to hear about round the dinner table.
Sadly, this week, real-life romance met a small death thanks to social media. Bristol 'Piano Man' Luke Howard vowed to play his piano non-stop in College Green in an attempt to win back his ex-girlfriend. The couple apparently split up after a four-month relationship.
Explaining his piano performance, Howard told the Bristol Post, 'I know people in my situation will send flowers or text or write letters but that only ever seems to make things worse. I wanted to do something that she might see, to let her know how much I love her, that she can see it and then take it or leave it… I don't know what will happen. She's a very organised person, very practical, and I'm just trying to show her I'm really serious about us. It's a kind of off-the-cuff thing, and I just want her to know how much I love her, to give us a chance rather than leave it there. I'm not ready to throw in the towel just yet.'
At first he was described by the press as a 'heartbroken man', but things very quickly soured. Columnists and the online-outraged took to social media to denounce him as a 'creep'.
One writer tweeted: 'Men, women are allowed to leave you. You are not entitled to a girlfriend. Media, stop romanticising controlling, stalker behaviour.' Another Twitter user said: 'Don't enable this sort of thing. He's trying to publicly coerce someone who privately rejected him. It's weird and borderline abusive.'
In a column titled 'Stalking, Actually' in the Guardian, Tauriq Moosa wrote: 'It doesn't matter how long a relationship lasted, behaviour such as this is creepy. Piano man may have dated this woman for a few months only, but his public demands for her "love" would still be wrong if they had been happily married for 10 years.' Under the headline 'Bristol Piano Guy is NOT Romantic', Metro writer Jessica Lindsay claimed 'he's essentially publicly blackmailing her to get her back'.
YouGov even deemed the story worthy of an online poll, asking people if they considered Howard's gesture 'romantic' or 'creepy'. Most opted for creepy.
Things went from bad to worse when Howard was allegedly punched in the face, while still at his piano, in the early hours of Monday morning. He then decided to bring his performance to an end and even apologised to those he had offended, as well as to his ex-girlfriend: 'The social media reaction turned it very quickly into something that would cause the one person I didn't want to hurt embarrassment and pain. That was the last thing in the world I had wanted to happen, so I left.' Shockingly, some commentators openly applauded the puncher. George Ciccariello tweeted 'Happy ending'.
What a sad state of affairs when a man's attempt at romance is attacked so viciously. Yes, Howard's actions had a whiff of desperation about them, but such is the motivation for most overblown romantic gestures. To suggest he was being abusive or behaving like a stalker is simply false. He did not follow his ex or go to her home; he simply offered up his own version of a sonnet for her to take or leave.
But is it any wonder that people have been so quick to condemn the lovelorn Howard, when we live in a society that actively encourages women to see men as predatory? At university campuses across the UK, young women are urged to view unwelcome come-ons as abuse, and in the wider community women are encouraged to believe that all men are just one wolf-whistle away from committing sexual assault. The panic over male-female interactions in the public sphere has made us look on all interactions cynically – and now we are pathologising romance itself, treating romantic gestures as 'abuse'.
When Meg Ryan follows her heart to Seattle for Tom Hanks in Sleepless in Seattle, the audience is with her all the way. And when Harry runs all the way to a New Year's Eve Party to start the rest of his life 'as soon as possible' with the woman (Sally) he loves, we are all rooting for him. If you are not, your heart is made of stone and I feel sorry for you. After all, what is life without the emotional ups and downs – sometimes dramatic – of romance?
In the heartbreakingly beautiful Italian film Life is Beautiful, Guido first courts his future wife by engineering situations for them to bump into each other. No doubt those who condemned Piano Man would label him a stalker. Not to worry, though, the film ends with Guido being shot by a concentration-camp guard. I guess that constitutes a 'Happy Ending' for the romance-haters.
Naomi Firsht is staff writer at spiked and co-author of The Parisians' Guide to Cafés, Bars and Restaurants. Follow her on Twitter: @Naomi_theFirsht
To enquire about republishing spiked's content, a right to reply or to request a correction, please contact the managing editor, Viv Regan.