Le débat: a fittingly drab end to the election
Neither Macron nor Le Pen has a vision for France.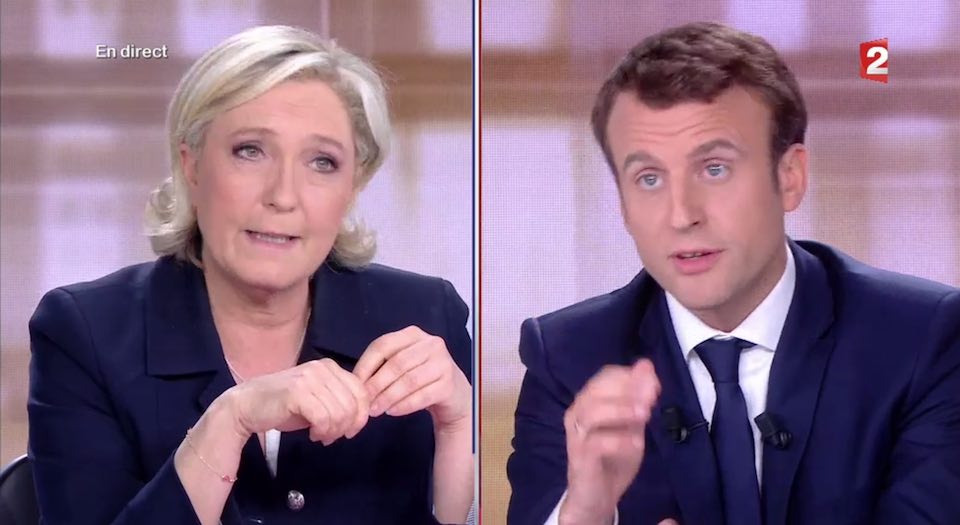 Personal insults flew in last night's debate between French presidential candidates Emmanuel Macron and Marine Le Pen. Far-right Le Pen was quick to bring up Macron's ties to the unpopular Socialist government currently in-situ – Macron worked as economy minister under President François Hollande. Throughout the debate Le Pen variously called Macron the 'darling child of the system and the elites', 'Hollande junior', and 'the candidate of untamed globalisation'.
Le Pen was clearly keen to belittle the centrist candidate, derisively saying: 'France will be led by a woman — either me or Mrs Merkel.' Some of the jibes, especially about Macron's elitism, will have hit a nerve, but Le Pen came across as being perpetually on the attack. She spent hardly any time talking about her own programme for France. Her attempts to heap blame on Macron for the current government's errors backfired somewhat, providing him with an opportunity to defend himself.
As the pair covered the spectrum of issues — from health to work, retirement to schools — Le Pen's aggressive tactics helped make Macron look the more presidential of the two. He came prepared with facts and figures for the policies he wants to roll out, such as making the labour laws more flexible. A political newcomer, he looked sure of himself, especially when talking numbers – but then, that is the former banker's comfort zone.
While Macron remained the calmer of the two, he did occasionally get riled, launching low blows against Le Pen. He accused her of propagating 'lies' and 'fear'. At one point he called her a 'parasite'. And he made a fair point when he said Le Pen was spending all her time attacking him rather than outlining her own vision for France.
For all the squabbling, for all the insults and occasional zingers, overall the debate was damp. Le Pen trotted our her usual lines on closing France's borders and getting rid of the Euro, while Macron explained in detail how he would pay for his reforms in business and employment. What was lacking from both was any big idea, any real, substantial vision. The absence of passion was not helped by the two journalists who were supposed to be leading the debate. Rather than attempt to spark deep discussion, they simply monitored the thing via stopwatch, to ensure neither candidate got more airtime than the other. In this, at least, they were successful: there was only about 20 seconds' difference between Le Pen's and Macron's airtime.
A poll for the TV station BFMTV found that 63 per cent of viewers thought Macron the more convincing debater. But considering that polls also suggest the French public's voting intentions will not be swayed by TV debates, that doesn't really mean much. Political analyst Ruth Elkrief was distinctly unimpressed by the whole thing — the debate was 'not worthy of a presidential campaign', she said. Reactions on Twitter were similar. A French friend of mine summed it up perfectly: I asked him if he was impressed, and he said, 'I was impressed by the non-quality of the debate'.
With just three days to go until we find out who will be president, this lacklustre debate between an elitist and an anti-establishment protectionist seems a fitting finale in an election that has been big on surprises but light on substance.
The last time a Front National candidate got through to the second round – Jean-Marie Le Pen faced Jacques Chirac in 2002 – France erupted in protests and outrage. On the May Day marches of that year, more than one million people took to the streets in unity against FN. But this week's May Day marches showed no such passion. The unions, while steadfastly opposed to Le Pen, cannot even agree on whether to endorse Macron.
It isn't surprising the final debate was a flat affair. From the start, this election has been driven more by the collapse of the old politics than by the emergence of a newer, better politics. The disintegration of the left and right mainstream parties through intellectual corrosion, a loss of support, infighting and scandal has left France with a depressing choice on Sunday. There's a sense of fatigue, even exasperation among the French, many of whom are rightly disturbed by the disarray of their once passionate political landscape. Whoever wins on Sunday, let's hope this historic election will reinvigorate French people's instinct for greater democracy, and turn it into an expectation of greater politics.
To enquire about republishing spiked's content, a right to reply or to request a correction, please contact the managing editor, Viv Regan.