Mélenchon: the best chance for Frexit?
The left-wing presidential candidate has some good ideas.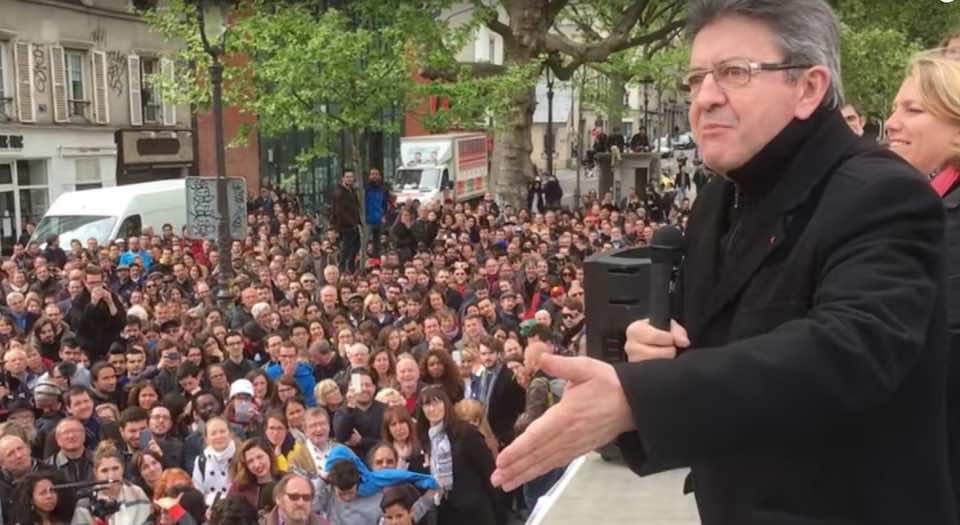 Jean-Luc Mélenchon spent Sunday cheerily waving at and addressing crowds as he crossed Paris by canal boat. Accompanied by a brass band, it was an original and upbeat choice for a campaign rally.
French citizens will head to the ballot box for the first round of voting in the presidential election this coming Sunday, and Mélenchon has good reason to be optimistic. The far-left firebrand has experienced a late surge in the polls, putting him within a few points of the frontrunners, Front National's Marine Le Pen and independent Emmanuel Macron. The latest poll by Ifop places Mélenchon at 19.5 per cent, level with conservative candidate François Fillon and close behind Le Pen, at 22.5 per cent, and Macron, at 23 per cent.
Mélenchon, leader of grassroots party La France Insoumise ('Defiant France'), has a strong anti-austerity and anti-globalisation message and advocates major change to the French political system. He wants to abolish the presidential regime of the Fifth Republic and create a popular assembly. He plans to 'share the wealth' by implementing extremely high taxes on those earning over €400,000 per year and cracking down on tax evasion. Moreover, he has long been Eurosceptic. He plans to seek dramatic reform of the European Union, before possibly putting France's EU membership to a referendum.
His popularity has been rising since mid-March, when he performed well in the first of the candidates' televised debates. This is the second time he has stood for election. In 2012, he came fourth in the first round with 11 per cent of the vote, despite predictions he would do better.
While he is an experienced politician, known for his oratory skills, he was criticised during the last campaign for being too aggressive. This time it seems efforts have been made to soften his image and appeal to a younger audience. During this campaign Mélenchon has turned into something of a showman. He is the first French presidential candidate to use hologram technology to deliver speeches in more than one place at the same time, and his team have launched a free hit-the-rich videogame called Fiscal Kombat.
Like UK Labour leader Jeremy Corbyn, Mélenchon combines an anti-austerity message (he wants to impose pay caps, just as Corbyn floated the idea of pay rations) with a more right-on metropolitan feel. Mélenchon made a video for Gala magazine last year in which he gushed about the health properties of quinoa. In a recent Q&A with readers of Le Parisien, he declared veganism to be 'revolutionary'. All of this seems to be working: tens of thousands turn out to his rallies and his social media following is growing by the day.
While some of his methods can seem gimmicky, his dedication to his left-wing principles should not be doubted. Having moved to France aged 11 (he was born in Morocco), Mélenchon became involved in politics from a young age, and became a Trotskyist activist in his student days. He then worked as a French teacher and journalist, before joining the Parti Socialiste (PS) in the 1970s. He became the youngest member of the senate (upper house) when he was elected in 1986, and remained a senator for 20 years. He was also a minister under Lionel Jospin from 2000 to 2002 and has been an MEP. He resigned from the PS in 2008.
Nor should the integrity of his Euroscepticism be doubted. In 2005, when France was given a referendum on the European Constitution, Mélenchon was one of the strongest voices against the constitution. The French public voted against the constitution, but the result was ignored and it was eventually pushed through parliament by then president Nicolas Sarkozy. Mélenchon highlights this anti-democratic outrage in his manifesto. His demands for dramatic democratic reform of the EU, as well as his plans for an 'assemblée populaire' (parliament) made up of people from all walks of life, show that democracy and accountability are at the core of his politics.
In the race to the Élysée Palace, Mélenchon has the refreshing advantage of actually believing in something. But his sudden popularity is more likely a product of the collapse of France's mainstream political parties than anything else. The governing PS party has been losing popularity since it came to power, with incumbent president François Hollande now rated the least popular French president of modern times. Party members are split over supporting their elected presidential candidate, Benoit Hamon, and the independent centrist, Macron. Meanwhile, Fillon is still undergoing investigation for allegations of paying family members to carry out phoney jobs, and has lost a lot of backing from his own right-wing party.
The crumbling of the French political class has opened the field for insurgent parties on left and right. And though for progressives Mélenchon is an infinitely better prospect than the far-right Le Pen, offering the possibility of EU exit on far more positive terms, his recent surge in popularity is deceptive, and the election remains volatile. There are now essentially four frontrunners. And though Mélenchon's 19 per cent puts him in contention, the largest figure in the opinion polls – the 35 per cent who plan to abstain in the first round – far outstrips the support of any of the candidates. That speaks volumes.
Naomi Firsht is staff writer at spiked and co-author of The Parisians' Guide to Cafés, Bars and Restaurants. Follow her on Twitter: @Naomi_theFirsht
To enquire about republishing spiked's content, a right to reply or to request a correction, please contact the managing editor, Viv Regan.