The SNP: the world's most rubbish nationalists
Independence from Britain to stay in the EU? It doesn't add up.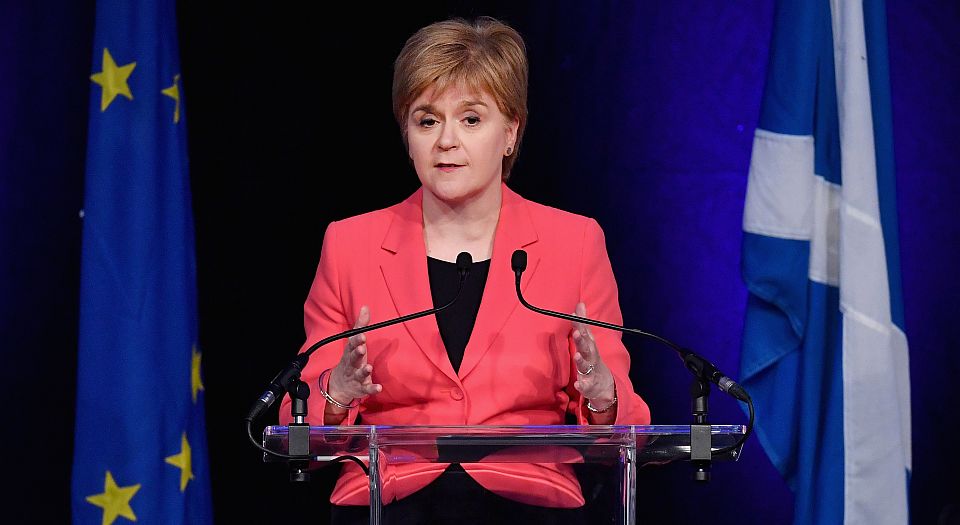 When Scottish National Party leader Nicola Sturgeon, darling of the English chattering class, rushed to the steps of Bute House on 24 June last year and declared that indyref2 was now 'highly likely', it was clear that SNP top brass had sniffed a Brexit-shaped opportunity to secure their dream of an independent Scotland.
In December, this strategy was crystallised in the SNP paper Scotland's Place in Europe – a 50-page 'compromise' on Brexit which set out a list of patently unattainable demands (such as special Single Market access) in exchange for not calling a second independence referendum. With the triggering of Article 50 now on the horizon, every Brexit-related development, however minor, is reliably followed by a sombre SNP statement in which fresh threats of indyref2 are made and the phrase 'Scotland's voice' is repeated ad nauseam.
In recent weeks, this great Brexit grievance-mongering project has been given yet more fuel. Following the 24 January Supreme Court ruling, which made clear that Westminster has no legal obligation to consult Britain's devolved administrations over Article 50, Sturgeon was quick to ask whether Scotland's future lies with an 'increasingly right-wing Westminster government' or in a different, more independent politics. Despite the court ruling, she promised to hold a legislative consent motion in the Scottish parliament whereby the Scottish presiding officer would be asked to declare that a veto on Article 50 did exist.
Then, last Tuesday, the Scottish parliament debated a motion to register opposition to the government's plans to invoke Article 50. The motion passed by 90 votes to 34, with Sturgeon describing it as 'one of the most significant votes in the history of the Scottish parliament'.
This is all strong-headed stuff from the SNP. At least, that's how the party hopes it appears. The SNP wants us to believe that its Brexit strategy – the talking up of Scotland's voice, the threats of indyref2, the parliament motion – is the strategy of a government with genuine clout in the Brexit process and, moreover, one with the full-hearted support of the progressive but beleaguered Scottish nation. But on closer inspection, cracks begin to show.
First, let's talk about the idea that the Scottish government has clout. Despite her strong words after the ruling, Sturgeon had already admitted that, even if the Supreme Court had found that Westminster was obliged to consult Holyrood, she could not secure a veto for Holyrood over Westminster's triggering of Article 50. This was reflected in last week's anti-Brexit motion where, as one MSP pointed out, the SNP had quietly forgotten to ask the presiding minister for a legislative consent motion – no doubt on the expectation that the party could not secure it. This rendered the Scottish parliament's 'most significant vote' ever entirely symbolic.
This legal impotence explains the SNP's attempts to anchor its threats in vague appeals to its representation of the oppressed Scottish voice. But how strongly pro-Remain and pro-SNP is this voice, really? The SNP would point to the 62 per cent of Scots voters who voted Remain in the EU referendum as evidence that Scots are fully behind the SNP's Brexit agitation. This displays a convenient amnesia about the first Scottish independence referendum. Two million Scots voted to be bound by decisions made at the UK level – even ground-shaking constitutional decisions such as Brexit – compared to 1.6million who voted for staying in the EU.
The SNP cannot even claim to have a stronger mandate than Leave in Scotland: 26 per cent of the Scottish electorate backed the SNP in the May 2016 elections — the same percentage backed Leave in June. Moreover, despite a short burst in support after the Leave vote, support for Scottish independence has barely shifted since 2014, with even the most promising poll recently putting support at 49 per cent, excluding 'don't knows' (and that's not to mention the long-standing tendency of polling to overestimate independence support).
Now, the SNP is well aware of all of this, and all but the most fervent of its higher ranks – such as former leader Alex Salmond – are privately cautious about calling a second referendum. What, then, explains the constant threats of indyref2? Is the SNP just bluffing?
Well, yes and no. The SNP is not so much bluffing, as making empty threats which (it hopes) will become self-fulfilling. Its real Brexit strategy is based on the premise that if it kicks up enough of a fuss about Brexit here and throws up a roadblock or two there, then the Westminster government will be naively provoked into – crime of all crimes – 'talking Scotland down'. This, in turn, will drive up support for independence, so that the presently empty threats of indyref2 will begin to carry some weight. Earlier this month, defence secretary Michael Fallon took the bait when he said Westminster would block any Holyrood attempt to hold a second referendum.
This is a headline-grabbing strategy in the short-term, but in the long-term it is doomed to fail. The SNP's mistake is to think that Scotland's continued membership of the EU could ever be a hill that potential independence supporters – the category the SNP need to win over – are willing to die on. To the SNP's higher echelons, it all makes perfect sense: We, the Scots, are progressive, tolerant immigrant-lovers; Them, the English, are xenophobic brutes. What more reason does Scotland need to break away? But, contrary to the SNP's happy-clappy, fantasy vision of Scotland, this isn't how potential independence supporters think at all. They mostly view the SNP proposition on Brexit for what it is: a common cause with the English middle-class, metro-left to water down democracy and hand over more power to an out-of-touch supranational institution. 'Free ourselves from the UK so we can have more of our laws made in Brussels', goes the SNP's cry – hardly the stirring, Braveheart­-inspired stuff required to win a majority for independence, is it?
This no doubt explains why 35 per cent of Scots who voted Yes in 2014 and Leave in 2016 now back the Union, compared to the 12 per cent of No-and-Remain voters now backing independence. The effect of the SNP's strategy, it seems, is the opposite of that intended. And little wonder. You can't motivate a sense of injustice about democracy by agitating for continued membership of an explicitly anti-democratic institution. You can't drum up support for national self-determination by feigning outrage about leaving an institution which frustrates national self-determination at every turn. As the weeks go by and the grievance-mongering gets louder, the SNP is doing little more than exposing itself as the least convincing nationalists and democrats of modern times.
Blair Spowart is a writer and student.
Picture by: Getty
To enquire about republishing spiked's content, a right to reply or to request a correction, please contact the managing editor, Viv Regan.