Against the juridification of everyday life
A new law on who can sit where on a bus undermines community life.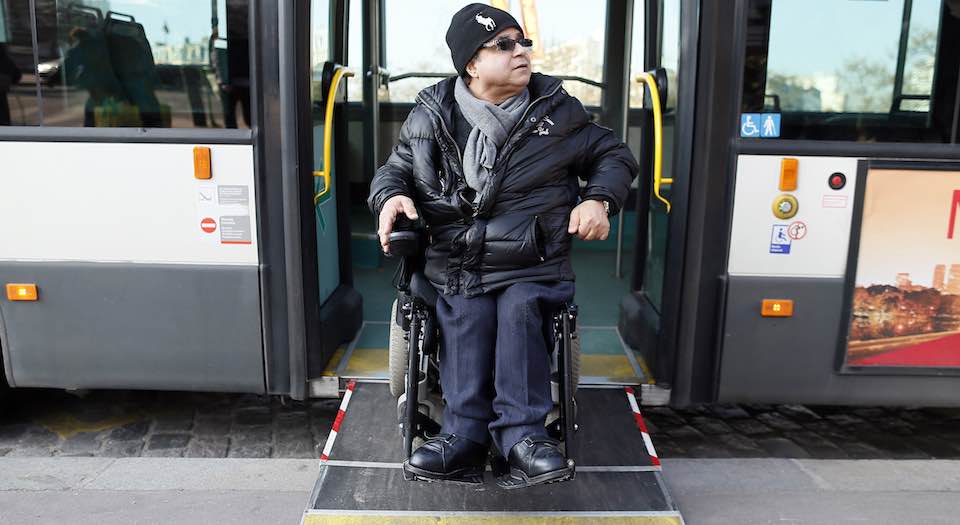 Last week, the Supreme Court ruled that a bus company acted unlawfully by failing to do more to enable a wheelchair user to board the bus. The claimant's complaint was that a young woman and buggy had been occupying the designated area for wheelchairs. Many have focused on the court's conclusion and celebrated the ruling as a blow for disability rights. But the true significance of the case is that who sits where on the bus could become an issue of law. The rule of law now extends to regulating issues of politeness.
Wheelchair user, Doug Paulley, tried to board a bus at Wetherby bus station at 9.35am on 24 February 2012. But the designated area for wheelchairs was occupied by a young woman with a baby in a buggy standing next to a notice saying 'please give up this space for a wheelchair user'. When the driver asked the woman to move, she said her buggy did not fold down and she refused. Paulley had to get off the bus.
The woman who refused to move is portrayed in the court judgements as inconsiderate and impolite. Maybe she didn't understand the particular needs of wheelchair users, or perhaps she simply didn't care. But whatever her failings, Paulley needed a remedy then and there, and the woman needed a lesson in considerate behaviour. Neither got what they deserved, because none of the people on the bus that morning took responsibility for sorting it out.
Paulley is a well-known disability-rights campaigner who described himself in a Guardian feature as by nature 'a bolshie git'. So he could have explained to the young woman why it was right for her to move, but he appears to have said nothing to her.
The bus driver asked the woman to move but when she refused he did nothing except ask Paulley to disembark so he could drive on. He could have required, rather than requested, the woman to move, and he could have backed it up with a refusal to drive on. In short, he could have asserted his authority as driver of the bus. But he did none of these things.
The court judgements say nothing of the other passengers. But they too could have given their support to Paulley, and the driver, who were facing an intransigent and unreasonable young woman. A combination of Paulley explaining his plight, the bus driver making his position clear and the passengers taking sides with Paulley would surely have ensured that this argument over who sat where on a bus was promptly resolved.
But there was no resolution. The court judgements suggest that the 'bolshie git' said nothing, the bus driver did nothing effective and the passengers at worse averted their gaze and at best said nothing. Justice, in the broadest sense of the word, was not done.
Some months later, Paulley issued a legal claim against the bus company. The Leeds County Court ruled in his favour, awarding him £5,500 damages. The Court of Appeal reversed the decision, but last week the Supreme Court reversed that decision, and found that the bus company should have done more (although it did not reverse the decision on damages, meaning that Paulley won nothing).
Clearly, disabled people face particular problems with accessing and using public transport. It's right that parliament stipulates particular adaptations to certain modes of transport, as it has done by requiring buses to have designated areas for wheelchair users. But parliament should not have legislated for how those spaces are used. In doing so, it has turned issues of politeness and common sense into a matter of law.
The complexities of human politeness cannot be subjected to bright-line rules of right and wrong. Hence the Supreme Court noted that it would be unreasonable for a bus company to have an absolute rule that any non-wheelchair user had to vacate the designated area. Accordingly, the court's decision had to be woolly – and it was woolly. It decided that in cases where the non-wheelchair user could reasonably move to another part of the bus, the driver should rephrase his request as a requirement and should consider whether to stop the bus 'for a few minutes with a view to pressurising or shaming the recalcitrant non-wheelchair user to move'.
So, five years after Paulley couldn't board a bus, the UK's highest court ruled that the bus company should have done more. In other words, over the course of five years, 11 different judges (seven in the Supreme Court, three in the Court of Appeal and one in Leeds County Court) gave 10 different judgements that spanned 272 paragraphs of legalese over an issue of who should have sat where on the Wetherby bus on 24 February 2012. The conclusion to this expansive deployment of legal endeavour? Something woolly about bus companies having to act reasonably.
By turning an issue of politeness into an issue of law, parliament has taken the law into an area it should not go. It undermines the law's standing by expecting it to do something that is best left to the discretion of personal judgement. Worse still, this legal invasion into public life saps our ability to exercise our own judgement. Instead of finding our own solutions to issues of inconsiderate behaviour, we are encouraged to be passive individuals whose engagements with lawyers are far more important than our engagements with each other.
The Wetherby bus incident is a product of a juridified age that undermines the ability of people to think and act for themselves. Over the past decade, Paulley has launched 40 disability discrimination cases in court. Yet on the Wetherby bus in February 2012, he appears to have said nothing to the woman who prevented him boarding. The driver was polite but ineffective and the other passengers said nothing. All these actors play into the narrative of a juridified age: be passive, look the other way, express no view on right and wrong, and leave it to the lawyers.
Buses have often featured in legal history. Throughout the last century, judges would base their decisions on the views of the 'man on the Clapham omnibus'. He was a hypothetical reasonable person who acted with common sense, who the judge could use as a benchmark for determining legal claims. We now have a new legal benchmark, not the man on the Clapham omnibus but the people on the Wetherby bus. But the people on the Wetherby bus are not defined by their reasonableness or their common sense. They are defined by their inability to resolve issues of inappropriate and impolite behaviour without legal intervention.
When laws expect people to be passive, they tend to become passive. So many issues of ordinary, everyday behaviour are now regulated by law that people are losing the capacity to think and act for themselves. Laws regulating issues of politeness should be repealed, so that the next time a wheelchair user can't get on the bus everyone takes responsibility for sorting it out. That way, the right person should get to occupy the designated area, the inconsiderate person will learn a lesson, and justice will have been delivered by the only people capable of delivering it: those on the bus.
Jon Holbrook is a barrister. Follow him on Twitter: @JonHolb.
Picture by: Getty Images.
To enquire about republishing spiked's content, a right to reply or to request a correction, please contact the managing editor, Viv Regan.