Season's Greetings: Santa Claus is dead!
Here come the Christmas killjoys.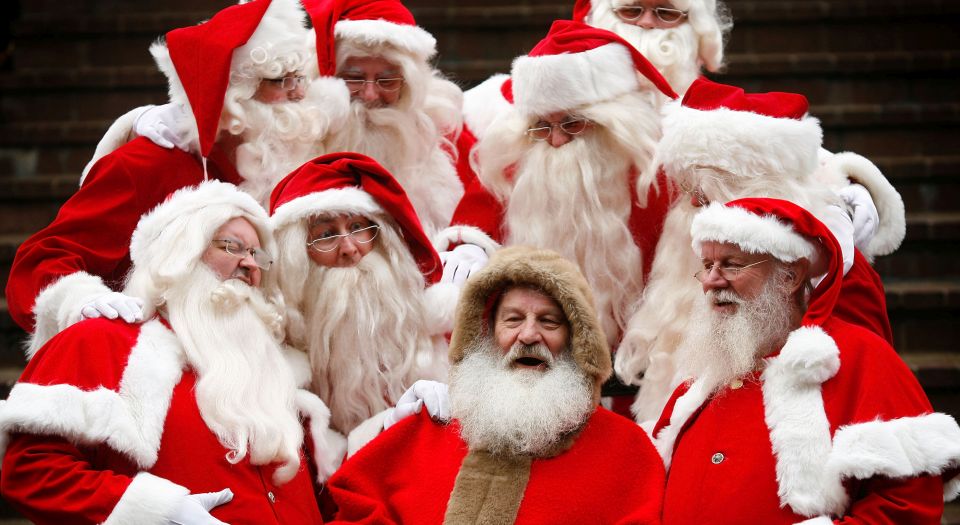 Twinkling Christmas lights, the cinnamon smell of mulled wine in the air and bobble-hats aplenty: the surest signs that the festive season is upon us – aren't they? No. The best indicator that the holiday period has arrived is seeing a Guardian article topped with the warning: 'Spoiler alert: this article may ruin childhood dreams.' I'm already feeling all warm and fuzzy inside.
The warning comes from academics Christopher Boyle and Kathy McKay, who claim parents who lie to their children about the existence of Santa Claus risk ruining their relationship with them. The pair argue that propagating the Santa myth is morally suspect and a betrayal of trust; they also condemn the idea of a '"terrifying" North Pole intelligence agency which judges children to be nice or naughty', said a report in the Independent. The academics say: 'If they [parents] are capable of lying about something so special and magical, can they be relied upon to continue as the guardians of wisdom and truth?' Well, quite. No wonder the NSPCC has reported a spike in calls to Childline.
Last week, prime minister Theresa May did her best to stick up for the Christmas spirit when she told MPs that people should feel free to talk about Christmas. This was in response to an equalities watchdog report which said politically correct employers were dropping the word 'Christmas' in favour of more neutral terms like 'Winterval and 'Season's Greetings', prompting MP Fiona Bruce to say that some Christians felt 'fearful' of talking about their religion in public.
The anti-yuletide press has already hit back at the PM for daring to defend Christmas. Mark Steel wrote in the Independent: 'For too long, brave Christmas rebels have been forced to crawl behind the coffee machine to whisper "tinsel" as an act of defiance, like dissidents in Soviet Russia. Paratroopers swoop across buildings on zip-wires to break into offices and put a tiny Christmas tree outside the toilet.'
Guardian columnist Gaby Hinsliff called it an 'imaginary threat' and compared, 'complaints about school PTAs renaming their Christmas fundraisers "winter fayres"' to 'moaning about having to cater for a vegetarian at Christmas lunch: it's an irritable reaction to being asked to adapt to the presence and beliefs of others'. Not really. No-one expects Jews to change the name of Chanukah, or Hindus, Diwali, to try to include other faiths in their festival, or so as not to offend anyone. And surely followers of other religions are just as able and welcome to join in the holiday fun, while still acknowledging that its roots are Christian?
While it's true that, for the most part, it seems to be business as usual with the tinsel here, there's no denying the turn against Christmas by politically correct local officials and media grinches over the past few years. A survey of holiday cards sent out by local authorities showed almost half of them avoided mentioning Christmas; one even had a 'festive' photo of a bus shelter on it. And a Netmums survey found only one third of schools would hold a traditional nativity play – some replaced carols with pop songs.
Come December there is always a deluge of articles filled with the 'bah humbug' message. The Guardian frequently impresses with its Christmas miserablism, with articles such as Ian Jack's cheerful, 'The Christmas shutdown just makes us drunker, fatter, lazier and lonelier', and Emma Brockes' heartwarming, 'Christmas Day is supposed to be dull. Enjoy the novelty of utter boredom', which advises: 'The best tactic for preserving the spirit of Christmas, then, is to think of something you would rather be doing – and revel in the masochism of not doing it.' Can't you just hear the herald angels singing?
Meanwhile, health warnings abound over the perils of over-indulging. An article in the Irish Examiner last month asked whether Christmas food adverts should be forced to include health warnings, and this week The Times reported that pets were in danger of alcohol poisoning over the holiday season due to glasses of eggnog and mulled wine being carelessly left lying around. The Daily Express went a different way, highlighting the eye-watering, snotty-nosed plight of 'hundreds' who could be allergic to their Christmas trees.
But if you're absolutely forced into partaking of any kind of Christmas cheer, the Guardian has once again stepped in to ensure you can grit your teeth and bear it. It has published 'An introvert's guide to the Christmas office party', which includes useful titbits like, 'Remember, everyone's human'.
There may not be an all-out war on Christmas, but there's certainly a growing number of Scrooges around keen to ensure the foolish public don't spend this one day of the year enjoying themselves too much, lest they drown their livers or offend a minority. My advice: ignore the naysayers. Pour the dog a Bailey's and make the most of the Yuletide season.
Naomi Firsht is staff writer at spiked and co-author of The Parisians' Guide to Cafés, Bars and Restaurants. Follow her on Twitter: @Naomi_theFirsht
To enquire about republishing spiked's content, a right to reply or to request a correction, please contact the managing editor, Viv Regan.