All hail South Park's masters of satire
No one lampoons PC and politics like South Park does.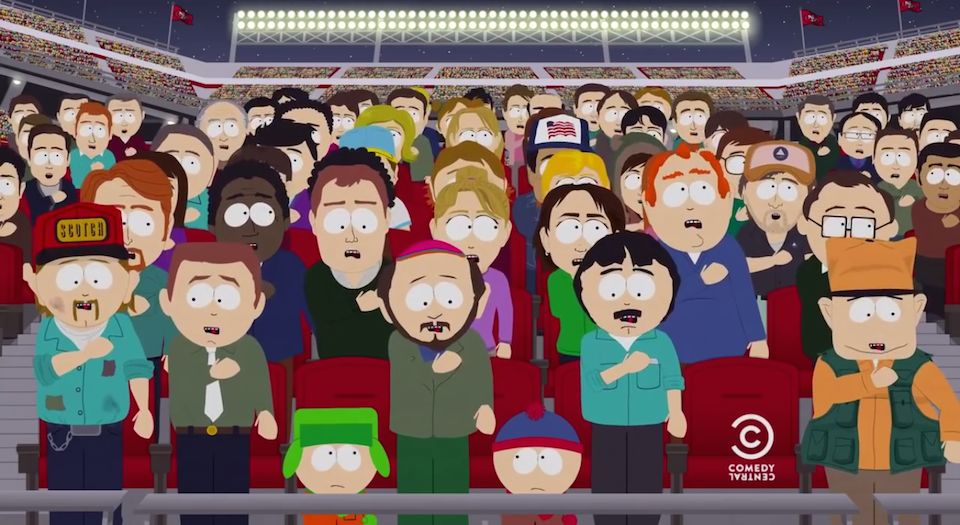 Is there anything more depressing in today's political world than the US election? Next month, American citizens will choose between the two least trusted presidential candidates of modern times. Reluctant viewers have suffered through three presidential debates devoid of any real discussion of policy and full of mudslinging and dirty-laundry airing.
But to every cloud there is a silver lining, and this one is particularly shiny: the new season of South Park. This spot-on satire lampoons the buffoonery of contemporary American politics, and American society's bugbears, with the precision of a heat-seeking missile.
Last season, season 19, saw former schoolteacher Mr Garrison turn his hand to politics, promising to deal with any people he considered problematic, such as immigrants, by 'fucking them all to death'. In the new season he is one of the two presidential candidates, known as 'Giant Douche' – no prizes for guessing who he's supposed to represent. (Although South Park fans will remember that the actual Donald Trump was killed off by Mr Garrison in season 19, a victim of his 'fuck to death' policy, after the billionaire businessman became president of Canada.) Meanwhile, his opponent, known as 'Turd Sandwich', is to all intents and purposes the cartoon version of Hillary Clinton – South Park creators Trey Parker and Matt Stone have never been ones for subtlety.
Simply by sending up the election as a choice between a Giant Douche and a Turd Sandwich, South Park has neatly summed up the sad choice Americans face on 8 November.
In South Park's take on the first presidential debate, Mr Garrison experiences a moment of clarity, when he realises he might actually win the election, despite having no idea how to run the country. So he attempts to throw the debate by telling the viewers to vote for Turd Sandwich:
'Everyone, I need to just speak from the heart here. I don't know what the fuck I'm doing. I've got to come clean, I had no idea I would get this far. But the fact of the matter is, I should not be president. I will fuck this country up beyond repair. I am a sick, angry little man. Please, if you care at all about the future of this country, vote for her… She's not as bad as you think, I promise.'
But a robotic Turd Sandwich responds: 'My opponent is a liar and he cannot be trusted.'

When such biting analysis is on offer in a 22-minute animation, it makes you wonder why you bothered watching the actual debate in the first place.
Meanwhile, our favourite schoolchildren characters are battling with one of society's biggest scourges: Twitter trolls.
Stone and Parker are known for their fast turnaround on episodes, which is especially evident in this season, with its practically up-to-the-minute commentary on politics and social fads. Through a series of unfolding events at South Park Elementary, in just four short episodes South Park covered the recent spate of sports players sitting out the national anthem, online trolls, feminism and men's rights.
In a critique of San Francisco 49ers player Colin Kaepernick kneeling during the pre-game national anthem as a protest against racial inequality, the first episode of the new season sees the government call on JJ Abrams (producer, writer and director best known for the Star Wars reboot) to save the national anthem. Americans are then encouraged to 'sit, kneel or stand' while singing the new lyrics, which mock Kaepernick's protest:
'Colin Kaepernick is great.
Cops are pigs, cops are pigs.
Wait, someone just took my stuff, I need to call the cops.
Oh, no, I just said cops are pigs.
Who's gonna help me get my stuff?
Why did I listen to Colin Kaepernick,
He's not even any good.
Oh, I just got all my stuff back.
Cops are pigs again, cops are pigs.
Colin Kaepernick's a good backup…'

In tribute to Kaerpernick, and convinced that Eric Cartman is behind a spate of sexist social-media posts, members of the school's girls basketball team sit out the national anthem. What follows is a hilarious send-up of today's superficial feminism and its activists' tendencies to tarnish all men with one brush. Cartman, in an attempt to prove his innocence, holds a special assembly where he tells his fellow pupils, 'Girls rule, women are funny, get over it', before asking girls to say the word 'vagina' into a microphone to prove their comedy credentials. Meanwhile, the troll's misogynistic abuse continues and the girls decide on a collective punishment by staging a mass break-up with their boyfriends.

The inevitable culmination of the boys v girls war emerged in last week's episode, when the boys launched their 'weiners out' campaign by pulling their pants down during the pre-game national anthem of the girls team's basketball game.
In an invented world where police investigate when schoolchildren 'quit Twitter' and Cartman sports a t-shirt that reads 'Token's life matters', no one is safe from South Park's scathing scriptwriters. Unafraid of what people think, Stone and Parker's talent for cutting through life's bullshit and giving the middle finger to the would-be censors means they score points for freedom of speech in every episode.
And in a real world where a Giant Douche or a Turd Sandwich is about to become the leader of the free world, we can at least be thankful for the return of real satire. Thank goodness for South Park.
To enquire about republishing spiked's content, a right to reply or to request a correction, please contact the managing editor, Viv Regan.