Britain's runway fiasco: the new fear of progress
Asia builds airports and revolutionary trains, and we can't even lay some tarmac.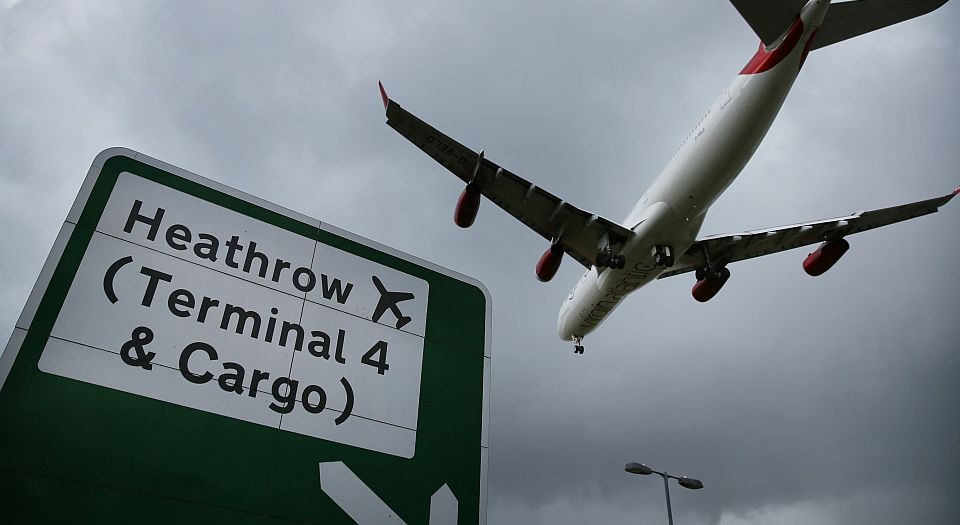 If, like me, you get excited about new roads, railways and airports that allow humanity to dominate the natural world rather than be dominated by it, and if you're enthusiastic about our unique capacity as intelligent beings to stick two fingers up at the oceans and rivers and vast expanses of space and time that separate us, then you'll recognise that developments in these areas have been decidedly mixed in recent months.
As ever, the positive news comes from Asia. In May, China started building a new six-runway airport in Chengdu, Sichuan province. Worth 51 billion Yuan (£5.6 billion), the airport will be completed in 2045. However, three of its six runways will be operational by 2025. Its 90million annual travellers will enjoy hotels, restaurants, shopping centres and entertainment and culture centres – including a half-acre area dedicated to tax-free shopping. It will be connected to Chengdu (which is 31 miles away) and other major cities in south-west China through high-speed railway lines whose trains can travel at 217mph.
That's fast, but not as fast as the new high-speed trains tested in Zhengzhou in Henan province. A recent video showed two high-speed trains on a test run passing each other at 260 mph. Though Japan was the first country to develop high-speed rail technology – five decades ago – China now has the world's longest network, with 11,800 miles of track. By 2020, this will have been extended by 6,200 miles, to a total of 18,000 miles.
Elsewhere, Singapore and Malaysia have signed an agreement to develop a high-speed rail link between Singapore and Kuala Lumpur; a $5.5 billion high-speed rail project is underway in Indonesia; and Japanese companies, with government backing, recently beat China for the bid to develop an even larger high-speed rail network in India, worth $15 billion.
Then there's the negative news. And that's much closer to home. In the midst of the post-EU-referendum Tory leadership contest, the decision over whether to expand Heathrow to three runways or Gatwick to two was delayed – again. Now, with Theresa May appointing prominent critics of Heathrow expansion to Cabinet roles (specifically Boris Johnson, Justine Greening and Philip Hammond), and Sadiq Khan publicly backing Gatwick, the odds on Gatwick winning the bid have been slashed. But there is still no clear timetable with respect to when the decision will be made. And if the decision – finally, mercifully – is made, and it is indeed in favour of Gatwick, then when can we expect to see the new runway? According to Gatwick's chief executive Stuart Wingate, 'If we get a decision by October, we can commit to getting spades in the ground by 2020 and accelerate delivery to 2025'.
What? Accelerate? Is he mad? 2025 is the year China's new mega-airport will become operational. So in the time it takes China to build a three-runway airport, a massive commercial centre and a new high-speed rail network, we will just about have finished building one new runway. One meagre stretch of hi-tech tarmac. The idea of laying down this tarmac was first conceived in a 2003 government paper, but nothing was done. Then, the Tories and Lib Dem coalition government scrapped the runway plans in May 2010, before reviving them in 2012. So, from conception to anticipated completion, the new runway will have taken 20 years to lay down.
Britain's runway affair is shameful. It is an unqualified national disgrace. The progress of Asian nations strikes us as incredible and awe-inspiring partly because British public life has for so long been in a coma-like stasis. And it's not good enough to blame the baleful influence of greens and NIMBYs. The root of the problem isn't sniffy Guardian writers fretting about the oiks getting cheaper flights, nor is it the minority of people complaining to their MPs about increased noise pollution. No, it's the politicians who allow such constituencies' opinions and interests to hold sway. The blame lies with the people whose job it is to get things done, the job they are elected by us to do, who see in the greens and NIMBYs a handy excuse to stall.
This dithering over a new runway isn't a one-off. It's the product of a new, small-c conservative attitude that infects every nook of our sluggish political structure. Every political manifesto on offer betrays how allergic we have become to the idea of progress. Britain has a newfound aversion to the future.
Just consider London's recent mayoral election. London is a world city, and its population is rising quickly. So what world-beating vision of new infrastructure did the candidates put forward? Environmentalist and Tory MP Zac Goldsmith (who once promised to leave the country if a third runway was built at Heathrow) committed to getting the Night Tube running and to protecting free travel for pensioners. Sadiq Khan promised to freeze fares and encourage flexible working hours to avoid morning and evening jams. Inspiring stuff! The Green Party candidate, Sian Berry, not only promised to block new runways at both Gatwick and Heathrow – she also committed herself to shutting down City airport entirely. If she had been elected, plans for new roads, river crossings and road tunnels would have been scrapped in favour of investment in infrastructure for walkers and cyclists. Khan also nodded to 'safer, greener travel', calling for less focus on fast, modern transport and more promotion of walking and cycling.
Strikingly, this new, deeply conservative attitude to modern travel is dressed up as 'progressive' (how the Chinese, zipping from city to city at 260 mph, must laugh at us!). At least conservatives of old had the balls to admit they were scared of progress; now those who oppose progress have the temerity to call themselves 'progressive'.
Since the EU referendum, many have asked whether the Leave vote was a vote for isolation or a vote to rejoin the world. What better way to project a fresh, global outlook for Britain than to adopt the Asian attitude and commit to building a new runway immediately, and then building new airports, more and better road infrastructure, and vast tracks of high-speed rail. Right now, much of Asia is living in the future — let's join them.
Blair Spowart is a writer based in Edinburgh.
To enquire about republishing spiked's content, a right to reply or to request a correction, please contact the managing editor, Viv Regan.