Ich bin Charlie? That's not enough
The Charlie solidarity is now being used to authoritarian ends.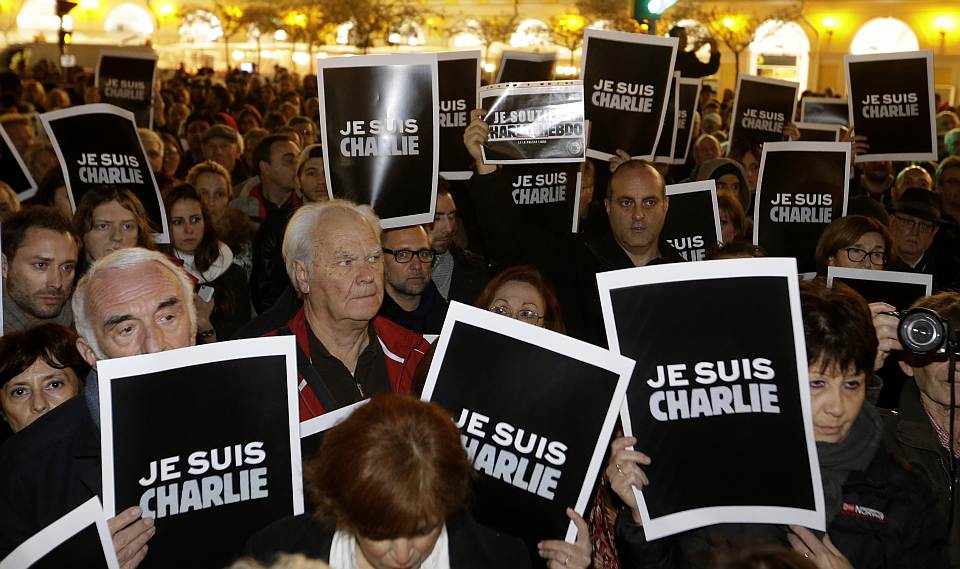 To be honest, I never liked Charlie Hebdo. I read it once or twice, but I just don't like that kind of satire. I am aware that this puts me in a very small minority. Since the attacks in Paris last week, it seems as if the Western world has suddenly abandoned political correctness and embraced blasphemy and tasteless provocation. Many now even claim to be Charlie.
I am very sceptical about this sudden and uncritical identification with Charlie Hebdo. I understand that most people saying 'Je suis Charlie' do so with good intentions: they want to show compassion towards the families of the victims, as well as show their support for the idea of free speech. However, expressing solidarity with one magazine, and even publicly identifying with it, is not the same as defending free speech. In fact, it can undermine free speech.
For example, you would always defend your own right to free speech. After all, you identify with your own views. Likewise, if you identify yourself with Charlie Hebdo's worldview, you would be expected to defend its right to free expression. But defending the right to express views you support does not turn you into a defender of free expression. Rather, it is only when you also start defending the right of others, particularly the right of those you strongly disagree with, that you defend the right to free expression. You have to transcend your own views, and your own personal identifications, in order really to stand up for free speech. The slogan 'Je suis Charlie' does not contain any message about press freedom; it is just an expression of identity.
Today, people seldom express their identity with big ideas and ideals. Likewise, the basis for solidarity and compassion is no longer the consciousness of common aims or interests; rather, it is the shared consciousness of personal fears and the desire to be safe and protected. As a consequence, it is not a profound sense of political engagement that led millions of people to march through the streets of Europe, but, rather, the sense of a shared threat and a desire not to feel alone.
This is a very human response to the Paris massacre. But what needs to be recognised is that fear and the desire for more security are not a basis on which individual freedom and press freedom can flourish. Freedom demands that society is able to live with risks and threats. Unfortunately, if there is one thing that society lacks today, it is a belief in humanity's ability to cope with risks and threats.
Ultimately, the slogan 'Je suis Charlie' evades the urgent question of freedom. Instead of having to deal with uncomfortable problems and questions, 'Je suis Charlie' is an apolitical slogan based on a sense of compassion and an assertion of unity. It is similar to that old anti-war slogan from the early 2000s, 'Not in my name'. In both cases, any form of political argument has been replaced by an abstract individualised concern.
But it is not only the tendency to avoid necessary arguments that is problematic about the 'Charlie-isation' of the public – this process is also easily hijacked by very authoritarian political thoughts. This is already happening. By focusing and narrowing the debate to the question of Charlie Hebdo, and the role of that tiny magazine in public life, questions about whether there might be better ways to respond to terrorist attacks, other than just marching in grief, are dodged. Even just criticising the 'Je suis Charlie' movement, and the enthusiasm with which leading European politicians have embraced it, is viewed with suspicion.
It only took a couple of days for public debate to shift away from the attack to the question of whether European culture should be less offensive with regards to religious or other cultural minorities. And being less offensive means being more careful about what you say. So here we are again: freedom of speech is seen, at best, as a problem and, at worst, as a cause of terrorism.
In Germany, the focus on Charlie Hebdo meant that the attack on the Hamburg offices of the Hamburger Morgenpost (known as the MoPo) on 11 January barely made the headlines at all. While the entire German media and political class was debating France and the situation of Germany-based Muslims, the MoPo firebombing was ignored. The silence on the MoPo attack shows the low esteem in which press freedom is really held.
But, say many German journalists, there's a good reason why the MoPo attack prompted so little discussion: no one was hurt, and the perpetrators didn't leave any indication as to their motivation. Also, two suspects were released a couple of days after the attack so, unlike the situation in Paris, there is still a lot of uncertainty around what happened and why.
Yet the MoPo had actually published some Charlie Hebdo cartoons in response to the Paris attack before it was itself attacked. Without speculating too much about the motives of the perpetrators of the MoPo attack, it seems likely that its decision to publish the cartoons might have had something to do with it. So the question remains: why is Germany so silent about its own press freedom being attacked? Is it because 'Ich bin Charlie' sounds more sexy than 'Ich bin MoPo'? Is it because the paper is just too big? Is it because it is part of the tabloid press, which is rather unpopular among Germany's liberal elite? Or is it because dwelling on the MoPo attack could potentially fuel a debate in Germany about a difficult issue, at a time when leading German politicians are desperate to join Muslim peace rallies?
One thing seems clear to me: the lack of interest in the Hamburg incident fits the risk-averse zeitgeist. No one in the media seems to be prepared to speak publicly about press freedom and the freedom to offend. Instead, too many are happy to assert solidarity with potentially harmed minorities and effectively censor any debate about offensiveness and free speech.
So, if you want to defend press freedom, it is not enough to 'be Charlie'. You also have to defend the freedom of expression of all publications regardless of their content. To do that, it is not necessary to support what Charlie Hebdo or the MoPo says. You simply have to defend their right to say it.
Matthias Heitmann is a freelance journalist and public speaker based in Frankfurt, Germany. His new book Zeitgeisterjagd (Zeitgeist Hunting) will be published in spring 2015. Visit his website here: www.zeitgeisterjagd.de
Picture by: PA images.
To enquire about republishing spiked's content, a right to reply or to request a correction, please contact the managing editor, Viv Regan.