The myth of LGBT conversion therapy
There's no credible evidence that Britons face torture for being gay or trans.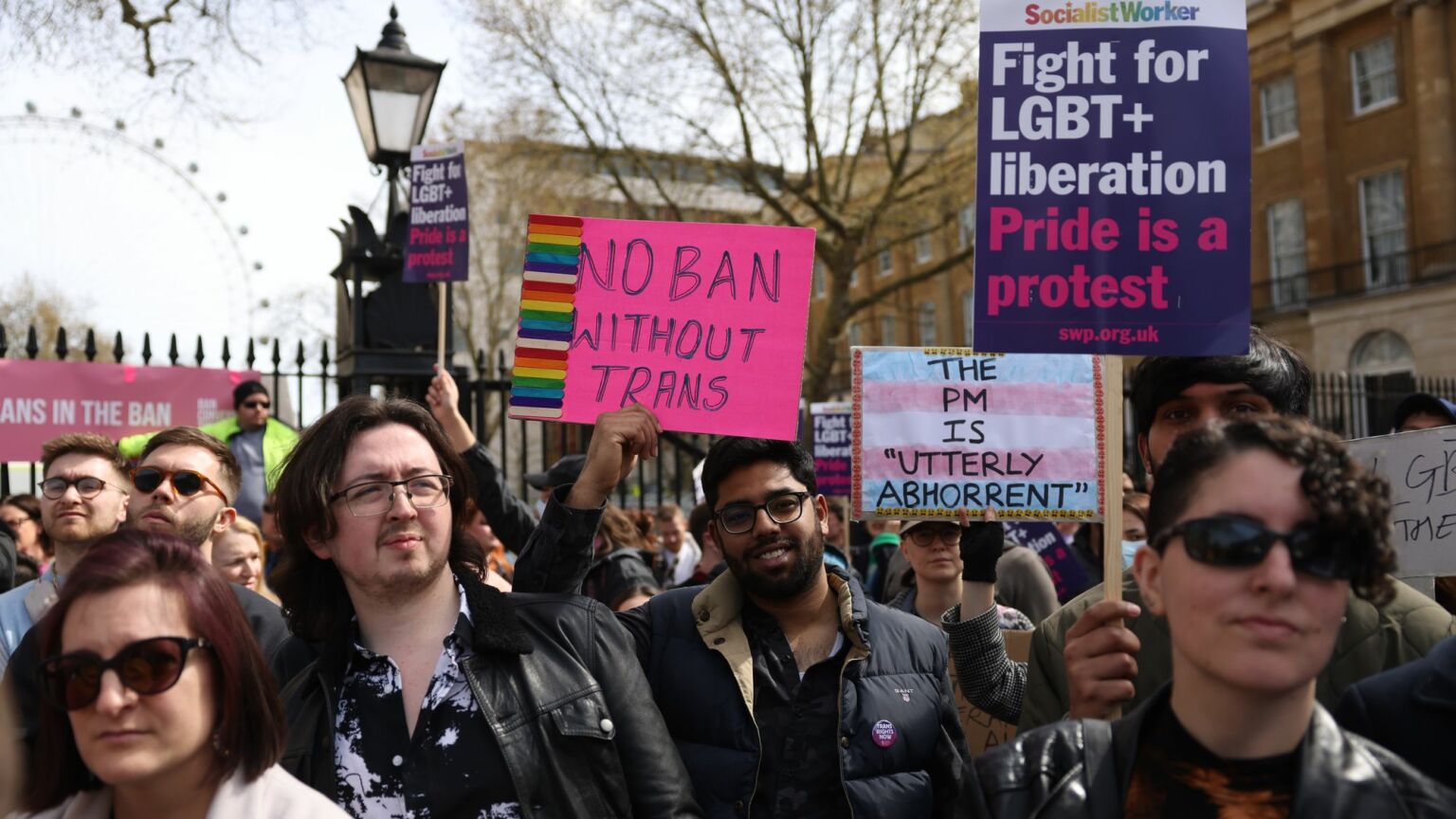 The myth of conversion therapy may just be the biggest yarn yet spun by the UK's LGBT lobby.
Since 2018, the Conservative Party has been flip-flopping back and forth on whether or not it wants to outlaw conversion therapy for gay and trans people. As of last week, Rishi Sunak appears to be having second thoughts about a ban. Meanwhile, Labour is committed to one.
All this has pitched a poorly understood subject back into the headlines. The issue will likely be fiercely argued about right up to the next General Election. And yet the po-faced, bleeding-hearts who make the most noise about it, all quivery-lipped and wet-eyed, are always the least informed.
This is hardly surprising, given that the campaign to ban conversion therapy has been rife with misinformation from the outset. For starters, it is the brainchild of the LGBT lobby – the same geniuses who told us gender self-identification was all about making it simpler for nice trans people to change their names. Only later did it transpire that self-ID also meant, among other deplorable things, that male rapists would be allowed into women's prisons.
Now we are being told by the same goggle-eyed goons that a conversion-therapy ban is urgently needed. Supposedly, across the UK in 2023, LGBT people are being brutally coerced into believing they are not who they think they are.
One of the most dishonest things about the campaign is that it purports to be about preventing coercion. In practice, a ban on conversion therapy, at least when it comes to gender identity, would force therapists, teachers and even parents to affirm a confused child's delusion about being born in the wrong body. It would demand unquestioning affirmation of a child's trans identity, no matter how autistic, troubled, potentially homosexual or just plain tomboyish or effeminate the kid may be.
This dishonesty about the real aims of the ban isn't some sort of mistake or misunderstanding. Misinformed has been baked into the campaign from the start.
In the old days, before we were all expected to believe that men could have vaginas, 'conversion therapy' meant pseudo-psychiatric techniques that were used to bully and demean homosexuals into being heterosexual. In the UK this largely died out in the 1970s. As a result, fighting conversion therapy in modern Britain was something of a non-cause.
Yet that was no obstacle to the LGBT lobby, which was left looking for a cause to champion after the victory of gay marriage. Banning conversion therapy was pressed into service as a way to satisfy the movement's existential need to raise funds and pull at celebrity heart-strings.
Given that conversion therapy in the usual sense had all but died out in the UK, the LGBT lobby was left scraping the bottom of the barrel for evidence. The results were some truly weird examples of supposed conversion therapy.
In a 2018 ITV report, Paul Brand 'exposed' some hokey evangelical church that was supposedly practising conversion therapy. During undercover filming, an African-born pastor spun round a few times, spoke in tongues and told the reporter he was possessed by Satan because he was homosexual. He also offered to 'cure him'.
All very terrible, I'm sure. But how many normal LGBT people wander off the street into an African church and announce they're as bent as the back road to Glasgow? Not many, I'm betting.
The truth is, if conversion therapy is really as serious a problem in the UK as campaigners claim, wouldn't there be more victims? Yet the evidence they've managed to dredge up is about as convincing as that African pastor and his exorcist mumbo-jumbo.
In 2020, the Ban Conversion Therapy campaign group presented a petition with over 200,000 signatories, including celebrities like Elton John and Stephen Fry. The petition cited a report by the International Rehabilitation Council for Torture Victims (IRCT) that defined conversion therapy as a kind of torture.
The IRCT report portrayed conversion techniques that mostly consisted of brutal physical and mental abuse. It rammed home the torture angle with photographic reconstructions of conversion therapy in action by artist Paola Paredes. These included force-feeding, beatings and the threat of rape by religious fanatics. But this photoshoot was based on accounts from lesbians in Ecuador, not in the UK.
To support the idea that conversion therapy was indeed a scourge across the UK, the campaign needed some homegrown examples.
Enter Jayne Ozanne, a lesbian and former government adviser. She claims to have been the victim of attempts to convert her from the joys of muff-munching four decades ago, including via a real-life exorcism. How reliable are her tales of oppression? Who knows.
We do know, however, that Ozanne has publicly declared that 'up and down the length and breadth of the UK, people are being beaten, locked in cupboards and raped to convert them'. Really? If Ozanne has any evidence for what are criminal offences, she should long ago have passed it to the police.
The curious thing about Ozanne and the tiny coterie of other alleged victims of conversion therapy is that no journalist ever bothers to ask some rather obvious questions. You know, like, where's the proof of actual torture?
Take Matthew Hyndman, the co-founder of the UK conversion-therapy campaign. According to Hyndman, he was a committed Christian and cheerfully sailing on an evangelical mission ship when disaster struck: he accidentally sent an email to his fellow congregants. This email revealed he was gay.
Admittedly, this must have been a tad embarrassing, not least if you have chosen of your own free will to be on a boat full of religious hardliners, as Matthew had. Yet all that happened to Matthew next was a public rebuke from the mission leaders who told him to repent. He refused and left the church. And that's it. No electrodes. No whipping. And none of those dark cupboards full of screams that Jayne Ozanne warned us about.
The hyperbolic boo-hoo brigade behind the British campaign were inspired by a similar campaign in the US. The American anti-conversion-therapy campaign was launched under the name '50 States, 50 Bills' in 2017, and centred around the apparently very tragic tale of Sam Brinton.
Brinton claimed to have been subjected to all kinds of horrific torture at the hands of his Baptist family and therapists. Brinton described how his father regularly punched him so hard he'd end up in A&E. He claimed that a psychiatrist tormented him with blocks of ice, hot coils and electrified needles.
Brinton was lauded by the media as a hero on both sides of the Atlantic. The trouble was, Brinton's overwrought tale of abuse just didn't stack up. When Wayne Besen, a noted campaigner against actual gay-conversion therapy in the US, attempted to press Brinton for more details or evidence for his claims, Brinton outright refused.
As it turns out, Besen was right to treat Brinton's wild story with a healthy dose of scepticism. Astute readers might have already recognised Sam Brinton as the 'genderfluid' nuclear-waste expert who was infamously caught stealing women's suitcases from an airport baggage carousel last year. Hardly a model for truth and honesty.
It's time for British journalists to start asking serious questions. People like Jayne Ozanne and Matthew Hyndman no doubt suffered at the hands of bigotry. But conversion therapy? The campaign to ban conversion therapy in the UK has largely been met with the same unquestioning groupthink that marked the self-ID debate, with such disastrous consequences.
New laws should not depend on such strange baggage, stolen or otherwise.
Malcolm Clark is a TV producer.
This is an edited version of Malcolm's substack essay, 'Is Conversion Therapy the Biggest Lie Yet Told by the LGBTQ Lobby?'.
To enquire about republishing spiked's content, a right to reply or to request a correction, please contact the managing editor, Viv Regan.