Harry and Meghan's obscene eco-hypocrisy
The jet-setting Sussexes have some nerve lecturing us plebs about our carbon footprints.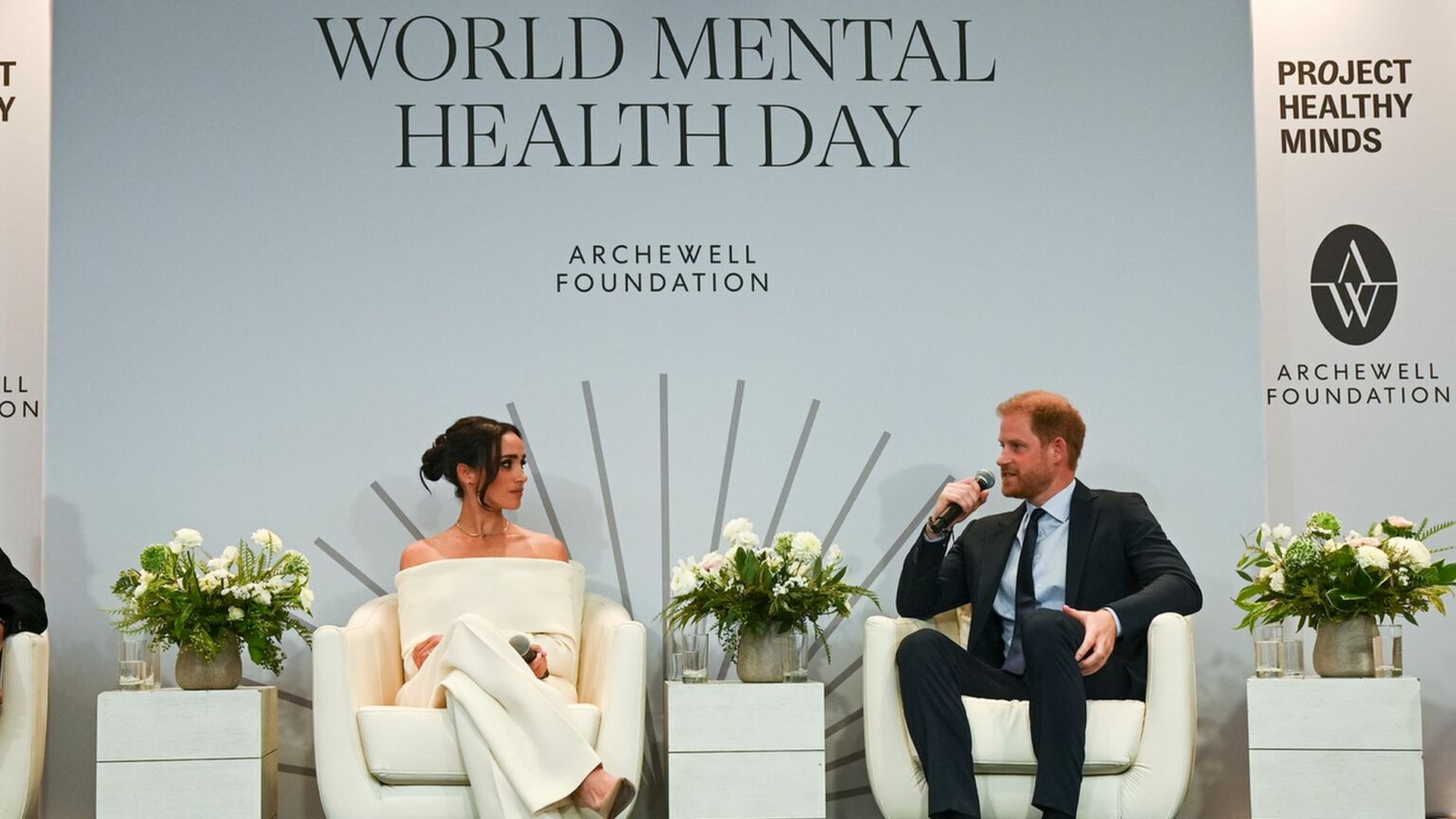 Another day, another private jet taken by some scaremongering celeb who never stops 'reminding' us that the planet will probably be burnt to a crisp by Christmas if we don't go everywhere by bike. No, it's not Emma Thompson this time – she's the one who took a 5,400‑mile transatlantic first-class flight between Los Angeles and London to join Extinction Rebellion (XR) activists back in 2019, as they yet again brought grief to people attempting to get to work. XR announced grandly that her jaunt was 'an unfortunate cost in our bigger battle to save the planet'.
Was it perchance Thompson's chum, King Charles, who in 2007 – as a mere whippersnapper of a prince in his fifties – flew to the US first class with a 20-strong entourage to collect an award for services to the environment? First class obviously wasn't up to his standards, as two years later he made sure to hire a private jet to take him – and a slimmed-down entourage of 14 – on a 16,000-mile 'environmental tour' of South America as part of his crusade against global warming, at a cost of around £300,000. Who could have disagreed with Labour MP Ian Davidson of the Commons Public Accounts Committee when he said: 'It would be hard to make this up. To hear that the Prince of Wales is flying to South America to save the environment and taking 14 staff on his jet, at hideous cost just for this trip, is the height of the absurd.'
But this time the culprit is neither of these galumphing hypocrites – it's the Sussexes, Harry and Meghan, who three years after the 'Grabdication', and a year into their Worldwide Privacy Tour, saw fit to seek a little Me Time by taking a private jet to the Caribbean after attending a New York conference focussing on how the threat of climate change is allegedly damaging the mental health of young people.
A study by Greenpeace has found that private jets emitted a total of 5.3million tonnes of CO2 over the past three years, with the number of private-jet flights increasing from nearly 119,000 in 2020 to 573,000 in 2022. These flights produce more CO2 per year than Uganda – with its population of 46million – produces from all sources.
A sizeable part of that carbon was no doubt burned by the Sussexes. I never think of Forbes magazine as a hotbed of sedition, but two years ago it published a piece called 'Harry and Meghan's very public history of private jets'. Even someone who believes they're fully aware of the extent of this petulant pair's hypocrisy may be shocked by the extent of their mucky meanderings, especially at that point in 2019 when they took four private-jet flights in the space of 11 days. But even that dizzying itinerary (from Ibiza to Amsterdam, Italy, the south of France and beyond) now looks like a few impromptu Uber trips home from Waitrose compared with the Sussexes' latest jaunt.
To reiterate, Harry and Meghan went on holiday in a private jet to the Caribbean after attending a conference about the effect of climate change on the mental health of young people. Is this just epic trolling? Do they know how it looks, and enjoy shocking people? (Shocking their supporters, that would be, as the rest of us are well aware of how profoundly meretricious they are.)
I think it likely that Markle – and by association, her husband – suffers from being in a state of delusion brought on by regular and prolonged virtue-signalling – by believing that words matter more than actions, like those transvestites who sob that 'words are violence' if they're misgendered, but then the next minute are telling uppity women to 'suck my lady dick'. No doubt Markle honestly believes that the massive carbon emissions caused by her private-jet use can actually be 'offset' by virtuous words about climate change, the way equally dim but more open-handed rich people believe that having a few trees planted can make up for all the CO2 their jets spew into the sky.
Though I'm not a conspiracy theorist by any means, I'm beginning to believe that the whole climate-change panic is basically a way for the wealthy to fix it so that, at some point in the future, only they can travel. So they can not just avoid hoi polloi by turning right when boarding a commercial flight, but clear the pesky varmints out of the airports, too.
Oddly, talk of the 20th-century Golden Age of Travel (ie, before the Great Unwashed got onboard) is a big thing on social media. I often see people tweeting photographs of the days before cheap flights – 'The Age of Elegance', they call it – and I can't help smirking. Because, knowing the financial position of these tweeters, the nearest they would have got to boarding Concorde would be cleaning the toilets after David Frost disembarked. But the mystique of that time is so strong that even those who would never have stood a chance of attaining air travel in those days seem to have a strange nostalgia for the very elitism which would have had them doing the dirty work of the filthy rich.
The sincere ecologists, the deep greens, will have a very rude awakening when they realise that their belief in the protection of Mother Earth has been used as little more than a greenwash for the re-serfing of the masses. International travel for the rich; a 15-minute compound for the poor. Sun-seeking for the rich; the poor condemned to shiver on the shingle throughout the squally British summer on a ceaselessly repeated staycation. 'The rich man in his castle, the poor man at his gate' will become 'the rich man on his private jet, the poor man on his bike'. For the road to serfdom is paved with green intentions.
Julie Burchill is a spiked columnist. Her book, Welcome To The Woke Trials: How #Identity Killed Progressive Politics, is published by Academica Press.
To enquire about republishing spiked's content, a right to reply or to request a correction, please contact the managing editor, Viv Regan.