Why the prince and princess of woke had to leave the royal family
Harry and Meghan's narcissism doesn't sit well with the ideal of public service.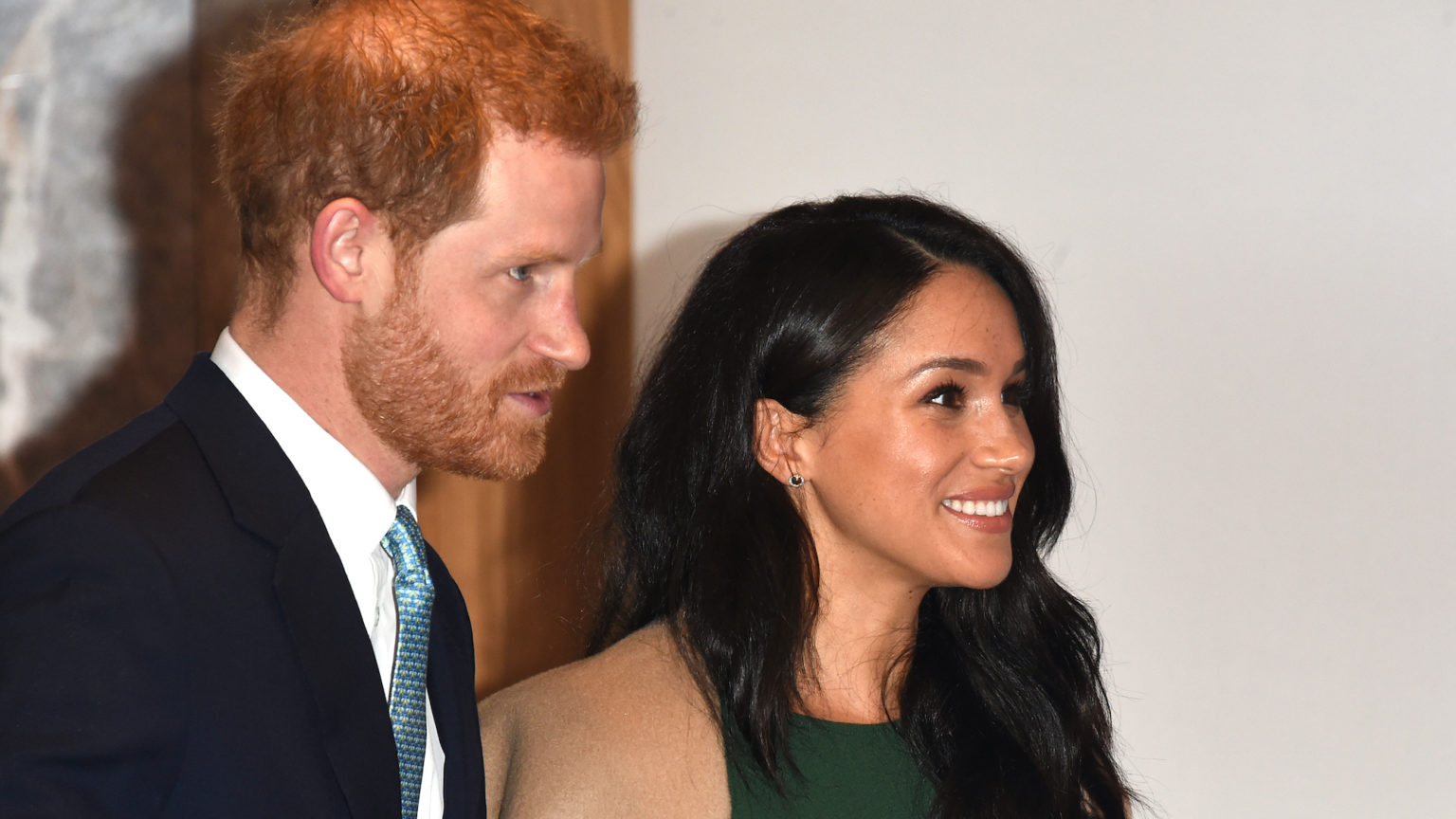 So Harry and Meghan are out. The Prince and Princess of Woke are formally splitting from the monarchy. The Soft Megxit of 2020 – when the painfully PC pair flounced off to North America with the intention of becoming 'financially independent' – has become a Hard Megxit. The queen has decreed that Harry and Meghan's antics are incompatible with 'the responsibilities and duties that come with a life of public service' and therefore they have to hand back all their royal patronages. This is about as close to saying 'bugger off' as the famously restrained queen will ever get.
What's this all about? What does Megxit tell us about the world, if anything? Listening to the Meghan-loving chattering classes you'd be forgiven for thinking the poor dear and her loving husband were driven out of this godforsaken country by racism. Naturally, these people wilfully overlook that the vast majority of Britons took Meghan to their hearts when she got hitched to Harry, and only tired of her when she started wagging her manicured fingers at us about everything from feminism to climate change. Your everyday Brit doesn't take kindly to being talked down to by right-on aristocrats who then get on a private jet to wing it to Elton John's swanky pad in the South of France or to some barefoot, bullshit eco-gathering of the super-rich.
Others blame it all on the press. Our horrible, rapacious press, criticising Meghan day in, day out. They even cheer when Harry and Meghan launch legal cases against the media for saying rude or revealing things about them. It is testament to the middle classes' turn against press freedom – which, let's not forget, was won for us by people who dissed royalty, by the likes of the 18th-century prince-mocker John Wilkes – that they will cheerfully support two arrogant royals' crusade against the papers. 'Whatever you think of Harry and Meghan, their media critics are far worse', says Marina Hyde at the Guardian. It's not surprising that an aristocrat like Hyde would defend two aristocratic bores from the rabble that is the redtop press, but it's pretty shocking the Guardian won't stand up for press freedom against the Sussexes' constant barbs and suing.
All these narratives tell us more about the narrators than they do about the reality of Megxit. They confirm the snobbery of the woke set, who are more than happy to take the side of a privileged pair of virtue-signallers over what they view as the irredeemably prejudiced British masses. And they confirm the ongoing, increasingly irrational hostility of the posh against the 'low-rent' press, which is now blamed for every ill in society. Meghan's sadness? Our dumbed-down culture? Sexism? Far-right activism? Blame it on the tabloids. It's the Sun wot did it.
The truth, as always, is more complex. What the great Harry and Meghan flounce really demonstrates is the incompatibility of the modern culture of narcissism with the old-world ideals of duty, loyalty and service. Meghan felt trapped in the royal family not because Princess Michael once wore a colonial-era brooch or because it is so hard to spend your days chilling in palaces, but because royal life runs so counter to the shallower, selfie-era, virtue-advertising outlook that Meghan has come to embody over the past couple of years. Megxit is fundamentally a battle between the narcissism of the 21st century and the more stoic, giving culture of the past.
This is where the Windsors' and the Sussexes' spat over 'service' is interesting. The queen firmly insisted that Harry and Meghan's 'independent' globe-trotting did not sit comfortably with a 'life of public service'. In the passive-aggressive manner of a certain type of Californian, Meghan and Harry fired back that everyone can do some 'service'. 'We can all have a life of service. Service is universal', they said.
They don't know what service means. Here's the difference: the Meghans of this world primarily serve themselves, always seeking new opportunities for self-expression, virtuous preening, 'emotional growth'. The queen, in contrast, serves the crown. She has negated the self. She suppresses her self-expression, her political views and her emotions, to the end of submitting to something bigger than herself: the crown, the monarchy, the constitution. Now, we can discuss whether the crown is good or bad – I'm a republican, so I'm not a fan. But it is clear that Meghan and Elizabeth II have unbridgeably different understandings of 'service'. Meghan's idea of service always involves her expressing herself and revealing herself and reminding us how virtuous she is; the queen's idea of service is to hide the self, to fold it into a larger, apparently more important project. The queen is about service, Meghan is about self-service.
This is clear from how Harry and Meghan talk about the monarchy as if it were some kind of hot-desking workspace where you might pick up a few new skills before 'moving on'. Last year they said they wanted to 'make a transition' and 'carve out a progressive new role within this institution', as if they were media consultants and the monarchy a mere brand. They said they wanted to 'continue to collaborate with Her Majesty The Queen', as if the queen were a fashion house and they were Jameela Jamil-style celebs providing it with a dash of BS 'social change'. Again and again, they show that they have a very weak grip on the ideas of duty and loyalty, of giving things up for a greater good.
The cult of narcissism is widespread today. We are encouraged to obsess over our bodies and our image, to work out exactly where we fit on the infinite list of made-up genders, to obsess over our mental wellbeing, to hide in a 'safe space' in order to protect our sacrosanct self-esteem from any form of insult or inquiry. And of course this all generates a very flimsy sense of self – not the robust selfhood of 19th-century liberalism, but the fragile, easily injured selfhood of the social-media era, in which we require constant validation and protection from rowdy speech or else we will feel 'erased'.
So in inviting us to turn away from big, sacrifice-demanding national or social projects, and encouraging us instead to obsess over the self, the culture of narcissism represents the worst of both worlds. It diminishes the old idea that it can be good to devote oneself to something external, to something important, while also nurturing a warped form of individualism that is built on notions of fragility, fear of freedom, and psychic enslavement to the validation of officialdom and of others.
This is the culture Meghan and Harry now symbolise. Their idea of public service is a fleeting one, involving little more than occasionally giving talks at a women's shelter or doing a Spotify chat with 'social changers'. And their sense of self is both an obsessive and a fragile one – witness their focus on wellbeing and mental health and, in Meghan's words, 'sharing our pain'. The queen could not be more different. Her public service has been full-on, lifelong, unflinching; and her selfhood is of the confident, stoic variety. These are the moral and social clashes swirling around Megxit. I might be a republican, but in this spat I'm very much Team Queen.
To enquire about republishing spiked's content, a right to reply or to request a correction, please contact the managing editor, Viv Regan.