The trials of Humza Useless
The Scottish first minister has more than earned his unflattering nickname.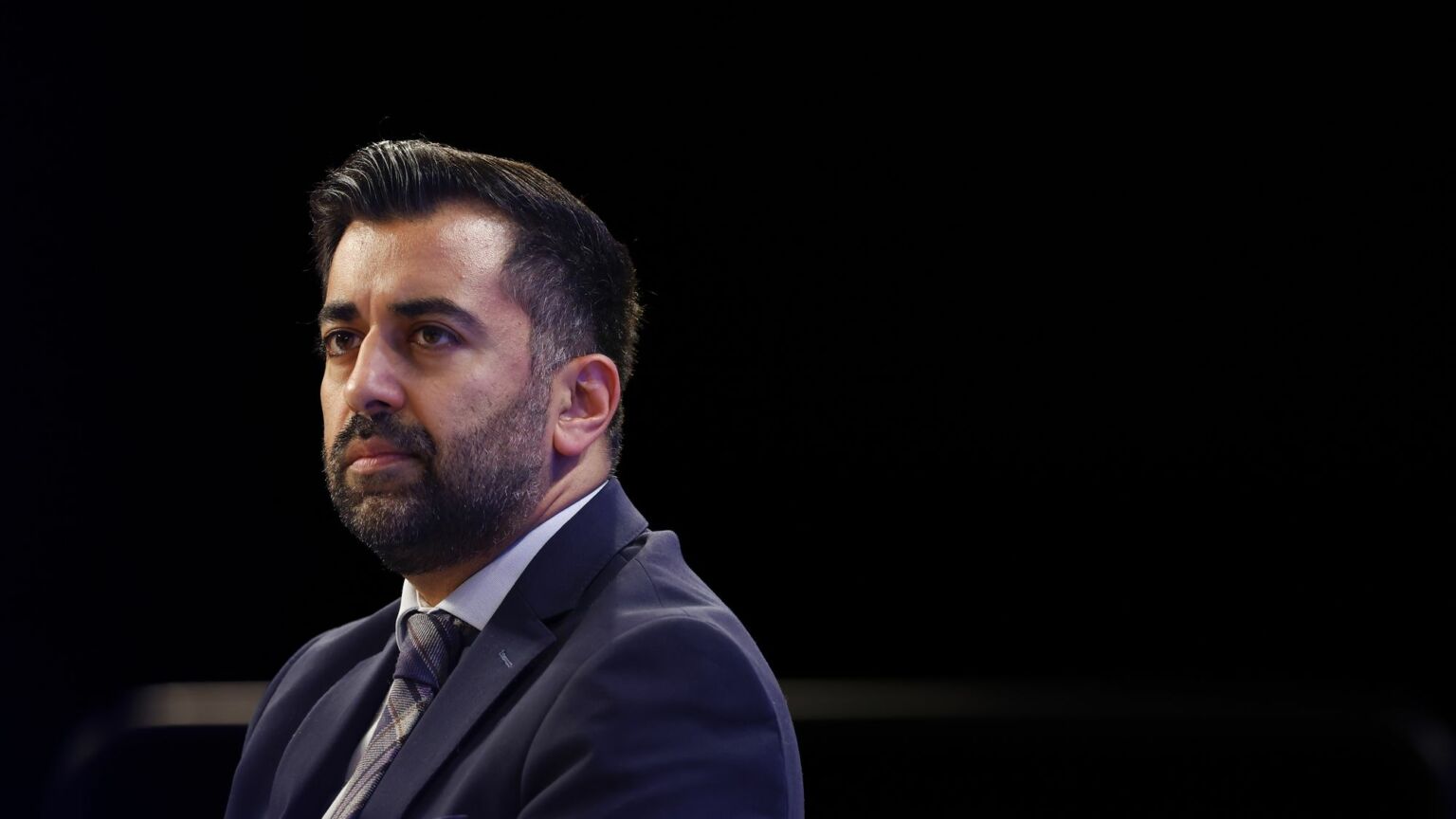 Despite suggestions to the contrary by SNP MSP Karen Adam, it isn't down to racism that Scotland's first minister, Humza Yousaf, has attracted the moniker Humza Useless. It is almost certain that if you take a top job in British politics, while having a two-syllable surname that starts with a 'u' sound and has an 's' in its second phase, then you will be nicknamed Useless.
Anyone doubting this should examine the case of George Eustice – one of the more clear-sighted and knowledgeable environment secretaries of recent vintage, and yet still dubbed 'George Useless' when being briefed against in Westminster's snake pit.
There is no doubt, however, that the barb is a catchy one in an era when voters are cynical about most of their leaders. So if you run into a series of unfortunate events, then expect the 'useless' tag to stick.
A series of unfortunate events would be putting it mildly in the case of Mr Yousaf. Ever since he took a hospital pass from Nicola Sturgeon earlier this year, the SNP leader has been on the ropes: over gender-recognition legislation, the legal cul-de-sac Ms Sturgeon had driven the independence cause down, the police taking a lively interest in the party's internal finances, and the SNP's stewardship of Scotland's public finances more broadly. Ever since he took charge, there has been a general sense of decay surrounding the party.
Some of this is out of Yousaf's control and can't even be blamed on his predecessor. As a political project, the SNP has largely depended on anti-English sentiment to keep it going, ever since Alex Salmond became first minister in 2007. But with no Boris Johnson buntering around to keep anti-Sassenach scorn on the boil, and with Keir Starmer increasingly able to dangle the prospect of ousting the hated Tories from power in Westminster, the headwinds for the separatists have become fierce indeed.
As Sturgeon's approved successor, Yousaf was always a likely fall guy. She got out at the top of the market, clearly having sensed at least some of the difficulties coming down the tracks. Some would contend, however, that it takes a particular level of inverse genius – let's not call it uselessness – to lose seats in the House of Commons to both Labour and the Tories within a single week, and for that week to be the one leading up to your own party's annual conference.
For that is what Yousaf presided over in the period from the result of the Rutherglen and Hamilton West by-election being declared early on Friday 6 October – turning a 5,000 SNP majority into a 9,000 Labour one – up to the shock defection of Lisa Cameron to the Conservative Party on Thursday 12 October.
So it was not a collection of happy bunnies who rolled up at the SNP conference when it opened in Aberdeen on Sunday. Yousaf's first speech did not attract the sort of fawning coverage that once attended Sturgeon or Salmond in their respective heydays.
However, he has used the conference to take one sensible step: he has retreated from Sturgeon's plan to treat the 2024 UK General Election as a de facto referendum on independence.
Polls show underlying support for independence is still around the 45 per cent mark, just as it was in the 2014 referendum. And it is really not an immediate priority for Scottish voters, including SNP supporters. So, under the new approach, the SNP will fight the General Election on the full range of domestic issues, and then only lock horns with the next UK government over independence if it wins an outright majority of Scottish seats. This is a pragmatic move away from Sturgeon's one-eyed fanaticism.
Right now, it seems eminently possible that the SNP won't even win more seats than a resurgent Labour Party in Scotland, let alone an overall majority of them. But don't write the SNP off just yet, even if its Westminster contingent is halved next year. Should Labour come to power, it will still end up presiding over a stagnant economy at home and there will still be serious volatility abroad. This could well bolster the SNP's numbers in the Holyrood elections in 2026.
Yousaf is also right to say that his party needs to stop obsessing about the 'How?' of independence, and seek new ways of making the case for the 'Why?'. One of those ways might be for the SNP to start governing Scotland in a competent fashion under the extensive devolved powers it already enjoys.
The truth is that the SNP, despite performing well in Westminster and Holyrood elections, has botched its campaign for independence. Instead of immediately gunning for a re-run after the 2014 referendum, the much-lauded Ms Sturgeon would have done far better to lean into the 'devo max' settlement. From there, she could have sought to broaden support for Scottish independence gradually and organically.
Yet she chose to engage instead in what can be seen, in retrospect, as one long tantrum about the defeat. She grabbed whatever passing event she could find – from domestic election victories to Brexit – to attempt to justify a second go. The independence referendum was, in effect, turned into a neverendum and it is hardly Yousaf's fault that the public got bored of it all.
Still, supporters of the Union must beware. The basic structural problem persists – namely, that 45 per cent of voters in a constituent UK country would, push come to shove, vote to leave. An astute SNP leader can still hope, circumstances permitting, to nudge that figure above 50 per cent.
As the IRA once put it, in the very different context of having narrowly failed to kill Margaret Thatcher in 1984, this cause only needs to be lucky once. It seems highly unlikely that Humza Yousaf will be the lucky man of Scottish separatism. But it is much more plausible that he will be remembered as a stop-gap leader, who did at least keep it in the game.
Patrick O'Flynn is a former MEP.
To enquire about republishing spiked's content, a right to reply or to request a correction, please contact the managing editor, Viv Regan.