Johnson and Sturgeon: a tale of two premiers
One is an authoritarian who resigned while mired in scandal. The other is Boris Johnson.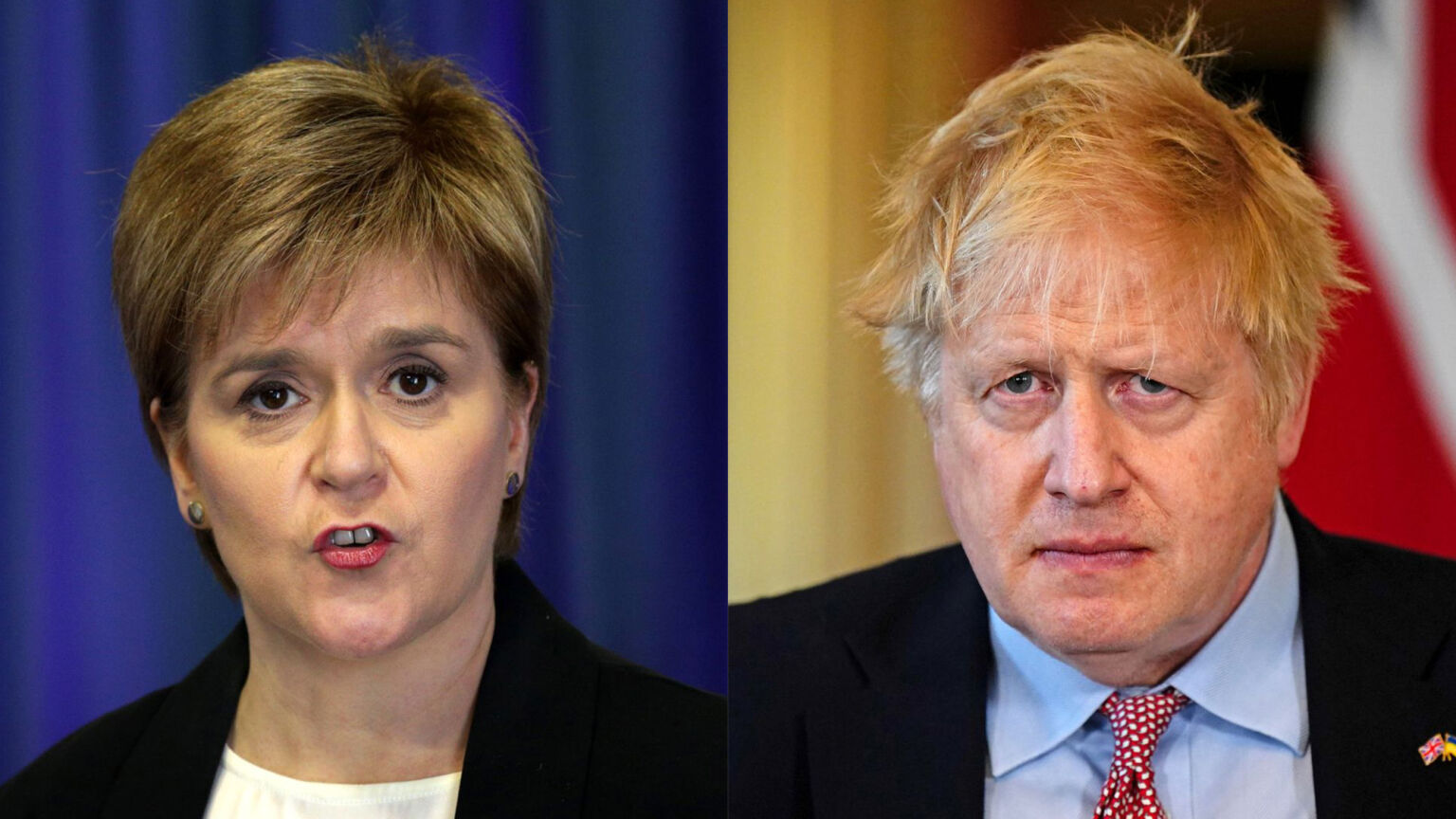 I hold no candle for Boris Johnson. The former Tory PM deserves his place in history for getting Brexit over the line and defending the people's democratic rights in the process. The way in which he has been dispatched from public life has also been outrageously anti-democratic – the product of a years-long campaign to oust him via endless scandal-mongering and media outrage. But Johnson was always insubstantial, a phoney populist whose lack of political substance and seriousness undoubtedly contributed to his own explosive demise.
Even so, the one-note commentary in recent days – following his shock resignation from parliament on Friday, jumping before he was pushed by the Commons Privileges Committee – is enough to turn me into a Boris booster. 'Boris Johnson scuttles away from his flagrant crimes', thundered Andrew Rawnsley in yesterday's Observer. The news media's favourite war propagandist, Alastair Campbell, accused Johnson of 'scarring our democratic world' – which was cheeky, coming from the man who campaigned to overturn the biggest democratic vote in British political history.
These takes were positively tame by the standards of the past seven or so years, as Johnson – once treated as a loveable buffoon by the media – came to be portrayed, post-Brexit, as essentially a crypto-Nazi. The New Statesman's Paul Mason once accused him of 'inciting far-right mobs'. LBC's James O'Brien said Johnson had moved Britain in a 'fascistic direction', even referencing Martin Niemöller's 'First They Came' as he fumed in one of his mad monologues.
This deranged, ahistorical blather about Johnson the strongman, born of post-Brexit elite hysteria, later met its match in the sanctimonious, ginned-up scandal that finally brought him down. Namely, Partygate – the scandal that never dies. First it launched a media firestorm in late 2021, then a police investigation, then the sainted Sue Gray's report, and more recently the Privileges Committee investigation into whether or not Johnson 'recklessly' misled parliament about the parties.
The revelation that Johnson had broken his own Covid rules, presiding over various dos in Downing Street during lockdown, was undoubtedly damning. Not least because police had harassed members of the public for much less during the pandemic. But it wasn't exactly the Profumo Affair, was it? In the end, it boiled down to Johnson being fined over an impromptu birthday cake. Of all the things that might have brought down the notoriously libidinous Johnson, it is quaint.
That of course didn't stop Pippa Crerar, Paul Brand and the rest of our Covid-marshal media from fulminating about it for months on end, poring over grainy snaps of naff-looking, M&S-buffet get-togethers as if they were frames of CCTV footage from a grisly terrorist attack. Slowly but surely, Partygate was constructed as the scandal of the century. Every twist and turn was 'unprecedented'; Johnson's eventual £50 fine was talked up as if he'd just been collared in a major drugs bust.
Now, let's contrast this with the chatter around another former premier, Scotland's Nicola Sturgeon, who is also back in the news. Where a post-Brexit Johnson has become the most maligned British political figure of our era, Sturgeon was until very recently among the most revered – particularly in England, where journalists caught only her vibes and none of her failures.
Sturgeon is now embroiled in a scandal that, if there is any truth in it at all, would make Partygate look even more risible by contrast. She was arrested yesterday, as part of Police Scotland's investigation into what happened to more than £666,000 of SNP supporters' cash. She was questioned and then released without charge. This follows the arrest and release in April of her husband, Peter Murrell, and the SNP's long-time treasurer, Colin Beattie.
The shock-and-horror media commentary has been conspicuous by its absence in Sturgeon's case – largely, I'm sure, because of Scotland's insanely draconian contempt-of-court laws, which make even discussing the investigation a risky business. Sturgeon, for her part, insists she is innocent. Still, this serious scandal that can't be talked about rather puts Partygate, a minor scandal endlessly talked about, into perspective.
As Sturgeon and Johnson compete for column inches today, I can't help but feel that some of the political epithets hurled at Johnson over the years would better fit Sturgeon. No, I'm not going to call her a fascist. The debasement of that term via wilful, malicious overuse has gone far enough as it is. But when it comes to authoritarianism and anti-democracy, Sturgeon is easily the more questionable figure, going on her record.
After all, Sturgeon tried to cancel Brexit, as one of the leaders of the so-called People's Vote campaign. Despite ruling over only one part of the UK, she imperiously demanded that all those idiots in Brexit-backing England and Wales think and vote again. Then there's her assault on free speech: her government turned even dinner-table conversation into a potentially criminal matter with its outrageous Hate Crime Act. And let's not forget her gender bill, which set out to rip up women's rights in the name of gender ideology – and brought her leadership crashing down as a consequence.
Johnson was hardly a saint when it came to civil liberties. His government's crackdown on protest and attempt to rein in online speech showed that, for all his maverick tendencies, he was happy to go along with the sort of illiberal liberalism, first pioneered by Tony Blair, that is now ingrained in our political class. But when it comes to issues of freedom and democracy, it's no contest: Sturgeon practically exudes the 'kindly' authoritarianism that most menaces liberty today.
The contrast is striking. Boris Johnson is damned as some sinister tyrant because he supported Brexit, thought the massive vote for it should be respected, and made a few rude gestures towards the civil service. Meanwhile, Sturgeon is (or at least was) lauded for campaigning against democratic votes, inviting the thoughtpolice into Scots' homes, and fighting for the right of male rapists to be housed in women's prisons.
The one score on which Johnson genuinely broke new ground in illiberalism was with lockdown, but of course most of his critics agreed with that anyway, and only blasted him for not robbing us of our most basic freedoms sooner. Meanwhile, Sturgeon, drunk on lockdown moralism, delighted in being that bit more tyrannical than the supposedly feckless English, and was showered with praise for doing so.
This is why, for all of Boris Johnson's myriad flaws and failures, I can't help but scoff at all this hysterical, Boris-bashing commentary. The borderline hero worship of Sturgeon set against the unhinged demonisation of Johnson speaks to a political and media elite with a decidedly warped view of the world – and a curious understanding of what authoritarianism really means.
Tom Slater is editor of spiked. Follow him on Twitter: @Tom_Slater_
To enquire about republishing spiked's content, a right to reply or to request a correction, please contact the managing editor, Viv Regan.