The truth about the BBC's war on 'disinformation'
The new BBC Verify project reflects the cultural elites' paranoid fear of free speech.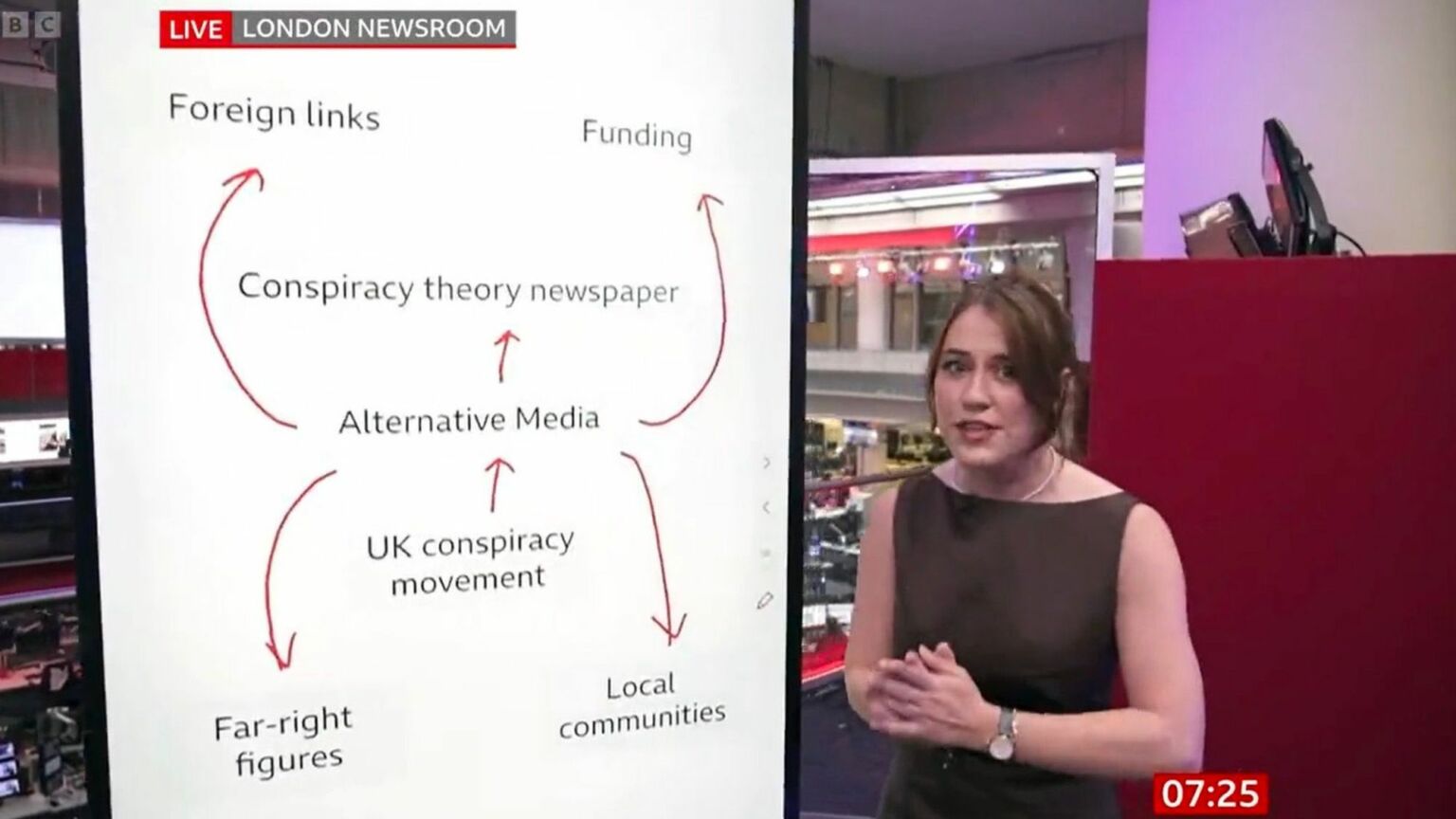 The BBC has launched yet another project to fight what it sees as the great evil of our time – so-called disinformation. Introducing the new 'BBC Verify' project, BBC News CEO Deborah Turness says that 'audiences are constantly bombarded with mis- and disinformation… noise and sensationalism'. This, she adds, has led audiences to doubt what they see and hear, including when it comes from the BBC.
It's no exaggeration to say that the BBC is obsessed by the alleged threat of disinformation. BBC Verify will have 60 journalists at its disposal. It brings together the existing BBC Reality Check fact-checking service, the BBC World Service Disinformation Team, the BBC Monitoring Disinformation Team and BBC Trending (which devotes a great deal of coverage to social-media misinfo). It will also give a large role to the BBC's specialist disinformation correspondent, Marianna Spring. If that weren't enough, the BBC also has reporters who specialise in 'climate disinformation' and 'health disinformation'.
No one is against being truthful, of course. And journalists debunking internet falsehoods can be a great public service. But this is not quite what is happening at the Beeb. Its battle against disinformation is posed in almost apocalyptic terms. It sees itself as fighting an 'information war' with good, fact-based journalism on one side and malicious, dishonest actors on the other – with the latter group said to be backed by 'dark money' and / or hostile states. In short, its obsession with disinformation has become a little paranoid.
No one better represents this outlook than BBC disinformation correspondent Marianna Spring. Spring has warned of social-media users being swept up in a 'culture of chaos', especially on Twitter, where there is less content moderation. She has produced podcasts for the BBC like Death by Conspiracy?, which follows a Covid conspiracy theorist who was killed by Covid, and The Denial Files, which claims that false information about the climate could drive us towards 'catastrophe'. Her upcoming podcast, Marianna in Conspiracyland , which will be part of the BBC Verify brand, asks whether disinformation could push the UK towards a violent insurrection.
The paranoia on display here is perhaps enough to rival that of the conspiracy theorists and cranks the BBC is trying to combat. Tellingly, in a promo for BBC Verify, aired on BBC Breakfast yesterday, Spring stands in front of a digital whiteboard, drawing arrows between the 'UK conspiracy movement', 'far-right figures', 'alternative media' and 'foreign links'. The resemblance to the well-known meme of Charlie Day's conspiratorial rant is uncanny.
None of this is to say that conspiracy theories or fake news are not a problem. I've had my own run-ins with conspiratorial anti-vaxxers recently. But we should be careful not to exaggerate their scale and impact. For all the mountains of anti-vax content swirling around social media, and for all the establishment fear-mongering over vaccine refusal, nine in 10 Britons saw sense and got themselves double-vaccinated against Covid. Russian war propaganda, denouncing Ukraine as the true and evil aggressors, is perhaps even more obnoxious. Thankfully, it has signally failed to dent support for the Ukrainian cause. Of course it is important for journalists to challenge these falsehoods, but we needn't lose all that much sleep over them.
The BBC not only inflates the dangers of social-media falsehoods, it has also applied the disinformation label to stories that are actually true. So if you cause a fuss about anti-car traffic restrictions coming to your local area, if you protest against eco-plans for a '15-minute city', you could find yourself branded a 'conspiracy theorist' on the BBC – even though these illiberal traffic schemes really are happening across the UK. All too often, the charge of 'disinformation' is used as another way of demonising those with dissenting opinions.
Meanwhile, the BBC has been known to spread untruths of its own. Take its coverage of the trans issue. The BBC website regularly describes predatory men, including rapists, paedophiles and murderers, as 'women' – purely because they 'identify' as such. It has produced news reports and whole documentaries about 'men' getting pregnant. When licence-fee payers are told to ignore the evidence of their own eyes in this way, we shouldn't be surprised that the BBC is losing trust.
Climate change is another major blindspot for the Beeb. Despite their apparent concern about climate misinformation, BBC journalists and presenters frequently make alarmist and false claims about the environment. A recent Panorama documentary, fronted by the BBC's climate editor, said in its opening sequence that extreme weather events are killing more people. The truth is the precise opposite: the death toll from weather events has actually fallen considerably in recent decades. But this does not fit the established, fear-driven narrative.
Unlike the crankish theories about vaccines and QAnon, these apocalyptic claims about the climate really do have a wide reach and are readily believed. According to a recent survey, more than half of teenagers think the world will end in their lifetime. There is nothing in mainstream climate science to suggest that anything like this is likely to happen. But I won't expect to see BBC Verify debunking that myth anytime soon.
Clearly, the disinformation panic has little to do with truth and facts. What it really expresses is a fear of free speech – a fear of unregulated conversations and unsanctioned ideas. The first casualty of this war on disinformation will be our liberty to speak our minds.
To enquire about republishing spiked's content, a right to reply or to request a correction, please contact the managing editor, Viv Regan.