So this is your free-speech martyr? Gary Lineker?
His defenders do not have a leg to stand on when it comes to freedom of speech.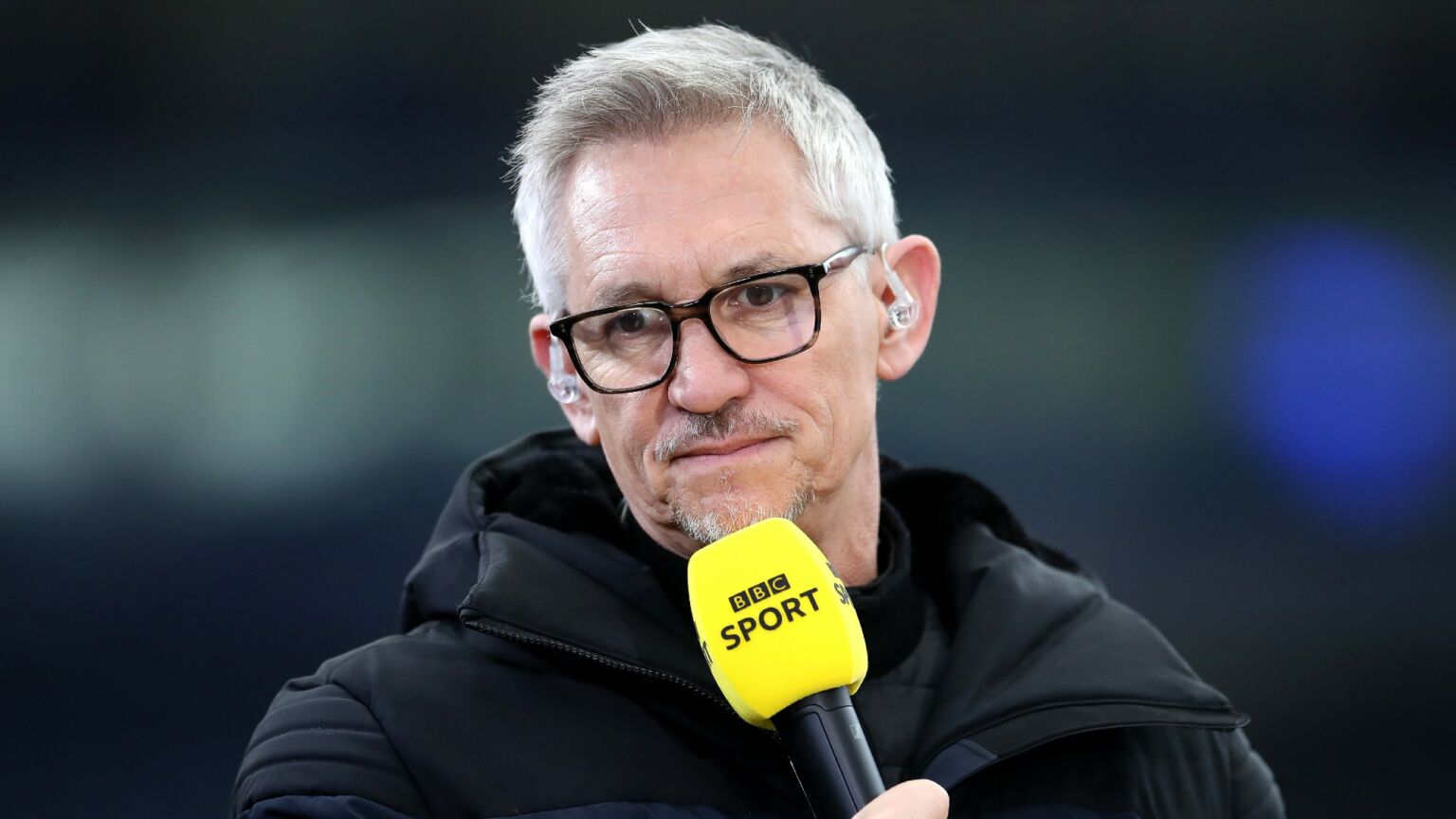 It's like waking up in a parallel universe. Suddenly, Britain's metropolitan elites seem to care deeply about freedom of speech. Having spent years calling cancel culture a myth, and calling free speech 'freeze peach' for some peculiar reason, they've now all rushed to the barricades. What was the turning point? What made the scales fall from their eyes? Was it that autistic boy in Wakefield being sent death threats for committing 'blasphemy'? Was it the scores of gender-critical women sacked and shamed for believing in biological sex? No, it was the BBC's decision to temporarily suspend Gary Lineker, alleging he breached impartiality rules when he took to Twitter to compare the Tory government's Illegal Migration Bill with something out of Nazi Germany.
The liberal-elite response to the news last night, that Lineker is to 'step back from presenting Match of the Day until an agreement is reached on his social-media use', was swift and furious. Former New Labour spinner and war propagandist Alastair Campbell – gainfully employed, we might add, by Lineker's podcast network – stuck with the Nazi theme as he gave his take to BBC News last night: 'There's a great quote that comes from 1930s Germany… Never be a bystander.' Elsewhere, all the usual Remoaner suspects spoke wildly of a right-wing coup at the BBC leading to the toppling of this beloved, morally unimpeachable football pundit.
That they've all picked this as their big free-speech battle is telling. First, it's a classic case of 'me speech' rather than free speech. They're rushing to defend Lineker purely on the basis that they happen to agree with him – because they, too, are dumb and deranged enough to think that Suella Braverman is basically Joseph Goebbels. This is not how free speech works. Second, they've managed to pick as their big free-speech test case a case that isn't really about free speech at all. Not least because Lineker hasn't actually been sacked yet, but mainly because this all comes down to the issue of BBC impartiality, what that means in the social-media age, and who it should apply to. Specifically, whether or not someone so synonymous with the BBC – indeed, its highest-paid on-screen star – should be free to make outrageous comments in his own time. Or whether, as a sports pundit and a freelancer rather than a staffer covering current affairs, he is exempt.
For what it's worth, even though his comments were genuinely grotesque, I don't want him to be sacked for them. For the same reason I don't think Jeremy Clarkson, once a big BBC export, should have been banned from being Jeremy Clarkson during his time at the corporation. Nor do I think Graham Norton should have his contract ripped up because he recently had a pop at JK Rowling. I don't see why BBC impartiality should necessarily have to mean even sports and entertainment stars not being able to say dumb things on social media. The guidelines – as it happens – seem to say completely contradictory things on this matter. At the very least, the BBC should be consistent in how it applies them.
But nor do I think this is a case of cancel culture, as people who don't actually believe in cancel culture are currently saying. Cancel culture is usually about institutions punishing people for having the 'wrong' opinions, as dictated by the great and good. This is a case of Gary Lineker being punished – potentially – for holding the 'right' opinions, as dictated by the great and good. Indeed, he has become such a thorn in the side of BBC management – reportedly, he has been testing their patience with his Twitter virtue-signalling for some time now – because he has become a symbol, a totem, a constant reminder to the public of what the BBC has become: a national broadcaster that only represents a sliver of the nation. That sliver being the hysterical chattering classes who loathe Brexit, loathe the Tories, loathe ordinary people for voting for them, and who share a peculiar grasp of mid-20th-century history.
This isn't a free speech issue, it is a BBC issue. The corporation has become divorced and antagonistic towards the rest of the country. Which is an enormous fuck-you given the license fee, and the fact you can be locked up if you don't want to pay Gary's wages. Worst of all, many of the BBC's top stars refuse to recognise this bias – even in hard news, where the line between fact and opinion has become increasingly blurred. Take Emily Maitlis, who has since departed to Global, so incensed was she that she couldn't express her entirely predictable opinions. Her final few years on Newsnight included her accusing Rod Liddle of 'casual racism' and savaging Dominic Cummings as a phoney man of the people. In a big, post-BBC speech, she condemned the BBC's 'both side-ism', by which she meant its occasional attempts to seek out pro-Brexit or anti-green opinions. This entrenched groupthink is what BBC management have been trying – and failing – to do something about over recent years.
If you turned on the TV or radio over the past 24 hours, you'll have heard liberal-left commentators talk of a Tory takeover at the BBC. What they're referring to is that Tim Davie, a former Tory council candidate, has been director-general since 2020 and Richard Sharp, a Tory donor and friend of Boris Johnson, has been BBC chairman since 2021. Particular ire has been raised by Sharp, because shortly before he was appointed he helped Johnson sort out a loan. Interestingly, those deeply upset by these grubby political appointments seem not to remember former BBC chair Gavyn Davies, whose wife was close friends with Gordon Brown, or former DG Greg Dyke, who donated £50,000 to Labour prior to his appointment.
Now, you might be wondering why this 'Tory coup' has not yet filtered through to the BBC's output, which is as anti-Tory and anti-Brexit as ever. That's because there hasn't been one, of course. What commentators are really talking about is Davie's cack-handed attempts at restoring some impartiality. That they see tackling liberal-left bias as a form of right-wing bias shows just how much Davie has his work cut out for him. Indeed, the Lineker controversy has shown the BBC leadership's weakness, not its strength. MotD pundits and commentators are in open revolt, refusing to appear on tonight's show in 'solidarity' with Lineker. Even those who weren't due to appear tonight are falling over themselves to say that they wouldn't anyway. This 'I'm Spartacus' routine has even spread to presenters on other sports shows. Meanwhile, by doubling down on his comments, Lineker is essentially daring the BBC to sack him. There's a striking imperiousness to it all – as if Lineker and Co are saying that they, with their high-status opinions and contempt for the rules, are the BBC, and that the higher-ups better not forget it.
In a sense, they're right. This is what the BBC is now. The problem isn't so much Lineker, but Lineker-ism. The virtue-signalling, the anti-populist hysteria, the seeing Nazis everywhere – it runs through the corporation like the words in a stick of rock. The corporation is staffed and fronted by people who are not only divorced from the values of ordinary people, but from the values that are supposed to set the BBC apart – that are supposed to help it unify the nation and sit above the fray. Where the Match of the Day stand-off will end is anybody's guess. But one thing is for certain: when it comes to BBC bias, Gary Lineker is the tip of the iceberg.
Tom Slater is editor of spiked. Follow him on Twitter: @Tom_Slater_
To enquire about republishing spiked's content, a right to reply or to request a correction, please contact the managing editor, Viv Regan.