The madness of Emily Maitlis
The ex-BBC broadcaster has outed herself as a Remoaner crank.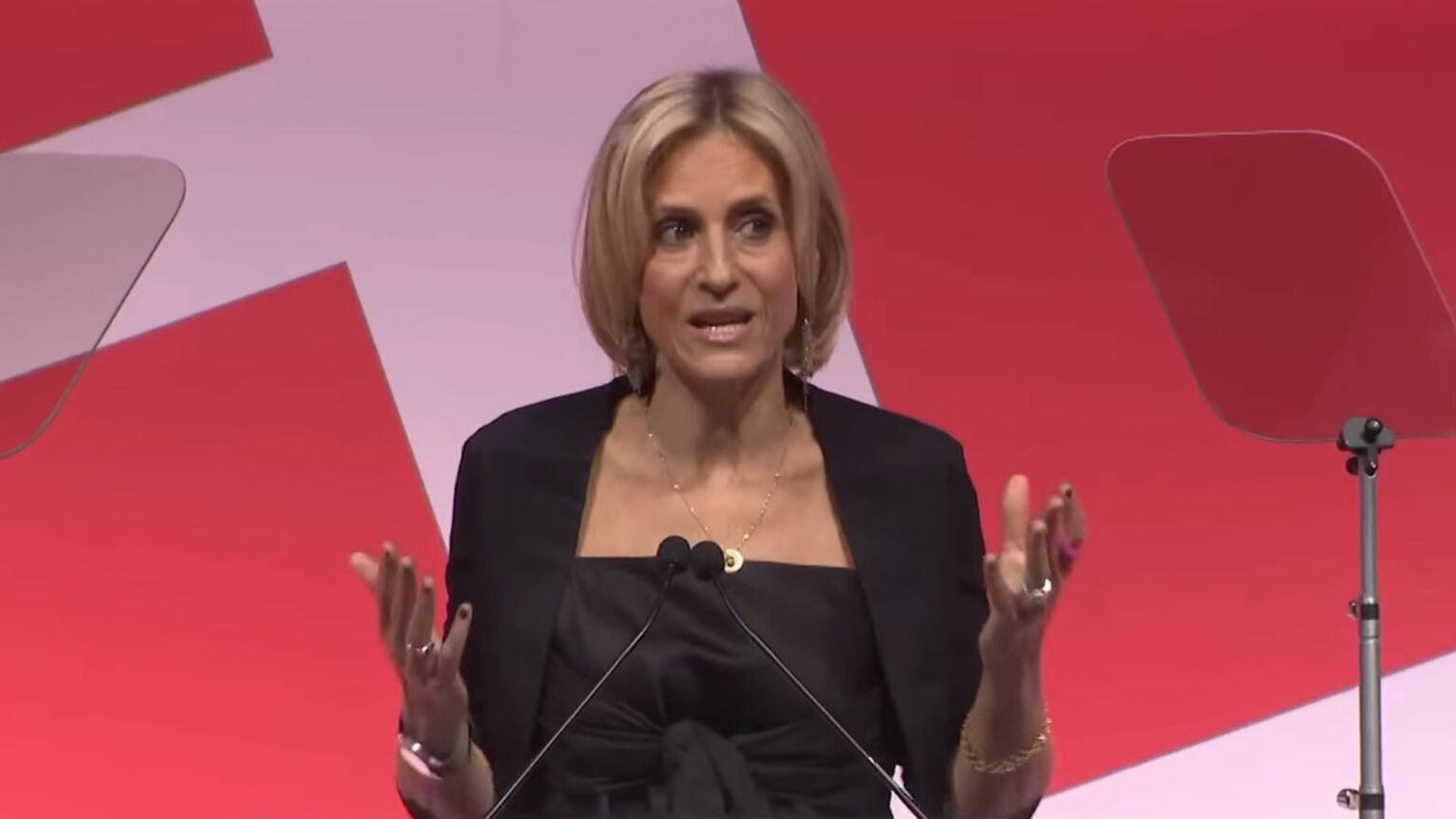 Finally, former BBC journalist Emily Maitlis has revealed what she really thinks about Brexit, Boris Johnson and the Tory government.
Before her MacTaggart lecture at the Edinburgh TV festival last night, Maitlis had left some subtle clues for eagle-eyed observers – such as that time the other week when she compared Tory leadership contender Liz Truss to a fictional fascist dictator. Or the time on the Newsnight sofa, at the height of the Brexit wars, when she demanded to know 'at what point do you say, actually, democracy is not as important as the future economy'.
Well, last night we had Maitlis unchained and unencumbered by stifling BBC impartiality rules. And the results are not pretty.
Indeed, judging from her lecture, the BBC's alleged impartiality seems to be one of her chief bugbears. Impartiality rules, Maitlis argues, create a false sense of balance – a 'both side-ism' that puts political debate ahead of the facts. This means, horror of horrors, that the BBC has to give a platform to Tory politicians or Brexit supporters, even when they conflict with the supposed truths put forward by the experts.
According to Maitlis, it is these impartiality rules that led the BBC to be overly deferential to Dominic Cummings, former adviser to Boris Johnson and director of Vote Leave. His mid-lockdown trip to Durham was the subject of relentless hysterical coverage back in 2020. Maitlis infamously broke BBC impartiality rules with a Newsnight monologue on Cummings' Durham jaunt. Even though the monologue was clearly an opinionated tirade, Maitlis maintains that the rebuke made 'no sense'.
Worse still, in Maitlis's view, the BBC has been far too lenient on Brexit, giving far too much airtime to undeserving pro-Leave voices. There has been a 'conspiracy against the British people' to hide the damage of Brexit, she alleges. And the BBC's attempts to strive for 'superficial balance' have worked to obscure the 'deeper truth'. Presumably, the 'deeper truth' is that Brexit is mad, bad and dangerous.
According to Maitlis, the BBC was especially compromised towards the end of her time at the corporation by the presence of an 'active agent of the Conservative Party' on the BBC's board. (Imagine that – a non-Remainer on a BBC board!) Most viewers would, of course, have been hard pressed to detect his influence on the BBC's actual output.
As well as bashing the BBC for being too pro-Brexit and too pro-Boris, Maitlis's lecture also delivered a kind of Greatest Hits of Remainer grievances against the current government. She claims that Boris and Co have been riding roughshod over 'democratic norms', belittling our beloved 'judiciary' and behaving in ways that are 'deleterious to basic, democratic government'. At one point, she even compares the government's suggestion that it would consider breaking international law 'in a specific and limited way' to fix the Northern Ireland Protocol to committing a murder.
Maitlis's lecture last night often sounded like it was being delivered from a parallel universe. We have, unfortunately, come to expect broadcast journalists to mistake their middle-class, Remainer prejudices for objective truth. But Maitlis seems to have gone one step further, mistaking the most unhinged, crankish #FBPE talking points for the world as it really is.
It's enough to make you wonder if Maitlis ever actually watched the BBC channels she fronted. Back in the real world, the BBC's anti-Brexit bias was visible from space, both before and after the referendum. After the Brexit vote, BBC-selected experts warned us to stockpile food and medicines or told us to brace for wartime rationing and the culling of tens of thousands of animals – usually unchallenged by presenters or opposing guests. Meanwhile, flagship shows like Question Time had a 2:1 ratio of pro-Remain to pro-Leave speakers. But even the smallest glimmers of dissent getting through the BBC's cracks were apparently too much for Maitlis to handle.
The Brexit vote was a major blow to our complacent media elites. And most of them are still yet to recover. Since 2016, objectivity and balance, which were already in short supply in the British broadcast media, have been replaced with mindless prejudice and shrill hysteria. Emily Maitlis may have outed herself as one of the maddest, most brazen examples of this rot – but she is far from the only one who sees the world through this lens.
Fraser Myers is deputy editor at spiked and host of the spiked podcast. Follow him on Twitter: @FraserMyers
Picture by YouTube / Sky News.
To enquire about republishing spiked's content, a right to reply or to request a correction, please contact the managing editor, Viv Regan.