The coming conflict with China
The smiles at the G20 cannot mask the deep tensions between East and West.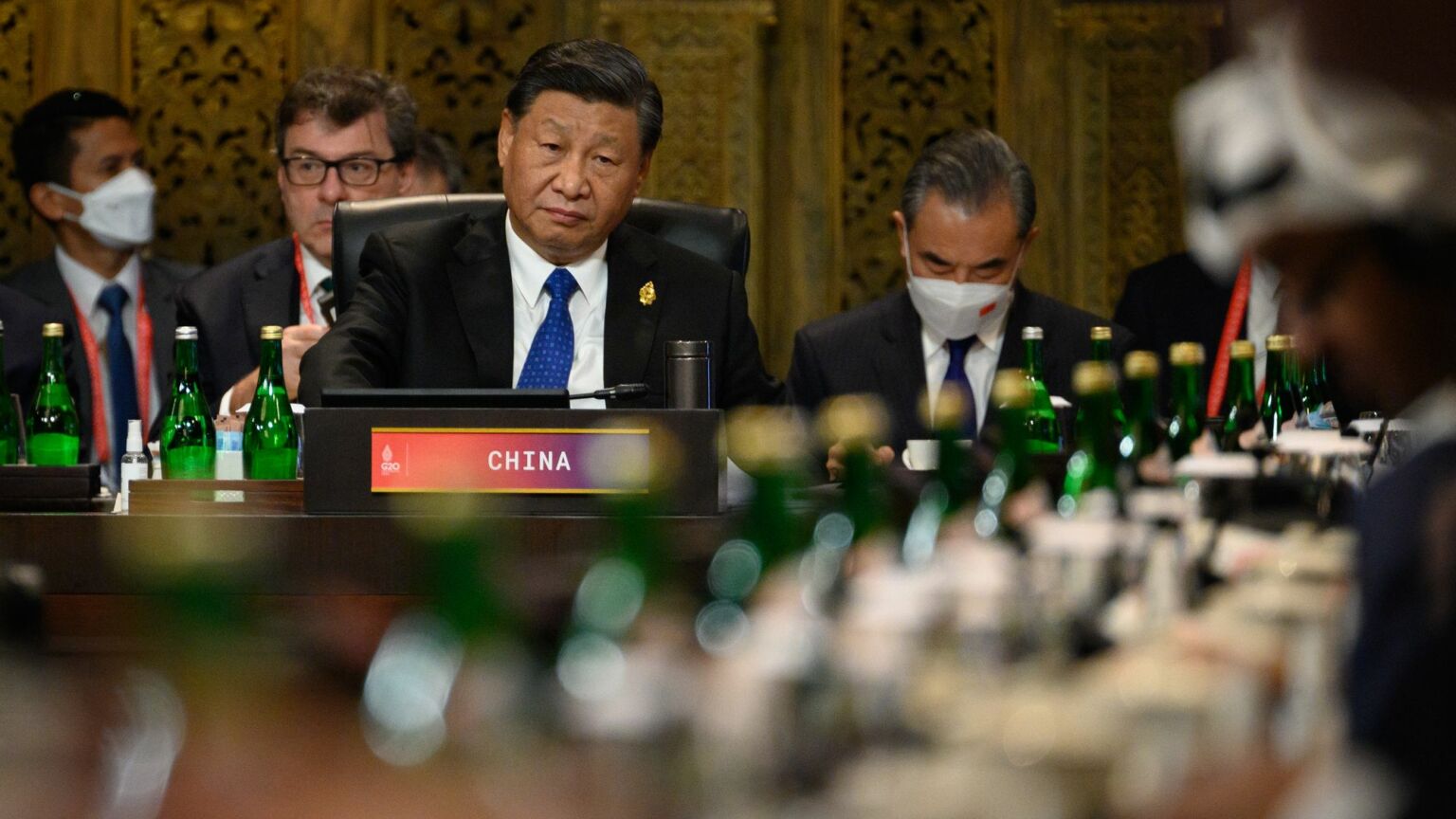 The G20 heads of state met in Bali this week, with geopolitical instability swirling around them and tensions raised between West and East. The missile that landed on Polish soil on Tuesday almost derailed proceedings. For one thing, it led Chinese president Xi Jinping to stand up Rishi Sunak, supposedly because of last-minute 'movements to schedules'. But at least Joe Biden's three-hour meeting with Xi passed without incident. And the relief of the delegates and the media was palpable.
On one level, this is good, of course. As Winston Churchill famously (nearly) said, jaw-jaw is better than war-war. And we can only hope the growing rivalry between the US and China doesn't boil over anytime soon. But while talks are preferable to conflict, they don't preclude it. Liberals since Richard Cobden have seen tensions between nation states as resolvable simply by arbitration and better communication, but this is rarely the case in practice.
Biden and Xi managed to paper over the chasms between them, but we should not be fooled. America has imposed wide-ranging sanctions on China and, historically, sanctions have formed a significant prelude to conflict. The ban on semiconductor technology certainly seems like a provocative escalation from the Biden administration. This is accentuated by America's new postures on Taiwan. In August, speaker of the House Nancy Pelosi visited the island to rattle sabres and show off. A month later, Biden intimated for the fourth time that the US would not only continue to arm Taiwan, but would also intervene militarily to defend it. US provocations and gaffes have been followed by backtracking, but to Beijing they have undermined America's stated and long-standing policy of recognising One China.
Washington's determination to continue selling arms to Taipei rankles Beijing. As did this year's Western naval manoeuvres near Taiwan, and the establishment last year of the Aukus nuclear-powered submarine alliance between Australia, the UK and the US.
Still, there are points at which American and Chinese interests align. Economic worries mean that both share an interest in the Russian war against Ukraine not getting out of hand. And while ultra-partisan disputes are evident in the US, China is not free of domestic political problems either, despite the purges that Xi saw through at last month's party congress, which in effect granted him the presidency for life.
Lockdowns in China have spurred unrest beneath the surface, as youth unemployment grows. The 'lying flat' movement – which calls on young workers and professionals to drop out of the rat race – is resisting CCP calls for 'continued struggle'. Chinese people are not as compliant as Westerners often tend to believe.
Meanwhile, the barbarous subjugation of Xinjiang province is still causing problems for Xi. And his prestige now rests heavily on him bringing Taiwan under his rule.
The Kremlin's humiliating withdrawal from Kherson may have made Xi think twice again about Taiwan. As Biden remarked in Bali, a Chinese invasion does not look imminent; a slow, attritional tightening of Beijing's screws on the island looks the more likely prospect. But the loss of Taiwan to nationalists in 1949 still weighs heavily on the Chinese psyche. If Xi does not take the island back sometime over the five-year term he has just embarked upon, he will have some explaining to do.
Of course, war on Taiwan would likely turn out disastrously for Beijing, because of the integration of China's trade, supply chains and foreign direct investment with the West – all of which would be threatened by an invasion. By the same token, this integration is also crucial for the West. This is why many Western leaders are preaching a more cautious path when it comes to relations with China.
This week, UK prime minister Rishi Sunak backtracked from Liz Truss's plan to classify China as a 'threat', opting instead for 'systemic competitor'. Sunak knows full well that unpicking all of China's economic links with the West would be very difficult, if not impossible. Then again, the intertwining of the German and British economies before 1914 proved no barrier to that devastating conflict.
The interpenetration of the Western and Chinese economies will inevitably spark more political rows. In Britain, there is more and more of a commotion about the CCP's theft of technology and intellectual property, and about the party's iffy Confucius Institutes at universities. Chinese involvement is less welcome than it used to be in UK nuclear-power projects such as Sizewell C, while the widespread installation of Chinese CCTV cameras on UK soil has also proved worrisome for many. Most recently, the beating up of an anti-CCP demonstrator at the Chinese consulate in Manchester, as well as the discovery of informal Chinese police stations in major British cities, has added to fears about CCP activity in the UK.
As ever, China's conduct abroad, from Britain to Latin America to Africa and even the Arctic, seems to grow heavier, more cack-handed and more lurid with every passing year. Conversely, another debacle for American imperialism, like the one it suffered last year in Afghanistan, could well embolden Xi to get a whole lot tougher with Taiwan.
As the Scots poet Robert Burns observed, the best-laid plans of mice and men often go awry. The smiles at Bali, the firm handshakes, the flimsy conference legend ('Recover together, recover stronger') – all this should not distract from the potential for conflict ahead. As much as we hope cooler heads will prevail, war is not a rational exercise. Arms build-ups, nautical intrigues, air drills and Chinese infringements on Taiwanese airspace have an inexorable and lethal logic of their own.
One thing we can do is pay attention and refuse to be complacent. Everyone who cares about the future of the world has a duty to study China, Taiwan and Western relations with those two countries like never before. This Gordian knot promises to be the chief cause of global instability for decades to come.
James Woudhuysen is visiting professor of forecasting and innovation at London South Bank University.
To enquire about republishing spiked's content, a right to reply or to request a correction, please contact the managing editor, Viv Regan.