The austerity we don't talk about
The Net Zero agenda poses a far greater threat to our living standards than austerity 2.0.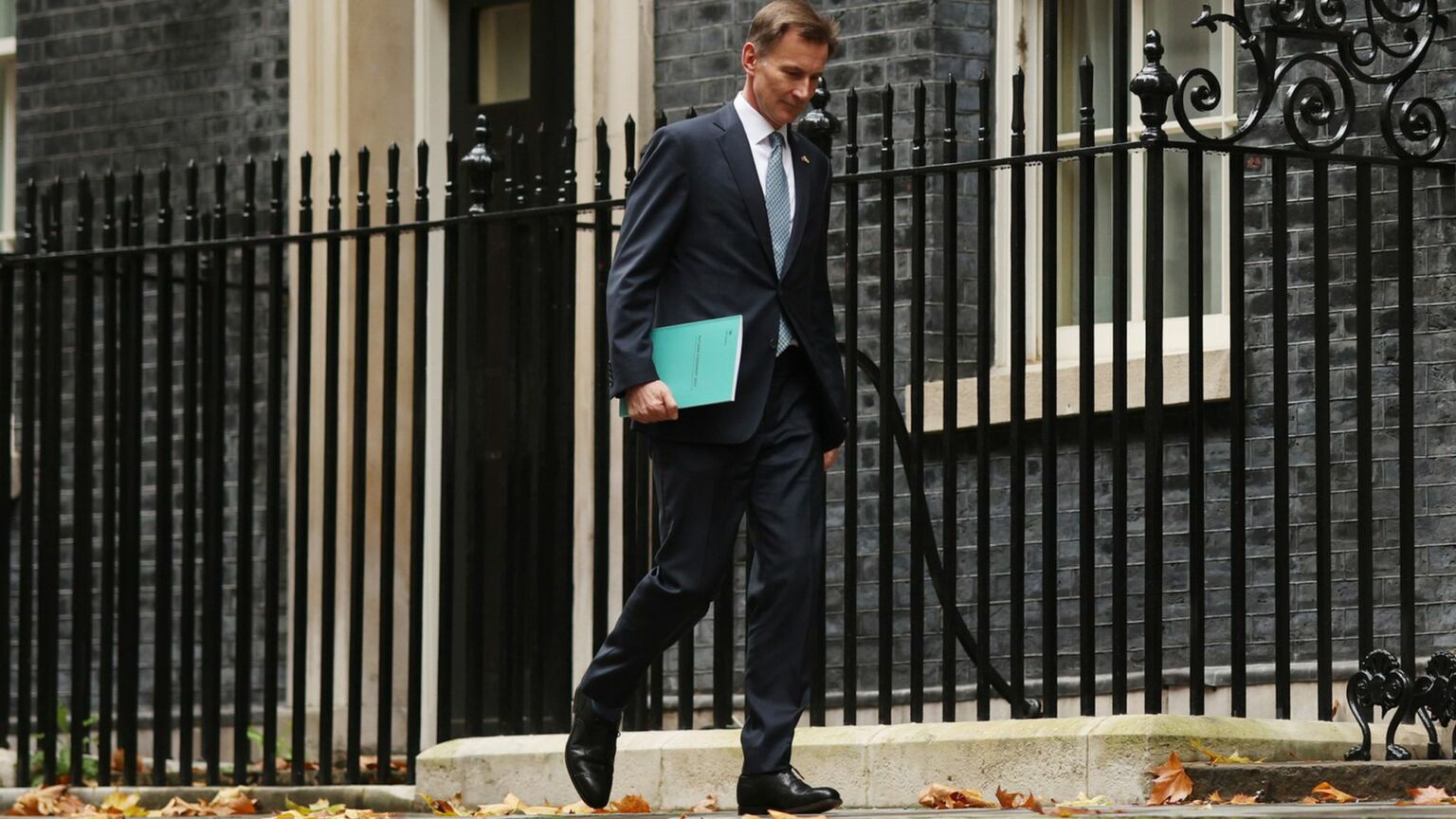 A new age of austerity is upon us. And it is going to hurt. Even proponents of 'austerity 2.0' seem to agree as much. UK chancellor Jeremy Hunt, who today unveiled a £55 billion package of tax rises and spending cuts, has previously described his own economic plans as 'eye-watering' and 'horrible'.
Unsurprisingly, there is no shortage of opposition to the chancellor's grim proposals. The Labour Party, the broader left, economists, think-tankers and the media are bemoaning the bitter medicine. What is striking, however, is that prior to Hunt's statement, the UK government had already committed itself to a parallel austerity programme – a far more painful set of measures that will squeeze living standards and smother economic dynamism. It is one of the most significant government projects of the postwar period, and yet it barely receives any scrutiny or pushback. In fact, many of those who are implacably opposed to Hunt's austerity measures are among the loudest cheerleaders for this other impoverishing project. I'm talking, of course, about Net Zero – a polite term for green austerity.
Opponents to Hunt's austerity are right when they say the measures are punitive and counterproductive. Britain's public sector is already crumbling. Planned cuts to infrastructure spending will hurt growth and productivity. And if public spending as a whole is reined in too quickly, or if taxes are hiked too steeply, this could easily prolong and deepen this winter's recession.
So why, then, is there silence about the other assault on our living standards? At its core, the Net Zero agenda is about limiting human activity to keep carbon emissions in check. Most of all, it is about limiting our production and use of energy – the lifeblood of a modern industrialised society. The current energy crisis is just a tiny taste of how painful it can be to be short of energy.
For the past few decades, politicians across the spectrum have put decarbonisation at the heart of our energy policy. In doing so, they have not only failed to secure cheap and abundant supplies of energy – they have also boasted about their efforts to make supplies more precarious. They have bet the house on unreliable renewables, which stop producing power when the wind doesn't blow or the sun doesn't shine. And they have delighted in the abandonment of reliable fossil fuels.
Britain now produces less electricity than it did 15 years ago – a process set in motion by New Labour's Climate Change Act, which imposed legally binding CO2-reduction targets. The Net Zero policy doubles down on those targets. It was signed off in 2019 with barely any pretence of a debate. The process has barely even got started and yet we are already facing catastrophic energy shortages – shortages that were apparent even before the war in Ukraine. The National Grid is now warning there could be blackouts this winter. Soaring energy prices are eating into household budgets, imposing huge costs on businesses and pushing up inflation across the board. Hardest hit are the poorest, especially in those regions already grappling with the consequences of deindustrialisation.
As well as reining in energy production, and switching to less reliable methods, Net Zero will mean limiting and managing energy 'demand'. The Climate Change Committee (CCC), which advises the UK government on decarbonisation, says that an astonishing 62 per cent of emissions reductions should come not from new carbon-free energy infrastructure or production processes, but from 'behaviour change and individual choices'. That is because the technologies we would need to have Net Zero carbon emissions while maintaining current levels of energy use either do not exist or are not yet viable.
These 'choices' and new 'behaviours' will not be freely made or adopted, of course. Under the current Net Zero plans, cheap methods of producing energy, heating our homes and transporting people and goods will be phased out, banned or taxed very heavily at the very least. And costlier methods will be encouraged or mandated. Few people will volunteer to make these 'choices' because they all mean accepting a reduced quality of life – less consumption, less travel, a colder home. The CCC even wants people to eat less of their favourite foods, like meat, dairy and fish. This is rationing in all but name.
These measures are far bleaker than anything being served up by Hunt in his statement today. Yet rather than decry this assault on our living standards or the sabotage of our energy supplies, those who think of themselves as 'progressive' are all on board with green austerity. In fact, they want the government to go further and faster in cutting carbon emissions, regardless of the consequences. The Labour Party, for instance, has pledged to decarbonise the UK's energy system in the space of just six years. The eco-cultists of Just Stop Oil want us to halt domestic fossil-fuel production. All are in agreement that the people must make sacrifices and should live a diminished, substandard 'green' lifestyle.
This is the austerity we need to talk about. The austerity we need to get angry about. It poses a serious threat to our living standards that no nation should be expected to tolerate. And yet the supposed critics of austerity are nowhere to be seen.
Fraser Myers is deputy editor at spiked and host of the spiked podcast. Follow him on Twitter: @FraserMyers
To enquire about republishing spiked's content, a right to reply or to request a correction, please contact the managing editor, Viv Regan.