Energy crisis? What energy crisis?
Politicians need to come clean about the high price we have paid for embracing 'green energy'.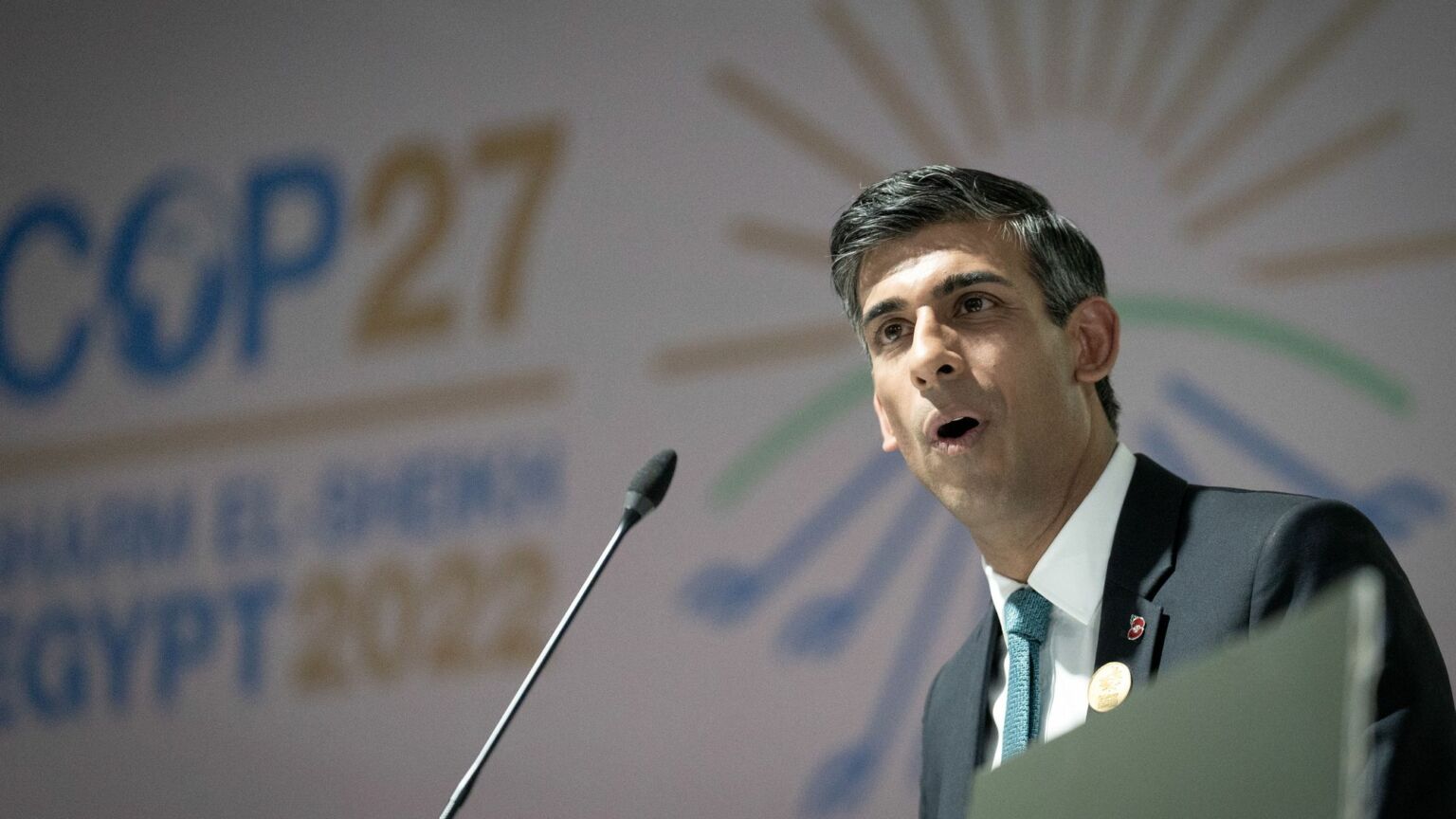 'Crisis? What crisis?' went the Sun's famous headline, capturing Jim Callaghan's complacency during the 1979 'Winter of Discontent'. The UK was suffering from rampant inflation, strikes and power blackouts. Callaghan had just returned from an international conference in Guadeloupe, tanned and smiling. In response to the journalists waiting for him at the airport, he said: 'I don't think that other people in the world would share the view that there is mounting chaos.' The Sun's headline was devastating.
This week, Rishi Sunak, like Callaghan before him, has escaped the winter weather, rampant inflation, strikes and the threat of power blackouts to soak up the Egyptian sunshine at the COP27 climate summit. His complacency about the energy crisis – and its cause – is as bad as Callaghan's, if not worse. The truth is that Sunak's commitment to the COP agenda betrays an indifference to the energy crisis. After all, climate-change policies are one of the leading causes of the current energy shortages. And if we go much further down the Net Zero pathway, the crisis will become permanent.
For nearly 20 years now, Britain's political leaders have used international climate summits to declare that they are 'leading the world on climate change'. Each time they have returned, they have announced new laws to double down on Net Zero or other emissions-reduction targets. Last month, knowing that COP27 was on the horizon, Sunak reintroduced the government's ban on shale-gas extraction, or fracking. The damage was done before his plane had even taken off.
If we go back to the Climate Change Act 2008, we can see how climate-change policies have created the current shortage of gas and how whatever commitments we make at COP27 will likely make matters worse.
In 1990, electricity production and supply was privatised. Coupled with the closure of coal-fired power stations, electricity privatisation unleashed a decades-long 'dash for gas'. Gas that was previously 'flared off' in the North Sea, and treated as a useless byproduct of oil extraction, was harnessed to generate electricity. In 11 years, from 1990 onwards, nearly 40 gas-fired power stations were built in the UK. Many made use of the latest technological advances, such as combined-cycle gas turbines (CCGT). Gas and electricity prices fell in most of the subsequent years and electricity production expanded.
If we had utilised the same technology, we could have tapped into the abundant Bowland shale gas in northern England. This would have created a new booming energy industry throughout the depressed ex-mining areas of Lancashire, Yorkshire and the north east. Like the US, we could also be benefiting from LNG exports. And the ports of Grimsby, Teesside and Hull would be booming. But this was not to be.
Instead, our politicians have embraced green thinking, and revelled in the destruction of our fossil-fuel infrastructure. Last year, COP26 president and then government minister Alok Sharma proudly oversaw the demolition of Ferrybridge power station in Yorkshire. Indeed, power stations have been blown up all over the UK as a demonstration of the government's commitment to tackling climate change. And as coal-, oil- and gas-fired power stations have been demolished, the government has flushed billions into wind power in the hope that it could make up the shortfall.
The numbers tell a clear story. In 1990, 284,304 GWh of electricity was produced for the UK grid. In 2005, electricity production peaked at 345,947 GWh, before falling from 2008 onwards, with the introduction of the Climate Change Act. In 2021, just 246,507 GWh of electricity was produced in the UK.
The turn away from gas and coal to wind power could lead to a shortage in electricity this winter. There may even be the return of 1970s-style blackouts. Ironically, as politicians are forcing cars and home heating to become electric, we will only need more electricity in future. Yet the amount of electricity we currently produce is at a 30-year low. Unless serious steps are taken to reverse this trend, future energy crises are inevitable.
Worryingly, Sunak's attendance at COP27 shows that he is prioritising climate-change posturing over solving the domestic energy crisis. Just as Boris Johnson's embrace of the climate-change cause at COP26 preceded his downfall, the current energy crisis may well see off Sunak. Crisis? Sunak hasn't seen anything yet.
Andy Shaw is co-founder of Comedy Unleashed and a regular contributor to Spectator Life.
To enquire about republishing spiked's content, a right to reply or to request a correction, please contact the managing editor, Viv Regan.