The revolting rich
Posh eco-fanatics and elite Remoaners are luxuriating in our adversity.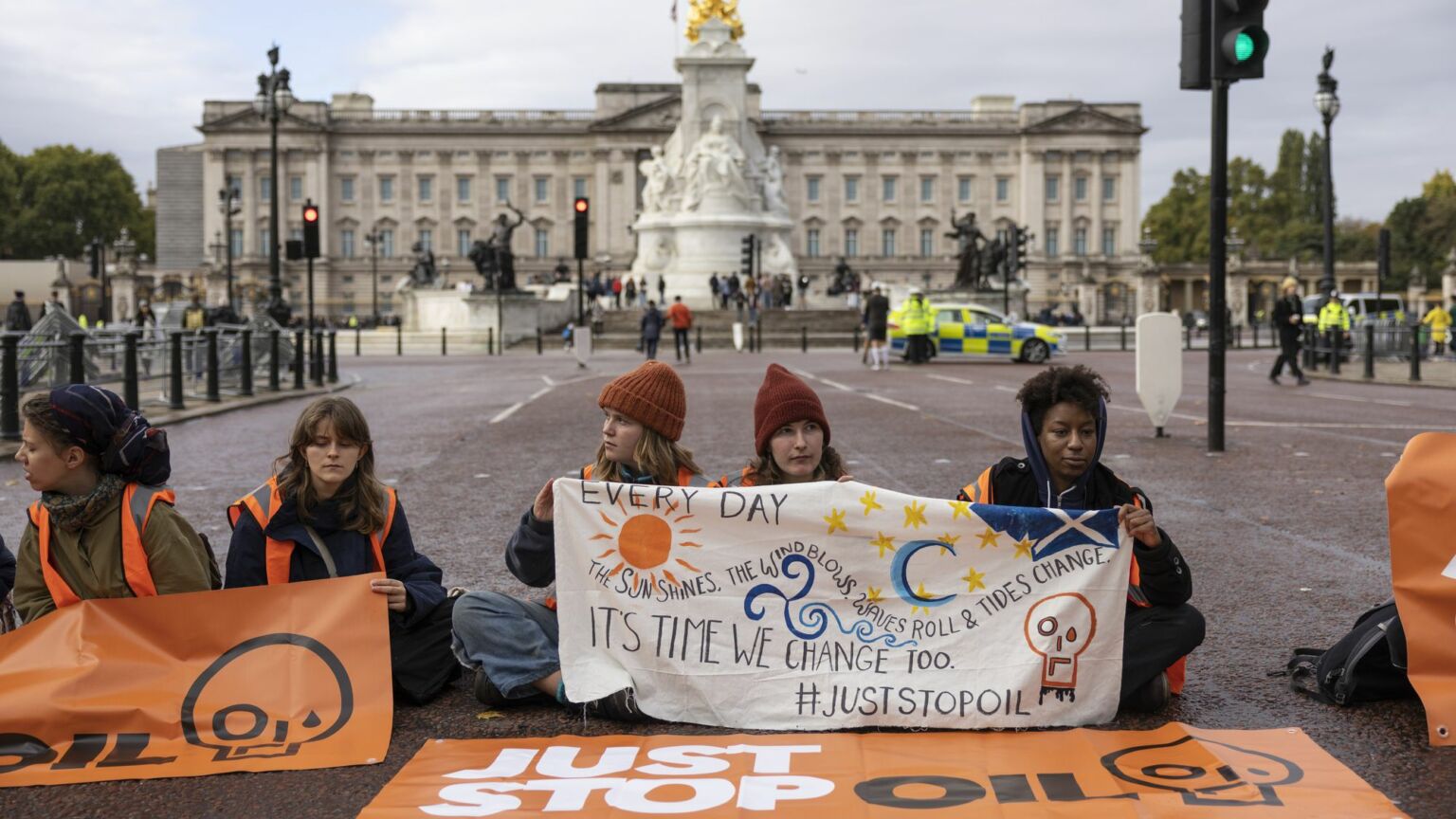 In the mainstream political sphere, we again hear the clamour of Project Fear Remainiacs. Previously they had been relegated to whining about queues at airports, but now they have been reinvigorated by our economic woes. They loudly pronounce that all our problems are the fault of Brexit, which the bovine masses stupidly voted for six years ago.
Yes, they are all revolting, in the sense of the verb. And they are revolting, too, in the sense of the adjective.
The protesters – those callow, sweet idealists, cossetted from reality – are blithely indifferent to the very real problems we face. Primarily, the need for more energy generation, not less, and the need for greater economic growth, which environmental doctrine necessarily rejects.
What do these sanctimonious visionaries know or care for the ordinary man or woman? They betray their contempt by disrupting the lives of people who need to go to work every day by road and train. They even show indifference to ambulances on emergency errands. The egregious waste of milk also reveals a grotesque disdain for those who struggle to fill their grocery baskets and for the low-paid, likely immigrant cleaners who have to deal with their wanton mess.
Meanwhile, the Told-You-So Remainer commentators are aware of our problems – but all too aware. They positively luxuriate in our current economic turmoil because they believe this means they were right all along. Yes, they did indeed tell us Brexit would be a disaster and the ruination of Britain. But they also told us it would happen overnight in the event of a Leave vote – some six years ago now.
'For it is Brexit that sits behind all that has unfolded', writes Matthew Syed in The Sunday Times. He caricatures the Brexiteer tendency as a purist cult that believed extraction from the European Union would herald a new, unfettered utopia. But that was only a small, highly vocal minority – chiefly the likes of Daniel Hannan and Jacob Rees-Mogg. Most people voted for Brexit on pragmatic grounds, namely to take control of our borders and of our country. Many working-class and middle-class people even voted on non-utopian, old-fashioned principles of democracy and self-determination. We voted against rule by a coercive technocracy that would never be accountable to the electorate.
It's ironic that the high inflation rate and public debt we now have is to a large degree the fault of the upper-class Remainer types. It was this paternalist pyjama class in their large-gardened houses who so enthusiastically pushed for two years of lockdown, financed by enormous government funding and money printing. Before March 2020, there had not been the Brexit apocalypse they had so confidently predicted in 2016. What we are experiencing now is a global crisis felt everywhere, made only more painful in Britain, owing to the incompetents who took charge of the government this year.
But the self-righteous posh have no need for such facts. Either they don't know the tangible problems we face, or they prefer taking smug satisfaction in believing that they were right all along. Alas, they were wrong. So utterly wrong.
---
The new puritans of New Zealand
I don't suppose anyone would be surprised to learn that William Shakespeare has once more been the victim of cancel culture. Nor would anyone have been surprised that it happened in New Zealand, which most people now recognise as the most risibly woke country in the world.
As was reported last week, New Zealand's arts council has pulled funding for a long-running Shakespeare festival. The council questioned its relevance to New Zealand because it focuses on 'a canon of imperialism' and 'did not demonstrate the relevance to the contemporary art context of Aotearoa in this time and place and landscape'.
How did New Zealand, once regarded as a tidy and conservative Scotland of the southern hemisphere, become such a basket case? It perhaps owes this to its Calvinist Scottish heritage. Stringent religious moralists of yesteryear are bound to pass down their temperament and disposition, which is reinterpreted by their children for their own times. In this case, yesterday's Calvinism has become today's religion of wokery, with its own credo, liturgies, prohibitions and heretics. Canada, too, has a considerable Scottish heritage, which could explain it falling victim to wokery.
It was no surprise that New Zealand enacted the Western world's most draconian lockdown measures when the Covid pandemic was at its height. This was the behaviour of a morally authoritarian country. And lockdowns only made wokery worse. People were forced into their homes, where they spent an inordinate amount of time roaming the internet, digesting and disseminating barmy and extreme political ideas on gender and race. Lockdowns spawned whole fresh swathes of New Puritans.
---
'The persecution of Graham Norton', by Mungo Krankenhaus
So, television grandee Graham Norton has been literally hounded off Twitter for his views on so-called cancel culture, which we all agree is a far-right fiction. That is a disgrace. Why should the ageing white male (Norton) be silenced just for speaking his mind? It's an utter affront to free speech.
All because he didn't show obeisance to JK Rowling – one of those 'objective truth' types who believes in biology and science, etc. Her vile acolytes showed not a shred of human decency. What we need is more compassion, tolerance and regard for the feelings of others. Sometimes horrid words make me cry hot, bitter tears. So be kind. Be nice.
JK Rowling? O most pernicious woman. Abhorred monster! Fiend that thou art. The tortures of hell are too mild a vengeance for thy crimes.
We must fight transphobia in order to protect and respect women. Especially the ones with penises. Not so much the assigned-birth women (or the feminists and the lesbians). They make me boil with hatred with their fevered intolerance. Speaking as a feminist, I really, really hate those women. Send them all to hell.
To enquire about republishing spiked's content, a right to reply or to request a correction, please contact the managing editor, Viv Regan.